This post may contain affiliate links. If you buy thru these links, we may earn a commission at no additional cost to you.
---
How much water volume does it take to handle a custom walk-in shower system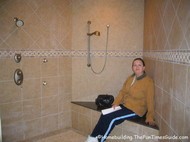 with multiple shower heads? Or better yet…how much hot water storage is sufficient to fill a two-person water jetted tub?
The amount of water that is required to adequately supply a multi-station custom shower system is something that I was curious about when I visited a model home in nearby Hanover subdivision in Hiram, GA.
I made a return visit to Hanover the other day and spoke with Russ Giudicessi, Builder with Prime Built Communities, Inc., and asked him that very question.
Here's what Russ had to say…
Lots o' hot water needed
Basically, I found out that you need a lot of hot water in storage. Russ recommends, and installs, two 50-gallon electric water heaters for an adequate supply of hot water that should accommodate every homeowner that wishes to indulge themselves in one of his custom shower systems in the homes that he builds. The Moen website recommends at least an 80-gallon storage tank. You get the idea.
The answer to the water volume requirements question for custom shower systems will vary depending on how many body sprayers and shower heads you install. Plan on approximately 16 gpm for a nice custom shower system. The shower heads and body sprays that Russ has installed are Moen and/or Price-Pfister and have low flow heads.
PEX is the word
Russ also has his plumbers use PEX tubing in his piping runs. That's 3/4″ PEX (the flexible one) coming out of the top of the water storage tank photo below.
PEX stands for cross linked polyethylene. If you haven't heard of it and you are about to do a remodel in the kitchen or bath, I suggest that you read up on it because I'd hate to see you go with an inferior product when this stuff is out there. It's time-tested…been out there on the market since the 1960's (mostly in Europe) and hit the states in the 1980's. I strongly urge you to educate yourself on this product.
Go to the PPFA (Plastic Pipe and Fittings Association) website for more info.
Here's a handy and FREE…yes…FREE Residential PEX Water Supply Plumbing Systems Design Guide available on a PDF file. Get it while it's HOT! Thank you ToolBase!
Russ also mentioned that tankless water heaters would not put out enough hot water to keep up with the hot water demands of a multi-station custom shower system, such as the one in the model home.
Who can afford custom shower systems?
Luxury does come at a price but there are future homeowners…lots of them (baby boomers)…out there willing to foot the electric bill for two hot water storage tanks.
If you're one of them, be sure you know all of the facts before you jump in head first.
Related:
Custom Shower System info from Build.com
Custom Shower System Planning Guide info from Keidel.com
Thermostatic Shower Valve info
All you ever wanted to know about PEX but were afraid to ask.
Plastics Pipe Institute, Inc. (PPI) – your information resource for all things related to polyethylene pipe.
Sources
Plastic Pipe and Fittings Association (PPFA)
I started as a home-stalker… visiting brand new homes under construction in the neighborhoods near my house. That inspired me to write about home building and home renovation projects — chronicling homes during different phases of construction from a consumer's point-of-view. Basically, the tips you'll find in my articles are a collection of checklists for what I think should (and should not) go into building or remodeling a quality home.