This post may contain affiliate links. If you buy thru these links, we may earn a commission at no additional cost to you.
---
If you're a wise homeowner, then you look at your home as an investment — one that grows from year to year and becomes more valuable as time passes.
Because of this, you try to make home improvements hoping that at some point when it comes time to sell you will reap the financial benefit of your efforts.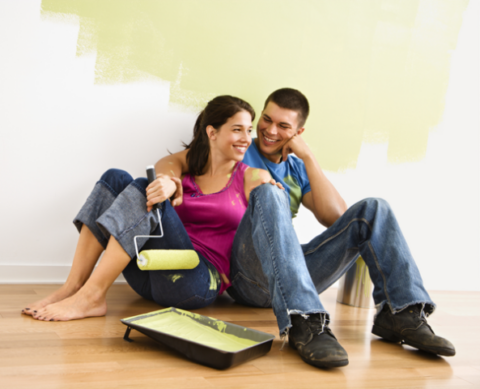 Fortunately, there are many home improvements that cost next to nothing when you do them yourself.
Here are 9 simple home improvement ideas for you to consider:
# 1 – Seal gaps and cracks on the exterior of your home
Anything you do to stop air from escaping your home will lower your winter heat bill and your summer air conditioning expense.
#2 – Fix leaks and running toilets
Leaky faucets, damaged sprinkler systems, dripping sink drains.
Anywhere water is involved, a leak may cause structural damage and wasted water will cost you money!
#3 – Build your own outdoor furniture
To enhance curb appeal, consider adding a nice pair of Adirondack chairs to the front porch to make a positive first impression. You can even make them yourself!
This video shows you how to build an Adirondack-style chair from wood pallets:
#4 – Pressure wash exterior brick or cement
Few things look worse than green mildew growing on the side of your home. Rent a pressure washer if you don't have one and give the house a good going over.
Be careful if you have wood siding as high pressure water may damage it.
#5 – Install ceiling fans in the bedrooms
Many times all it takes to get a good night sleep is a nice breeze. Ceiling fans cost nothing to run when compared to air conditioning.
Installing a ceiling fan will create air movement with practically no noise.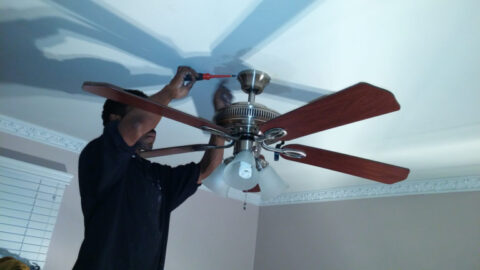 # 6 – Replace the hardware on your kitchen cabinets
New knobs and handles don't need to be expensive to give a new look to your kitchen. All that is required is that they be different from what you currently have.
This home improvement is guaranteed to catch the eye of everyone who comes into your kitchen.
#7 – Freshen up any room with paint
A gallon or 2 of inexpensive latex paint can make a dramatic change in a room.
Rearrange the furniture and for a very small investment you've created a whole new space with a few simple home improvements.
#8 – Install new light fixtures in the bathroom
What's the quickest way to add value to your home? Make the bathroom look nice.
Adding new light fixtures, a new set of towels, and maybe a new shower curtain can update the look of your bathroom for next to nothing.
#9 – Manicure your yard
Take care of your yard by edge trimming along the sidewalk, prune the trees, and reseed any dead areas in the lawn.
These kinds of home improvements cost more sweat than money — which is good for your body and your home!
Other Simple Home Improvement Ideas
I've been involved in RVing for 50 years now — including camping, building, repairing, and even selling RVs. I've owned, used, and repaired almost every class and style of RV ever made. I do all of my own repair work. My other interests include cooking, living with an aging dog, and dealing with diabetic issues. If you can combine a grease monkey with a computer geek, throw in a touch of information nut and organization freak, combined with a little bit of storyteller, you've got a good idea of who I am.