---
This post may contain affiliate links. If you purchase through these links, we may earn a small commission at no additional cost to yourself.
---
It's been awhile since my last post of Dumb Homebuilding Ideas here on The Fun Times Guide To Home Building, so I'll double up on this one.
I'll talk about:
An HVAC vent in a small closet.
Double hung windows in the top level of 2-story foyers.
It's been tough finding houses that are open or unlocked for the past 18 months due to the housing bust, but now home building construction is starting to pick up again.
That means I'm able to find my way into houses more often, so every once in awhile I come across some really dumb homebuilding ideas that make me scratch my head in amazement.
Air Vents Don't Belong In Closets
I'll begin with the air vent that we found in the teensy-weensy closet (top photo) in the bedroom of a home I was visiting recently.
We opened the door to view a 2'd x 4'w x 7'h closet with an inward-slanting ceiling line.
The vent in the closet was the one and only time I've seen that in a house.
Lo and behold, there is an air vent staring us in the face. Not a return for the HVAC system, mind you. Nope. It was a register outlet. Bet you're scratching your head, too. If the door to the closet is closed, I don't think it does a whole lot of good to cool the room, but I bet the closet is nice and chilly.
Double Hung Windows Don't Belong In 2-Story Foyers
It's nice outside… let's get the ladder so we can open the window.
Say what??

I see double hung windows in the upper level of 2-story foyers on a regular basis. Come to think of it, I see double hung windows in some two-story grand rooms that have those "wall of windows", too.
It must be a cost savings measure on the part of home builders.
I can think of no other reason why anyone would install a window that has the ability to be manually opened that is positioned two stories up where you can't reach it.
What I'll do here is show you pictures of the types of windows that FAIL for two-story foyers and family / grand rooms.
I'll also show pictures depicting windows that SUCCEED for those same types of rooms.
To begin… double hung windows installed in the top level of the two-story. FAIL!
You should be scratching your head at any moment now.
Now I'll show a few photos (below) of the proper types of windows to show off your 2-story foyer. SUCCEED!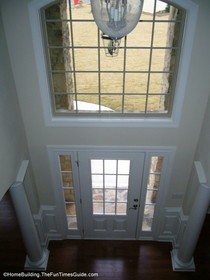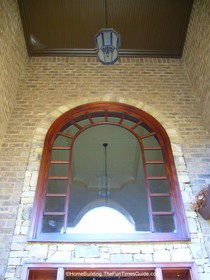 Here is a photo (below) of a double hung window in a two-story family room. FAIL!
Here's another double hung window in a grand room (below). Yep… they're all over the place.
The last couple of photos (below) show some beautiful windows that are stationary windows… the way they should be for a two-story grand room. What are you gonna do with a double hung window in a two-story room? Get out the ladder when you want to let the breeze in?
Next time you're out house-hunting, take a look at what type of window the builder installed at the top of the two-story foyer or the top level of windows in a grand family room. You might be surprised.
I started as a home-stalker… visiting brand new homes under construction in the neighborhoods near my house. That inspired me to write about home building and home renovation projects — chronicling homes during different phases of construction from a consumer's point-of-view. Basically, the tips you'll find in my articles are a collection of checklists for what I think should (and should not) go into building or remodeling a quality home.