---
This post may contain affiliate links. If you purchase through these links, we may earn a small commission at no additional cost to yourself.
---
Can't believe I'm saying this, but today I'm going to talk about butts…classic butts…to be specific. No kidding. I'm sure my mother is shaking her head and if my brother, Chris, is reading this…well…let's just say that sort of humor is right up his alley, but I'm not going to go there. Think I'm kidding? Look at the photo (found below). See!  What I'm really talking about are clear heartwood, western red cedar, classic fish-scale butts (shingles).
Classic fish-scale shingles (butts) were the design choice for the front gable of the Victorian home I've been writing about. When I first talked to Project Manager, Rhett Bonner, about some of the outstanding features of this home build, red cedar fish-scale shingles were one of the first items he mentioned. Yet another nod to the Victorian architectural style.
I've got a few photos of the (primed-unpainted) fish-scale butts applied to the gable if you'd like to 'read more'.
I'm a BIG fan of Bonner Custom Homes. That may sound a bit peculiar but the reason I say I'm a fan is because of the extraordinary attention to true architectural details and style of whatever home they build for their clients. They take absolutely NO shortcuts to satisfy the needs of their clientele, not to mention remaining true to an architectural style. They don't pay me a dime to say any of this but I have many, many firsthand experiences of a lot of the work that goes on behind the scenes.
I guess they could've picked up any ol' fish-scale shingles, but this is yet another case of gathering the finest materials to create a quality custom home. These shingles originated from Teal-Jones of Surrey, British Columbia, Canada. Teal Cedar is an accredited member of Western Red Cedar Export Association (wrcea.org), 'the industry's hallmark organization'.
Now on to the photos that I took recently. I'll update the photos shown after the painting has occurred.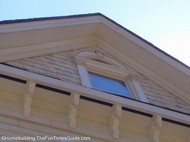 Interested in reading more about this Victorian home build?
I started as a home-stalker… visiting brand new homes under construction in the neighborhoods near my house. That inspired me to write about home building and home renovation projects — chronicling homes during different phases of construction from a consumer's point-of-view. Basically, the tips you'll find in my articles are a collection of checklists for what I think should (and should not) go into building or remodeling a quality home.