This post may contain affiliate links. If you buy thru these links, we may earn a commission at no additional cost to you.
---
Rain chains are very cool. They turn boring functionality into a charming, beautiful way to hear and watch rain fall.
I have a soft spot for them, and apparently Scott at Rain Chains Direct recognized that fact when he found my original articles about rain chains.
Scott contacted me and asked if I'd be willing to do an objective product review on a rain chain.
Randy thinks to himself, "Hmmm… 100% pure copper rain chain that looks cool and serves as a functional downspout… yep! I'll try it out. Twist my arm." So I contacted Scott once again and he promptly sent me a rain chain.
Do Rain Chains Really Work?
Surprisingly, rain chains work great.
It's not surprising to me, because I have seen how they perform in a downpour.
I was skeptical when I first saw a rain chain installed on an English cottage, but I quickly became convinced that it truly is a functional product once I saw it in action.
To be precise, the rain chain wasn't "in action"…the rainfall cascading through the little cups was in action.
Water will follow the path of least resistance, but it also has a tendency to follow a pre-determined path — a la rain chain.
Testing The Cup And Link Rain Chain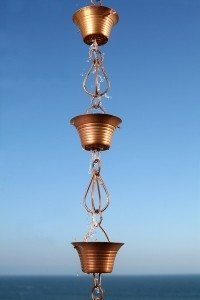 The rain chain that I received from Rain Chains Direct is the Bodu Cup and Link Rain Chain.
You can see it in the photo above outside my house. I haven't hooked it up to the downspout yet, but we gave it a quick test run by letting water flow from the top via a garden hose.
The water followed the chain with only a little bit of splash. It's very cool to watch in action.
Rain chains look great attached to just about any downspout, but the ideal spot for it would be a traditional Japanese-style garden area that is adjacent to the home.
I think it's awesome that their rain chains have been featured in Architectural Digest, HGTV, Fine Gardening Magazine, The New York Times, and Better Homes & Gardens. So you know they carry high quality products.
Rain Chains Are A Sustainable Product
Rain chains are a sustainable product because they are 100% pure copper.
It is estimated that 80% of all the copper that has ever been mined — after being melted down and re-used many times — is still in use today. Source
Not only that, there is an 85% energy savings when copper is brought to a recycling center, smelted, and re-used vs. all of the energy gobbled up mining the raw products to produce copper.
That makes rain chains an eco-friendly home decor choice.
Let me sum it up with a few choice words about rain chains:
Functional
Recyclable
Sustainable
An art form
Easy to install
Fun to watch in action
The cool factor is definitely there, as well.
I started as a home-stalker… visiting brand new homes under construction in the neighborhoods near my house. That inspired me to write about home building and home renovation projects — chronicling homes during different phases of construction from a consumer's point-of-view. Basically, the tips you'll find in my articles are a collection of checklists for what I think should (and should not) go into building or remodeling a quality home.