This post may contain affiliate links. If you buy thru these links, we may earn a commission at no additional cost to you.
---
Arborsculpture is the art of shaping live tree trunks.
Arborsculpture isn't for everyone, but it is for anyone that is into living eco-art.
The art of shaping live tree trunks into living art has been around for centuries and continues today by skilled arborists and enthusiastic green thumbs around the globe.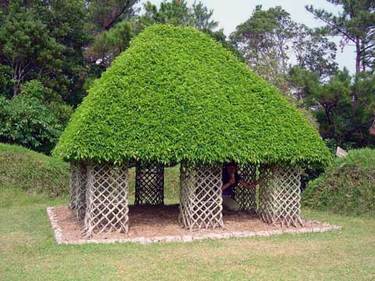 While researching for this post, I've come to discover that arborsculpture requires patience, practice, artistry and a knowledge of bending, shaping and grafting procedures.
It is a unique form of art that instills a sense of awe when viewed whether as a work in progress or as a 'finished piece'.
If you've thought about taking up arborsculpture or maybe even honing your skills in your own backyard, this post should inspire you even more. If you're here just to have a look-see, I've got you covered, too.
You might be thinking to yourself that arborsculpture sounds very similar to the art of bonsai, espalier, pleaching or even topiary… and you'd be correct. But there are slight differences and they are explained quite well here. Pleaching is probably the term to use for this form of tree shaping other than arborsculpture, to be honest, but arborsculpture sounds much more glamorous than pleaching.
Arborsculpture Takes Time
One thing is for certain: arborsculptures don't happen overnight.
It could take years or even decades before your vision comes to fruition but the results can be fulfilling, breathtaking, beautiful and even quite humorous if you so desire.
If you do decide that you'd like to attempt some arborsculpture, you need to establish deep roots of your own. Because if you're the type that likes to pick up and move the family every few years then don't bother attempting arborsculpture… unless you've got a couple of small ficus in a pot working in unison to create your dream.
The photo above shows some of the tools of the trade.
Richard Reames experiments in the art form technique of pleaching and gives instructions on how to grow your own chair:
These basic principles can be used to form a variety of useful pieces when harvested. The man knows what he is doing.
Check out the boat he's growing (not rowing)… yes, growing:
Dr. Chris Cattle shows you a technique to grow your own stool …it's a chair. (Get your mind out of the gutter people!)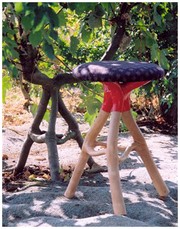 Willow Baskets: Dr. Lois Walpole is trained in sculpting and basket weaving and decided to combine her talents into the eco-friendly business of willow products. Oh yeah…if you currently have a willow bread basket you'd better read the link I provided here about the possibility of it being poisonous!
Here's an entertaining arborsculpture video put together by Richard Reames of Arborsmith Studios:
Arborsculpture Ideas & How-To's
Tree Faces are another way to have some fun with trees.
Arborsmith: Richard Reames is an authority on arborsculpture technique and artistry.
Aharon Naveh has done some interesting arborsculptures with larger trees in Israel.
Plantware: A team of scientists, horticulturists and designers combine their talents to create products that are made of living trees.
Extreme Nature: Dan Ladd creates some very interesting pieces of work through the pleaching technique. Dan is also in the business of molded gourd artistry. Sounds a bit odd but you won't believe your eyes when you see the artworks he has grown. Very cool!
Fab Tree Hab: The Human Ecology Design team at M.I.T., consisting of Mitchell Joachim, Ph.D.; Lara Greden, Ph.D.; Javier Arbona, Ph.D. scholar, have come up with an ecologically sound human tree habitat design concept called the Fab Tree Hab that is clearly outside of the box but well within our grasp of implementation. The Fab Tree Hab is 'intended to replace the outdated design solutions at Habitat for Humanity International.' Now that's vision and ambition!
Apparently, Mr. Wu from the Liaoning province in China is hip to arborsculpture artistry, as well. It's a global thing.
Ficus House: P.J. Wilkin on growing your own home.
Pooktre tree shapers… unlike anything you've seen before!
Sources and Photo Credits: Arborsmith, Wikipedia, Treehugger
I started as a home-stalker… visiting brand new homes under construction in the neighborhoods near my house. That inspired me to write about home building and home renovation projects — chronicling homes during different phases of construction from a consumer's point-of-view. Basically, the tips you'll find in my articles are a collection of checklists for what I think should (and should not) go into building or remodeling a quality home.