This post may contain affiliate links. If you buy thru these links, we may earn a commission at no additional cost to you.
---
Have you seen tree faces before?
I'm sure most people have seen those humorous looking clay (or some other material) faces nailed to trees.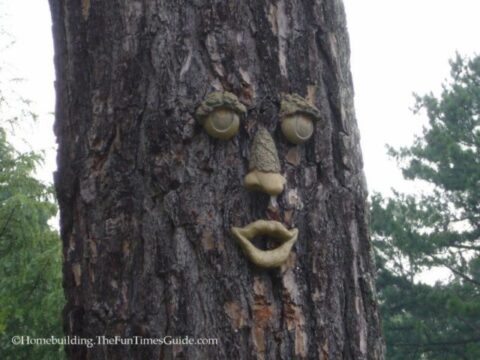 They've caught on and you can find them in just about any gardening shop, as well as many other types of department stores and, of course, online.
If you want to add a little character to your landscaping, a tree face is one way to do it!
The life-like facial expressions that I've seen on some of them is pretty amazing.
It's hard not to smile when you see them.
Where To Find Tree Faces
Where Is The Best Place To Put A Tree Face?
Placement of the tree face is crucial to receive maximum enjoyment from them.
I would suggest a prominent (healthy) tree towards the front of your property to greet your guests.
Placing some tree faces where they can be seen from your windows is also a great way for you to enjoy them as well.
Have some fun with it and create a group of forest faces so they can talk among themselves when you're not around. (Or do they really make a sound if there isn't anyone around to hear them??? Who knows???!!!)
Only the trees know the truth…and THEY'RE…NOT…TALKING!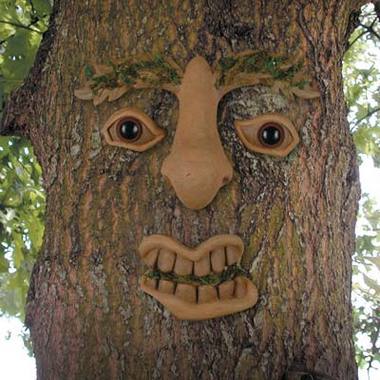 Looking for some ideas to decorate your yard and/or trees for Halloween?
Go one step further and try your hand at arborsculpture.
Or add a tree face birdfeeder to your landscape!
If you're not a fan of tree faces, consider the squirrel in the tree decoration instead!
DIY Halloween Props
Don't be…afraid…to build your own homemade Halloween props.
Store-bought can only take you so far in the creativity department.
Visit my post on DIY Halloween prop building for information and links to just about any scary prop that you can think of.
Like this post? Save it to read again later… or share with others on Pinterest!
I started as a home-stalker… visiting brand new homes under construction in the neighborhoods near my house. That inspired me to write about home building and home renovation projects — chronicling homes during different phases of construction from a consumer's point-of-view. Basically, the tips you'll find in my articles are a collection of checklists for what I think should (and should not) go into building or remodeling a quality home.