Would you like to put your home handyman skills to the test this coming Halloween by learning how to make your own Halloween props?
If you're the DIY type and you enjoy scaring the kiddies at Halloween, I've 'dug up' some great links to all sorts of scare the pants off of 'em yard props and 'killer' decorations that you can build yourself.
I'm talking about skeletons, torsos, hands, flying crank ghosts, skulls, zombies, spooky audio effects, lighting and fog techniques (some very detailed), demons, gargoyles and all manner of creatures and devices!
Some of these Halloween props are simple enough for beginners, and others are rather involved but well worth the fun of building them yourself for a fraction of the cost of store-bought.
Come along as you prepare to greet your guests properly for Fright Night!
DIY Halloween Prop Building
Many of the following links to DIY Halloween props will show you step-by-step how to create some awesome homemade stuff — many times with ordinary materials that you'll find around your home, at the home improvement or hardware store and at many art supply stores.
If you want creative ideas for homemade props, then I think I can help you out. All you need to do is take notes and prepare for a little trial and error. Whatever you decide to build, try it out and give yourself enough time to work out the kinks in preparation for the big night.
Let's start off with a link that shows how to make monster mud from Terror Syndicate.
The Ultimate Halloween DIY Project Links List
The Monster List of Halloween Projects List is probably the most comprehensive list on the web.
It features around 800 different links to individual pages (some good…some bad) showing how to make your own Halloween props and decorations for your yard and home.
Go to the bottom of the page for even more links specifically for the do-it-yourselfer — it's an awesome, awesome DIY gateway link!
A Home Grown Yard Haunt Taken To The Max
There is a homeowner and some neighbors in Brewster, NY who have teamed up together to create a yard haunt that will not soon be forgotten by all who visit. You'll find all of the details at Brewster Yard Haunt.
Here are just a few of my favorite photos from their yard haunt: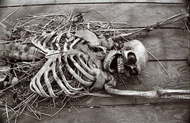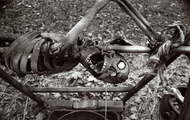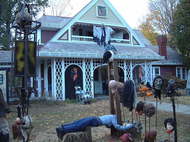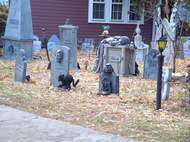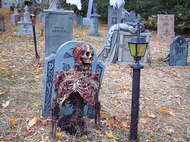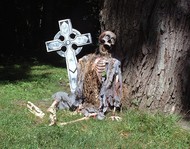 photos courtesy of Brewster Yard Haunt – thanks Kevin!

Join A Halloween DIY Prop-Building Forum To Work Out The Kinks
Here's a forum that's filled with lots of like-minded DIY characters, such as yourself, where you can get help with your Halloween projects: Terror Syndicate's Method of Madness Forum.
Another how-to haunt forum worth checking out is called Haunt Forum.
By the way, you will need to register for these, but that's just how forums operate. If you want fast answers to your DIY questions, then it's worth it.
Corpsification: An Art And A Science Combined
You can't buy a corpse. (I hope not anyway.) But you can make one.
Halloween Tech
There's a fantastic webpage from HorrorSeek labeled a "Halloween Technology Roadmap".
Basically, it's a DIY haunters' heaven (or hell, in this case).
Props, sound, lighting… it's all there for the taking.
They've also got an index of Halloween prop projects.
More DIY Halloween Props
Here are a couple of links for DIY props that were originally provided by S.C.R.E.A.M. — short for the Student Club of Realistic Effects, Animatronics and Makeup — a network of students (all grades and ages) who are interested in special effects and pursing a career in the industry:
And finally… I found these last few DIY Halloween links via Brewster Yard Haunt: