This post may contain affiliate links. If you buy thru these links, we may earn a commission at no additional cost to you.
---
Do you have a checklist of must-have features for the home of your dreams? Have you considered incorporating universal design principles that will facilitate aging in place — so you won't have to move out in your senior years?
Whether you consider yourself an empty-nester or a baby-boomer, the underlying fact is we're all aging. (Some of us faster than others!)
For folks that retired in the 70s and the 80s, retirement villages and 50+ communities were on the top of the list of best places to spend the golden years.
However, health care and finances have changed the scenery for people who are retiring now — and for those who will retire in the immediate decades ahead.
We are living longer. It's a blessing and a curse.
Due to health and financial limitations:
Many parents are moving back in with their children so they will have some assistance with daily life while avoiding retirement communities and nursing homes.
Some children are moving back in with their parents to help ease the burdens associated with getting older.
But the situation doesn't have to be doom and gloom. And you won't have to move to an assisted living facility — if you plan ahead when you're building your new home.
With proper planning, you can build your home to take into account the issues that typically arise during the aging process! Yep… you can build your house with all the features you'll need so you can stay in it longer and take advantage of aging in place.
I've worked in new home construction for years.
Below is my best aging in place home construction advice and some universal design examples that will be helpful when designing your new house…
What Is Aging In Place?
Aging in place means staying in the home you love for as long as you can — while still being able to take advantage of any services you desire or need, depending on your situation.
The term aging in place does not mean that the problems associated with growing older are eliminated. Rather, it means that you can age gracefully – maintaining the highest quality of life possible for as long as possible – without having to move out of your home.
We all change as we get older — for example:
Your vision worsens
Your balance is affected
Your mobility decreases
You have a loss of energy
You lose some finger dexterity
These are some of the issues that can be addressed when you're planning to build a new home that incorporates universal design.
Universal Design Principles
Universal design, also called barrier-free design, focuses on making the house safe and accessible for everyone, regardless of age, physical ability, or stature. Most of us think immediately of ramps and grab bars when we think of accessible housing, but universal design goes far beyond that while remaining largely invisible to the casual observer. In fact, applying universal design concepts such as wider doors and hallways makes a house feel more spacious.

— Dean Johnson, Hometime on PBS
Here's a summary of the pros and cons of universal design, as I see it…
Pros – The Good
It makes good sense. By asking yourself honest questions about your needs now and what you think your needs might be as you and your family members age, you can create the ideal home for today… and the future.
Cons – The Bad
You may have to sacrifice some design elements that would be nice to have now — for ones that you will appreciate more later as your vision, dexterity, and mobility decrease.
Aging In Place Design Tips
Every room of your new house has design elements that will need to be studied before you start construction (or remodeling).
These are some of the most important features that should be considered when designing the home of your dreams — so that it will also meet the home of your changing needs:
#1 – A One-Story House
If you build a single level house, then everything will be easily accessible to you throughout the interior of the home — regardless of any aging or mobility issues that might arise later.
We help our elderly father stay in his home, and one of the areas he has the most difficulty with is getting up the stairs that go from the sunken living room to the dining area.
Climbing stairs is not something that anyone looks forward to in their senior years!
#2 – House Size: Smaller Is Better
When deciding how big should your new home should be, consider how much house you will want to clean when you're in your 60s and 70s!
I find that a 1,200- to 1,500-square-foot house can be accommodating for most folks while they're still active. And it'a a manageable enough size that can be cleaned without hiring a crew as you age.
#3 – Flooring Considerations
Non-slip flooring is a must in every area of the home!
Of course, carpet is a given. Other types of non-slip flooring include:
Cork flooring
Bamboo flooring
Vinyl flooring
If you want to include some tile flooring, choose smaller porcelain tiles — the texture and grout will grip your feet better than smooth-surface tiles.
#4 – Kitchen Universal Design Features
You want a kitchen with plenty of open space, good lighting, and lots of easily accessible features.
To make the kitchen a functional space for all ages and abilities, choose multi-level countertops in the kitchen.
Your cabinet hardware should be easy to grasp. Choose pulls instead of knobs for your drawers and cupboards. Pulls allow anyone with dexterity issues to use their whole hand instead of just their fingertips.
#5 – Bathroom Universal Design Features
Most interior doors are 30″ wide. Consider putting 36" wide doors in every area that requires regular access… like the bathroom.
The bathroom might be a great place to install pocket doors — a traditional interior door is likely to swing in against a wheelchair on the inside.
Also, think about having at least 5 feet of open space to allow a wheelchair to turn around in the bathroom area.
Bathroom countertops can be installed on floating vanities so that anyone in a wheelchair can tuck their feet under and get closer to the sink.
Aging in place bathroom design includes a 16″ to 17" height toilet — because taller toilets are much easier to access (less bending required).
If you will have a bathtub in your new house, make sure that your bathroom is large enough for a shower also — because getting in and out of a tub can be life-threatening for older adults.
And finally, sure the shower is a walk-in type shower with no curb.
#6 – Master Bedroom Universal Design Features
If carpet is a no-go in your bedroom… instead of installing hardwood flooring (which can be slippery), consider cork flooring in the bedroom. It's softer than wood if you should fall, and it's easier for wheelchair operation too.
As far as furniture goes, the more items with rounded edges the better! You want to minimize hazards — so there will be fewer aches and pains when you inevitably bump into the furniture on occasion.
Size and space are important considerations in the master bedroom. For example, you want a bedroom that's a little larger than normal so that a wheelchair has easy access.
Here are some universal design examples and aging in place house plans from the Center for Universal Design. These 1000- to 2,500-square-foot aging in place house plans incorporate universal design principles, making them fully accessible by people who use wheelchairs and other mobility aids — and features that make the house more livable for everyone.
Maintenance-Free Home Design For Aging In Place
One of the big issues that homeowners of all ages face is maintenance. No one likes it — period.
So the list of must-haves for your aging in place home should include low-maintenance features like:
Maintenance-free windows — Choose vinyl windows or wood windows that are clad with vinyl or aluminum on the exterior.
Maintenance-free siding — Brick and vinyl siding products only require occasional cleaning. The brick will last the life of your home and many vinyl siding products have a 20 year+ warranty.
Maintenance-free gutters — Guttering is an area that's often ignored in the initial home design process. You should install a gutter protection system that blocks debris from entering your gutters. A low- maintenance drainage system directs water away from your house instead of it backing up in the yard.
Composite decking material — If you're installing a deck on your home, choose composite decking instead of a traditional wood deck which requires a great deal of maintenance to preserve it. Composite materials will last 20 years or more, and the engineering that goes into their design is state-of-the-art.
Easy-access entrances — Make sure that all exterior doors are wide and installed with no-trip thresholds. Stepless entrances accommodate wheelchairs best.
Insulated concrete forms (ICF) — Building your home with ICF framing gives you a stronger, quieter, and better-insulated home than normal stick framing. This method of construction is highly recommended (especially if you're going to spend your golden years in the deep south).
The Bottom Line
While the above list of universal design elements and low-maintenance items for your new home may seem restrictive… by covering all of the anticipated needs as you age in place, you will be able to stay in the home you love as long as possible while continuing to enjoy a high quality of life.
The idea is to build your home in such a way that common, everyday tasks will require the least amount of physical effort to accomplish.
Keep in mind, it's much easier to build for the future now — instead of having to remodel later when the need arises and finances may be tighter. Plus, home modifications will be a whole lot more disruptive when you're older.
Universal Design: Items that are usable by most people regardless of their level of ability or disability can be considered "universally usable." Many "accessible" and "adaptable" features are universally usable. For example, round door knobs are not usable by people with limited use of their hands, but lever handles which are readily available in all price ranges, styles and colors are usable by almost everyone — including people who have no hands. Some items are made more universally usable by their placement. For example, light switches located at a lower height and electrical receptacles raised to 15" to 18" above the floor place them within reach of most people without requiring bending or stretching. Bathtub controls located off-center toward the outside of the tub provide the same benefit. Some features are made more universally usable by making them adjustable. For example, closet rods, shelves, and countertops are a few adjustable universally usable items.

— Center for Universal Design
Other Resources For Aging In Place & Universal Design
I hope you've found these aging in place home construction tips helpful and easy to understand. Following are some detailed specs and guidelines for building a universal design house:
---
Matt Lee owns the Innovative Building Materials blog and is an expert in the building materials industry. He is focused on helping fellow homeowners, contractors, and architects discover materials and methods of construction that will save money, improve energy efficiency, and increase property value.
Like this post? Save it to read again later… or share with others on Pinterest!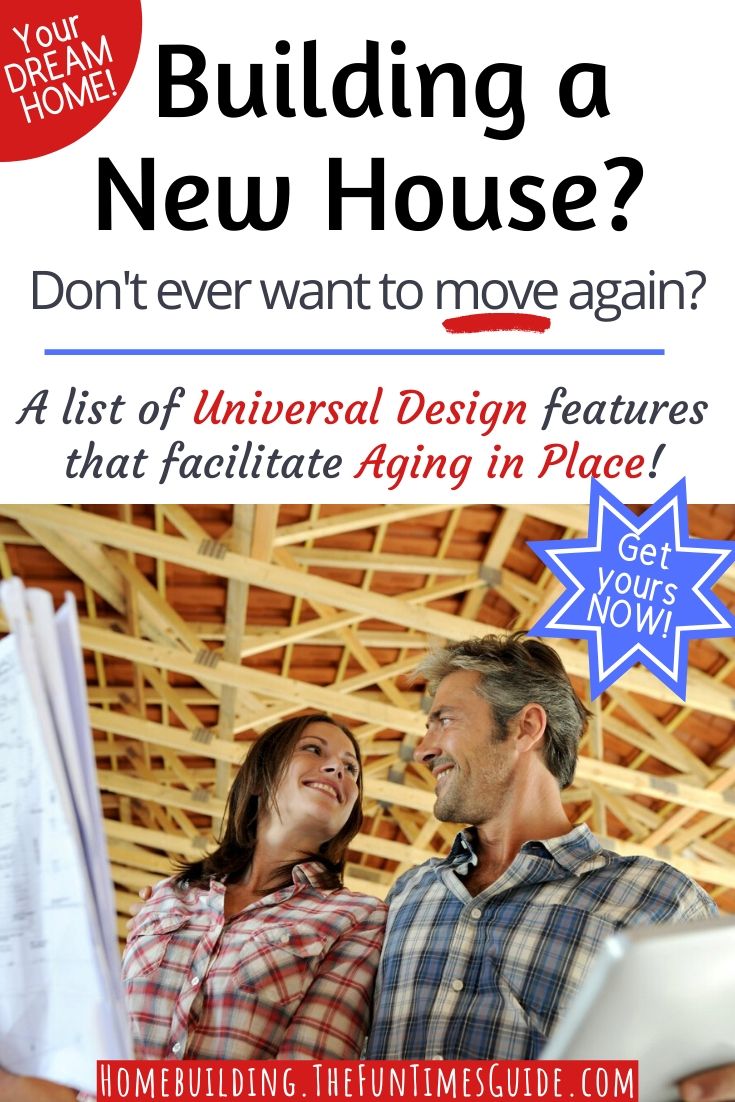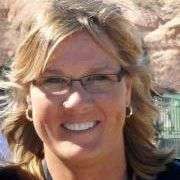 My husband and I have been through the home building process… from scratch… more than once! (And we still have a few pieces of property that we might build on in the future.) So we definitely have some helpful tips to share when it comes to designing your dream home and building a house from the ground up. We've also learned that the 'fun' doesn't end once the house is built. Our clever home maintenance hacks will save you time and money each year that you live in the home. And… since everyone's house eventually needs a little remodeling (as has ours), we've got some ridiculously helpful home renovation tips as well! Whenever I'm not DIYing something around the house or adding to my Dream Home Wish List, you can find me at the corner of Good News & Fun Times as publisher of The Fun Times Guide (32 fun & helpful websites).