---
We write about products and services that we use. This page may contain affiliate links for which we receive a commission.
Looking for luxuriously exotic tiles, backsplashes or bathroom tiles that will set your home apart from the rest?
CoveringsETC produces an all-aluminum tile called Bio-Luminum that is made from post-consumer recycled aluminum from reclaimed airplane parts (retired aircraft cladding).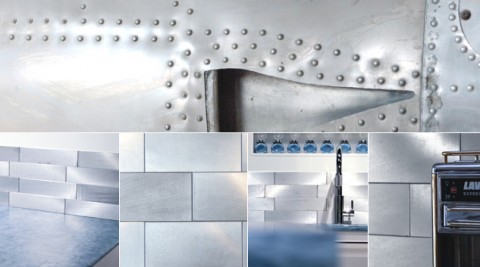 How cool is that?

Award Winning Aluminum Tiles
I suppose it would be acceptable to install aluminum tile anywhere in your home if you're looking for a cutting-edge material to cover your walls, but this is primarily made for kitchen and bath use.
CoveringsETC was founded in 1998 and is a member of the U.S. Green Building Council (USGBC).
They have a product line called ECOverings that is produced from naturally occurring or recycled materials and/or manufactured with concern for the conservation of natural resources.
By the way, Bio-Luminum was selected for the National Design Triennial at the Smithsonian's Cooper Hewitt, National Design Museum. Here are all of the awards and certifications that CoveringsETC has earned.
A Stylish and Eco-Friendly Backsplash
I'm passing all of that valuable info along to you because it's important to know that luxury home building materials can also contribute to valuable LEED points and still be stylish.
Bio-Luminum may not necessarily be the one item in the CoveringsETC product line that is highest on the list of green products, but there are others in their line that are eco-friendly. They're doing right by Mother Nature and making a stylish statement, all in one shot.
Make no mistake about it, this is a luxury home building product. The price tag for this sleek homebuilding material — starting at $60 per square foot — will attest to that.
But you can feel good about it knowing that you've purchased a very useful kitchen material that is basically repurposed. We all know how that the trend is to repurpose and recycle whenever possible to reuse our valuable resources and cut down on waste.
Bio-Luminum aluminum tiles come in 3 sizes:
3″ x 6″ tiles

6″ x 12″ tiles

3″ x 12″ tiles
Tips For Installing Aluminum Tiles
As you may have guessed, there are prep and installation guidelines that must be adhered to for proper installation.
Bio-Luminum aluminum tiles are bevel cut on one side and straight edge cut on the other. You can decide to face out either side — based on your own personal preference.
You must also decide which pattern you would like to apply them in (running bond, grid, etc).
As with most other backsplash tiles, you can butt joint them or create grout gaps.
The aluminum tiles must be cleaned thoroughly with a metal cleaner, and then rinsed and dried.
The substrate that the tiles will be applied to must be free of dirt and oil.
The aluminum tiles can be cut with a tile saw with a metal cutting wheel and grinder. Apply a liberal amount of silicon adhesive and set the tile. If you're installing the tiles outdoors, they recommend using the silicon adhesive and VHB (very high bonding) tape.
You must seal the aluminum tiles once they're installed to avoid any sort of discoloration. You can seal them with a commercial metal wax or a number of metal sealers.
Sounds like a very adventurous tile job for an experienced DIYer with a decent amount of patience and skill.
One nice thing is the fact that aluminum tiles can be used in a variety of areas in your home — beyond the kitchen backsplash!
I started as a home-stalker… visiting brand new homes under construction in the neighborhoods near my house. That inspired me to write about home building and home renovation projects — chronicling homes during different phases of construction from a consumer's point-of-view. Basically, the tips you'll find in my articles are a collection of checklists for what I think should (and should not) go into building or remodeling a quality home.