This post may contain affiliate links. If you buy thru these links, we may earn a commission at no additional cost to you.
---
Rondel glass makes an ordinary window extraordinary. I personally saw some rondel glass beautifully encased in some custom handmade windows at the English cottage-style home that I've been visiting over the past few months.
I recently had the opportunity to meet and talk with homeowner, Julie Bonner. She was gracious enough to share some insight regarding the rondel glass windows in her new home and how it all came about.
We discussed how the rondel glass ended up being utilized in some of the windows that would be in 'direct sight lines' within the home. There were 4 windows with rondel glass in them, clear and colored, that she had handmade by an artisan in Atlanta that also made a few other leaded glass windows in the home.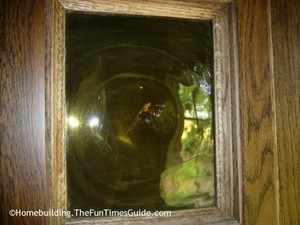 Where Did The Rondel Glass Windows Originate From?
Their supplier for the reclaimed antique terracotta roof tiles used on their new English cottage-style home was asked to keep a look out for some rondel glass in his travels to Europe. He must've kept his eyes WIDE open because he came back with a box-full of LARGE rondel glass discs from the U.K.…a shoebox-full to be exact. Mrs. Bonner had the shoebox 'in hand' and was showing the rondel glass discs to the window-maker/artisan and was asking her "…what could she do with them to incorporate them into their new home?" Being the artist that she was, she made the suggestion to make good use of these "works of art" (my terminology) where they could enjoy maximum viewing exposure to Mr. and Mrs. Bonner for the life of their home.
The rondel glass that was used in the back door (shown above) is HUGE. It's been cut to fit into a square opening so it's different from all the other rondel glass discs in this home.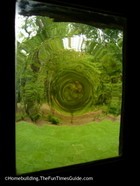 Mouse over the photos for a detailed description and/or click on the photo for a larger view
I've seen these rondel glass discs up close and they are magnificent…cool..even. They are truly unique and can easily be made the center of conversation with guests to their home. They're beautiful and they have a story to them.
Let's see a show of hands of who wants to see more fantastic examples of mouth-blown rondel glass discs in this English cottage-style home……….OK…on with the show…
These are all different rondels you're looking through in the photos below.





Well…that's the end of this story of the journey of these particular rondel glass discs and how they found a home. If I ever have the opportunity to visit a shop that makes rondel glass discs by hand, I won't pass on it.
Learn and see even more rondel glass used in windows
If you find this article interesting, you may want to check out the whole series of posts on this English-cottage style home and all of the beautiful craftsmanship and materials that go into constructing it. CLICK HERE
I started as a home-stalker… visiting brand new homes under construction in the neighborhoods near my house. That inspired me to write about home building and home renovation projects — chronicling homes during different phases of construction from a consumer's point-of-view. Basically, the tips you'll find in my articles are a collection of checklists for what I think should (and should not) go into building or remodeling a quality home.