This post may contain affiliate links. If you buy thru these links, we may earn a commission at no additional cost to you.
---
Reclaimed antique terra cotta roof tiles from Europe have been masterfully installed on this English cottage-style home. It's just one unique feature and/or material after another for this English cottage-style home. I stated in my introductory post that the materials being used to construct it would BLOW…YOU…AWAY! Well…I don't think it has disappointed.
General contractor, Rhett Bonner, and builder/developer of The Retreat, Jerry Bonner, closely guard their materials sources so I was unable to get a vendor name from which he obtained the antique reclaimed terra cotta roof tiles from but he did tell me how his supplier does it. Basically, his source buys reclaimed roof tiles from all over France (and probably most of Europe), ships them over in a container via ocean freight and voilà! They just happen to have gotten their hands on antique terracotta roof tiles. A rare find, indeed!
pssst…I'm not 100% certain but I think one of his sources may be Origines: Architectural Antiques in Paris.
The roof on this home features a jerkinhead roof (or hipped roof) over the dormers and garage, a shed roof over the back door, and a traditional gabled roof elsewhere. There are 1" x 12" slits cut-out all along the underside of the eaves to create the soffit vents, and copper flashing was utilized throughout. The drip edge is copper, the roof tile fasteners are copper nails and the open valley consists of copper flashing, as well. Not to mention the copper gutter system with hand-cast brass hangers.

Barrel tiles were used for the ridges, convex-shaped tiles for the sloped ridges and cambered roof tiles were used for the flat roof planes.It's a high quality terracotta roof installation, to say the least.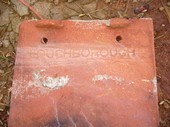 I found a couple of broken tiles on the ground with the word "LOUGHBOROUGH" stamped into the tile. A little research led me to find out that there is a terracotta roof tile company located in the town of Loughborough in the U.K. and that there are probably a few tiles throughout that are replacement tiles that were on the roofs being reclaimed.
I've also noticed on some of the basic cambered roof tiles that they are stamped between the notches with upper-case letters of the alphabet. I'm not sure what that alphabet indexing system is used for or what the purpose is.
Terra cotta roof tiles are currently in very high demand, especially in Florida and along the Gulf coast, which has caused a huge backlog of orders for them. Check out this article regarding how scarce they've become there and the high price they are fetching these days.
Source: Palm Beach Post
Publication date: 2006-03-18
The terracotta roof tiles being used look very similar to the ones I found here on SalvoWeb. Now that is one great website if you're in the market for some great materials for your next home or replacement materials for your current home.
Resources for reclaimed roof tiles:
If you find this article interesting, you may want to check out the whole series of posts on this English-cottage style home and all of the beautiful craftsmanship and materials that go into constructing it.
CLICK HERE
I started as a home-stalker… visiting brand new homes under construction in the neighborhoods near my house. That inspired me to write about home building and home renovation projects — chronicling homes during different phases of construction from a consumer's point-of-view. Basically, the tips you'll find in my articles are a collection of checklists for what I think should (and should not) go into building or remodeling a quality home.