---
This post may contain affiliate links. If you purchase through these links, we may earn a small commission at no additional cost to yourself.
---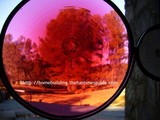 Rondel glass is the subject of this entry after my most recent visit to the English cottage-style home at The Retreat at Kennesaw Mountain. Each time I visit this English cottage-style home something interesting or unusual catches my eye. This trip was no different. There are several windows installed throughout the home that have several characteristics in common with
stained glass
. After doing some research on the web I've discovered that what they have installed are
rondel glass windows
.

By definition, a mouth-blown piece of glass that has been spun into a circular shape, often irregular. Sometimes incorporated into leaded glass artworks. Machine-made facsimiles are common, called pressed rondels. They give tons of visual interest, both inside and out, no matter where they are installed and are a feast for the eyes if installed in a dimly lit room or area, when daylight is present. When installed in a kitchen setting they can be a source for conversation due to the unusual nature of the windows themselves. I noticed that they were strategically placed so that they are natural focal points. For example, one of the windows is installed at the top of a staircase where you are visually captivated from the moment you begin stepping up until you reach the top.
If you are building a custom home and love the look of stained glass then you should seriously consider looking into (no pun intended) having rondel glass windows made to your specifications and installed in focal points in your new home. How could you go wrong? We've seen plain, frosted rectangular shaped windows installed near the ceiling in many bathrooms in some homes. That would be one place where the owners could enjoy the visual interest often enough to justify the added expenditure.
I saw several in this home including: above the entry on the second floor in the bathroom, at the top of the stairs on the second floor and another looking out onto the courtyard in the butler's pantry. There is also another on the rear entry door on the terrace level.
Related
If you find this article interesting, you may want to check out the whole series of posts on this English-cottage style home and all of the beautiful craftsmanship and materials that go into constructing it.
CLICK HERE
I started as a home-stalker… visiting brand new homes under construction in the neighborhoods near my house. That inspired me to write about home building and home renovation projects — chronicling homes during different phases of construction from a consumer's point-of-view. Basically, the tips you'll find in my articles are a collection of checklists for what I think should (and should not) go into building or remodeling a quality home.