This post may contain affiliate links. If you buy thru these links, we may earn a commission at no additional cost to you.
---
The components and systems in your home have a definitive life expectancy.
As you may have thought, sooner or later you will need to replace minor/major components and systems that keep your house running efficiently.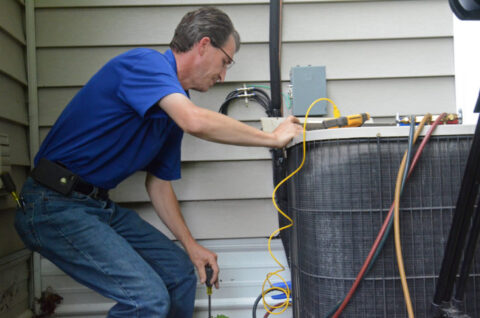 No one ever said owning a home was inexpensive — no one that had any intention of keeping his/her home in good running order anyway.
I'd like to offer a few high quality links and our own personal experience with our home — which we've owned since 1988 — and some of the major components inside it.
How Long Things Last
After reviewing a life expectancy list, I realized that we got our money's worth out of most, if not all, of the major components and systems that were original to the house.
Case in point: the Ruud AC unit we had was long overdue to be replaced but it kept chugging along with only a couple of freon boosts.
Many factors affect the life expectancy of housing components and need to be considered when making replacement decisions — including the quality of the components, the quality of their installation, their level of maintenance, weather and climatic conditions, and intensity of their use. — The Old House Web
I wanted to share that quote because:
I couldn't have said it any better.
It is the absolute truth.
That says it all!
Home Components That We've Replaced
We like the location of our home — which would explain why we've remained there for 17+ years, even though it is our first house.
It has grown somewhat cramped with the kids, pets, and accumulation of "personal belongings" — but it's nice and the utility bills are low.
Thus, we have remained for quite a long time (compared to today's standards). Consequently, we've been replacing most of the major components of our home over the past few years.
Our builder did a good job installing the home components and systems during the construction phase (for the most part). So most things have lasted up to our expectations — with a few exceptions. For example, the roofing crew that originally worked on the house lacked a certain amount of roofing skills. (That's about as nice as I can say it!)
When we decided to re-roof the house last year, I had no hesitation in hiring our friend, Kevin King — because he knows his way around roofs, to say the least. He co-owns Atlanta Roofing Specialists and they did an extraordinary job! They have all the credentials and experience necessary to get the job done right. Please give him a call if you live in the metro Atlanta area.
We've also replaced our dishwasher, washer and dryer, and water heater. Each item was carefully selected for brand and model reliability, Energy Star compliance (whenever applicable and monetarily feasible), ease of use, and design.
We Also Replaced The HVAC System
Our most recent investment in a replacement component was a biggie: the HVAC system! We had to install a completely new HVAC system due to worn out parts, etc.
After many hours of researching SEER, brand reliability, HVAC forum discussion, etc. we decided on an American Standard air conditioner/heat pump and furnace/blower with an Air Bear whole home media air cleaner and filter system.
Here's exactly what we got:
American Standard Freedom 80 Two Stage Furnace with Variable Speed Blower
American Standard Heritage 14 Heat Pump with Dual Fuel Kit
High Efficiency Evaporator Coil
Programmable Carrier Humidistat
Anyone in the HVAC business will tell you that most HVAC systems will work well — it's just a matter of how competent the installer is.
We chose our installer very carefully. I interviewed 3 different installers and felt entirely comfortable with my choice — because he was very knowledgeable, had decades of experience, had excellent communication skills, and he was an authorized dealer/installer for American Standard HVAC systems.
I chose Jim Bradshaw because he wasn't just the salesman, he was also the installer and the owner of the company. I knew from listening to Jim — and from his portfolio/credentials — that he was the man for the job.
Some excellent HVAC links:
The Bottom  Line…
Well, the bottom line is it's all about the BOTTOM LINE.
Our plan was to replace our major household components (as they wore out) with high-efficiency units that would last.
I've heard alot of grumbling about extremely high gas bills this winter due to price increases, but our gas bill actually decreased down to a staggering $54 for the month of December. I'm quite certain that it has everything to do with:

A new water heater
A new Energy Star rated Kenmore washer & dryer
A new Maytag dishwasher that heats the water to a higher temp on its' own
A new high-efficiency HVAC heat pump system
A new locked-in rate with the lowest priced gas company in Georgia (before the price hikes)
All in all, I know that the time that I invested in researching components and systems will pay dividends down the road.
Without a doubt, there are tons of decisions to be made when the time comes so take the time to educate yourself on the latest and greatest and you shouldn't be disappointed with the results.
I started as a home-stalker… visiting brand new homes under construction in the neighborhoods near my house. That inspired me to write about home building and home renovation projects — chronicling homes during different phases of construction from a consumer's point-of-view. Basically, the tips you'll find in my articles are a collection of checklists for what I think should (and should not) go into building or remodeling a quality home.