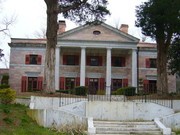 Colonel Sam Tate built the Tate House (a.k.a. Pink Palace or Pink Marble Mansion) in Tate, GA in the early 1920′s. The Pink Palace is constructed of a very rare, bright pink marble known as Etowah marble and it was quarried not far from the estate. I've just recently discovered the historic Tate House just south of Jasper on Hwy. 53. Etowah marble may only be truly appreciated in person. The home was completed in 1926 but Colonel Tate died in 1938 and the mansion began to fall into disrepair. The surviving Tate's resided in the mansion until 1955 when they left the home unoccupied. Although this fact has been disputed by a reader who wrote me regarding said fact (see comments below).
Ann Laird and her husband Joe bought the home in 1974 and promptly found a moonshine still in one of the rooms. They brought the mansion up to code and turned it into a truly unique bed & breakfast. There are 4 guest rooms in the mansion and 9 guest cottages. The Laird's recently sold the home to a management group where it is no longer being run as a bed & breakfast today but you may have a wedding ceremony or hold social events.
The estate is on the National Register of Historic Places and consists of 27 acres with fantastic views of the Appalachian Mountains. The mansion boasts marble baths, fireplaces, a pink marble Grecian Stoa and an Etowah pink marble fountain.
It was just so odd to find this historical mansion so far off the beaten path. I've heard of the Tate House before but never gave a second thought as to the location. I have not personally toured the home but how could it be anything but magnificent inside.

We've stayed here and the Mertes' were fantastic hosts. The home is beautiful and full of antiques (Joe is an antique dealer as well as a B&B operator)
Update
I've journeyed back to the Pink Palace to get more (and better) photos. Interest in taking a look?
Follow this link.
See the Tate House decorated for Christmas.