This post may contain affiliate links. If you buy thru these links, we may earn a commission at no additional cost to you.
---
Spackling and sanding drywall is fun! Ask anyone who's done drywall repair and they'll look at you and smile real wide.
OK — so the big smile may not mean they had fun spackling and sanding! What their smiling eyes are really trying to tell you is: "You really don't know what you're getting yourself into, do you? But go ahead and knock yourself out."
Spackle
is so versatile that you'll be surprised at the many ways that people put it to use. For example, check out this crazy video for "Crack Spackle" from The Man Show.
You'll never look at spackle in quite the same way ever again. WARNING: Plumbers crack on display!
See, spackle is amazing stuff!
Anyway, back to reality and how most people put spackle to use.
Well, I've got news for you. If you're the DIY-type but you haven't tackled this particular project yet (spackling, sanding, painting, and priming drywall), I've got some good advice that will help you — as long as you aren't afraid to get dirty.
YOU CAN DO IT! If I can… so can you.
I've already told you about the best way to remove wallpaper — where I mentioned that spackling and sanding was stage 2 of our bathroom remodel.
So with putty knife and respirator mask in hand, it's time that we dive right in!
I'll be honest, even though I knew what needed to be done to prep the walls for painting, I wasn't looking forward to this step of my drywall repair project.
My apprehension was due to the following issues:
The sheer number of drywall anchor holes that needed repair.
The wallpaper we removed wasn't pre-primed before it was applied.
Whoever put the wallpaper up used a Paper Tiger scoring device and applied way too much pressure.
FYI, priming the walls before the wallpaper is applied will allow for much easier removal.
DIY Drywall Repair Supplies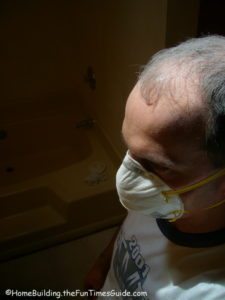 First things first. You must buy a good, tight dust mask
or respirator mask to protect your lungs while sanding.
I bought a 3M dust mask (model 8210plus). It worked very well, and I had no ill effects from the dust during or after sanding.
By the way, the dust you see in my hair (what's left of it) in the photo has aged me a decade, or so. There was a lot of dust!
So, here's your shopping list: (in addition to the mask)
That's all you need for a DIY drywall repair project to fix anchor holes, nail holes, slight imperfections, and wherever the backing paper on the wall board may have torn if you removed the wallpaper.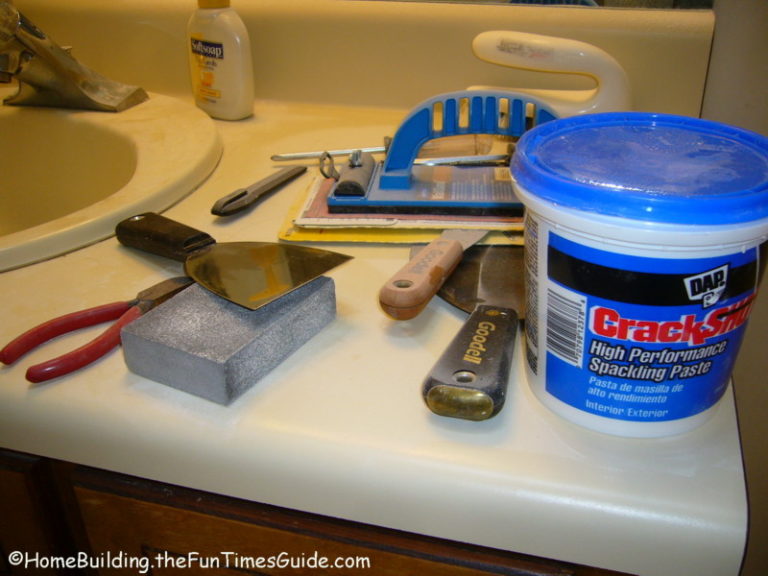 How To Spackle Drywall Holes
There's really nothing to filling the holes when you spackle drywall. Just put a little spackle on your small or medium putty knife, then fill all of the holes — and even out any chips or imperfections you see. Now's your chance to get it right!
In case you're wondering, here's the difference between spackle and joint compound.
Here are some of my best drywall spackle tips:
The spackle in the deeper holes will bulge out initially, but don't worry about it.
Deeper holes may have to be spackled and sanded 2-3 times for a proper repair.
You really need very little spackle for the smaller holes so smooth over it and scrape off as much as possible.
Remember — you have to sand off any excess later which translates into more dust.
The deeper holes and divots will take a few hours to thoroughly dry and you can't rush it.
Be patient and take advantage of a little down time during your drywall repair project to work on some of the other honey-do items on your list — or play with the kids for awhile.
How To Sand The Drywall
So, now it's time to start sanding. I used a multi-grit sanding sponge that fits in the palm of your hand made by Norton.
It worked beautifully, and we were able to sand the entire bathroom with only 2 of them — although I was beating the dust out of them frequently to keep the grit raised.
Here's my best advice for sanding the walls:
I recommend using a sanding sponge — due to cost, convenience, and ease of use. (It fits in the palm of your hand, so it gives you excellent feel while applying varying degrees of pressure.) Of course, you may prefer a sanding block to the sponge. It's up to you.
I didn't use the sandpaper sheets that you see in the photo — I thought I would need them, but I liked the sponges so much that there was no need for them.
I used the medium grit side of the sanding sponge — to sand away the majority of the excess spackle.
I then turned the sponge over to the fine grit side — to smooth it down.
I smoothed it out with steadily decreasing pressure — to leave no trace that it had been sanded.
The result was spectacular, if I do say so myself!
How To Prime Before Painting Drywall
Bathrooms are notorious for having no windows, and ours is no exception. I didn't use a respirator mask, but you certainly could for this step of the project.
Here are the steps I used to prime the walls:
Stir the primer with a paint stick. Then, close the lid tightly and shake it up thoroughly. Gravity separates primer quite dramatically — so take your time here and mix it thoroughly!
Open all of the windows in the vicinity — so fresh air will circulate freely throughout the space. The fumes from the Kilz primer that I used were profound, so I took a few quick breaks to get fresh air in my lungs.
Tape off any areas that you don't want painted. I just used a roll of blue painters tape for this.
Start by priming the borders of a wall and around obstacles using a cheap, 2-inch angled paintbrush. Why cheap? Because it's quicker and easier to throw away a $2 brush, rather than thoroughly cleaning it with mineral spirits, etc. — especially at 1 o'clock in the morning when I finished priming. Save the expensive brush for the paint.
Finish it off the priming by using a (cheap throwaway) paint roller and wait an hour or two for it to dry.
How To Paint Drywall
Finally, it's time to paint the drywall.
Here's how I did the painting for this project.
I started as a home-stalker… visiting brand new homes under construction in the neighborhoods near my house. That inspired me to write about home building and home renovation projects — chronicling homes during different phases of construction from a consumer's point-of-view. Basically, the tips you'll find in my articles are a collection of checklists for what I think should (and should not) go into building or remodeling a quality home.