This post may contain affiliate links. If you buy thru these links, we may earn a commission at no additional cost to you.
---
I posted an article about Thomas' Liquid Stainless Steel paint a couple of months ago.
I mentioned that we would paint our old refrigerator and give our honest opinion on the product and the application process.
Now that it's been painted, I wanted to give you a first-hand review here — along with a few handy tips on applying stainless steel paint
.
I've included plenty of photos of the entire process, too. These first 2 photos are of my refrigerator — before and after adding the stainless steel paint:
First Impressions
Our old, almond-colored GE refrigerator (shown on the left in the before & after photos above) has been fantastic.
It has never broken down — knock on wood — and it's still keeping everything just as cold as when we bought it 22 years ago.
A few kitchen trends have come and gone in the time we've had our refrigerator, so we thought it was overdue for an exterior update. We had already replaced our dishwasher with a Maytag stainless steel model. And I installed a Kenmore gas range with a stainless steel front, as well.
We used this product to paint our old refrigerator — but Thomas' Liquid Stainless Steel paint can be used to paint all of your appliances (except a range top), and just about anything else you can think of!
When my wife and I first read about stainless steel paint
, we thought we'd give it a shot. It was a way to make all 3 major kitchen appliances look similar, without busting our budget. We had nothing to lose, given the age of the refrigerator, and a fresh new look to gain!
I contacted Thomas' and they were kind enough to send a liquid stainless steel paint refrigerator kit for my review.
How Much Does Thomas' Stainless Steel Paint Cost?
At first glance, it's expensive when compared to regular interior house paint. But Thomas' stainless steel paint is anything but ordinary.
Here's what makes it unique:
It's an automotive grade coating with real stainless steel particles mixed into the paint. That drives the cost up — so it's a very expensive paint.
It's not meant to be a wall covering — it's meant to be used on smaller surfaces than walls.
It's a special-use paint that provides one-of-a-kind results — so it's worth spending more on products that are unique.
Thomas' Liquid Stainless Steel has several different paint kits available, or you can buy just the base coast and/or just the top coat a la carte.
The fridge kit includes everything you need to get the job done:
Stainless steel base coat – 32 oz (1 quart)
Clear top coat – 16 oz. (1 pint)
2 different sizes of microfoam brushes – 11″ and 3″
Roller with 2 micro-foam roller covers
Roller pan
Stir stick
Demo DVD
Instructions
The sample fridge kit that was sent to us included practically everything — it didn't come with a roller pan, and the small microfoam brush was a 2″ brush rather than a 3″ brush.
The 3″ foam brush was a needed improvement to the kit — because the edges of the refrigerator doors exceed 2″ in width, and it would have been advantageous to be able to smooth the paint in one stroke for a better look.
They've obviously tweaked the kits, for the better, based on customer feedback.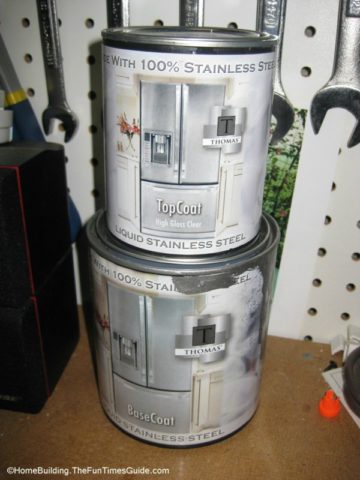 The refrigerator kit currently costs around $80. It's enough product to apply 3 base coats and 2 top coats on 3 sides of a full-sized refrigerator, plus the top.
If you were to purchase the stainless steel paint separately (sold in quart sizes), it would set you back $56 for the base coat — plus $25 for the top coat — but you won't have any of the additional tools necessary to get the job done.
So it definitely makes sense to buy the entire kit, at least for your first appliance.
Before You Get Started…
I would encourage you to watch the included demo DVD and read the instructions carefully before beginning. The instructions are extremely helpful and will definitely affect the outcome of the final appearance.
I'll be sure and point out a few tips that we learned along the way (below) — to make the process even easier for you when you're ready to do it yourself.
Here's how to prep the surface areas:
Remove all of the magnets and fun stuff from the exterior of your refrigerator.
Clean all exterior surfaces of your refrigerator with window cleaner, including the strips where the door magnets contact the inside of the fridge.
Remove the door handles, if possible. I was able to remove the upper handle, but not the bottom handle. The lower door handle, on our particular model, extends the length of the door and was attached under the bottom of the door — so I taped it off with blue painter's tape.
Tape off everything else on the exterior of the refrigerator that you don't want to cover in paint (like door hinges, door magnets, etc).
TIP: I didn't tape the surface of the door magnets that contact the interior of the fridge — because it affected the magnetic ability. In hindsight, I would probably go ahead and tape the entire magnet, so I wouldn't have to worry about wet paint touching the magnet. It would keep the door from being "pulled in," as well — when in close proximity to the interior while it was drying. There's a helpful hint (near the bottom of this article) for keeping the door from touching the refrigerator while it's drying.
How To Apply Liquid Stainless Steel Paint
These are the 8 steps I used:
#1 – Shake the can of liquid stainless steel base coat extremely well.
TIP: It's important to shake it until you can't stand it any longer. I probably shook it for about 2 minutes.
Then, remove the lid, and stir thoroughly with the included stir stick, as well.
#2 – Pour the stainless steel paint into the paint tray.
TIP: You can use the roller tray that comes with the kit, or you use your own (wider) paint tray. I like to line the roller tray with aluminum foil for easy cleanup.
#3 – Start painting — just be sure to go easy on the paint!
One of the first things the instruction sheet mentions is:
EXTREMELY IMPORTANT: Apply light, thin coats of paint. 
It's important to do just as it says. If applied too thick, it will not smooth properly when using the micro-foam brush.
Trust me, when properly applied, the coverage is going to look terrible after the first coat — but don't worry about it. The coverage improves dramatically with each additional coat!
TIP: Use the micro-foam brush in an even-handed, upward motion to smooth the base coat and create vertical striations to mimic authentic stainless steel. Use slow, deliberate strokes that extend the height of the refrigerator for best results.
In our case, we have textured door fronts, so our first coat was kind of a shocker — because all it seemed to do in some areas was fill the grooves somewhat, plus add a light coating of paint. The sides of the refrigerator were a totally different story since it was smooth metal.
You can see what I'm talking about in these 2 photos:
#4 – Squeeze out the excess paint between strokes.
You'll find that you have excess paint embedded in the microfoam brush after smoothing the paint onto the refrigerator — how much depends on how much paint was applied and how much pressure you applied during the smoothing process.
TIP: I used the stir stick to press out the excess paint from the brush by holding it over the paint tray and sliding the stir stick down the surface of the brush.
Pressing out the excess paint does 2 things:
Gives a better striated look to the application — by having a "clean" brush prior to each time you smooth it out.
"Stretches" your base coat and top coat — so you have no problem getting enough coats of coverage.
#5 – Make sure that you've painted every surface that "shows".
We used our own 1″ brush (for latex paint)
to get in all of the nooks and crannies that the small foam brush would not reach — just to get some paint on them.
TIP: I didn't concern myself with making striations in those spots because nobody (and I mean nobody) is going to look at your refrigerator that close. If they do, smack 'em with a spatula!
#6 – In between coats, grab a quick snack — the stainless steel paint doesn't take long to dry.
You'll need to wait a little over an hour between coats when painting the base coat of stainless steel paint.
You'll need to wait at least 2 hours in between each clear top coat — if you choose to apply more than one coat.
TIP: During the drying times, put all of your brushes and rollers in the paint tray and cover it with cling wrap. Or put the brushes and tray in one of those oversized zip storage bags. Either way will keep your painting materials from drying out in between coats.
#7 – Make "pin straight" strokes on the top coat.
I found that I was able to apply even pressure along the entire length of the 11″ microfoam brush if I held it on the sides rather than on the handle — seen in this photo:
TIP: I can't stress enough that you must take your time to make deliberate, pin straight strokes at an even pace and pressure for that perfect stainless steel look! That's the toughest part of this whole process, in my opinion.
#8 – Finally, don't forget to paint the seldom seen places!
Be sure to apply the base coat (and top coat) to the top of your refrigerator:
You'll also want to paint the parts where the door magnets contact the refrigerator when it is shut:
Did I mention that we did this entire painting process with all of the food still in the refrigerator? Not one thing spoiled or thawed!
TIP: After painting the areas of the refrigerator where the door magnets make contact, I propped the door open about an inch by strategically placing an aluminum foil box inside of the fridge so that the magnets wouldn't draw the door shut. Do the same thing for the freezer using a cling wrap carton, or whatever works for you.
Is It Worth The Time, Money, And Effort?
Our overall assessment is that Thomas' Liquid Stainless Steel was very easy to work with, and cleanup was a breeze.
Any errors we may have made along the way were easy to redo to make right.
When we were done, we tossed the entire used kit in the trash — with the exception of the roller handle and the cans of leftover paint.
It took about 30 minutes for the 2 of us to apply and smooth each coat to our satisfaction.
It took a total of about 9 to 10 hours to complete the job — drying time included. (That's 3 applications of base coat and 2 applications of the clear top coat on all 3 sides of the refrigerator, plus the top.)
Store the leftover paint, in case you need to make any scratch repairs in the future. You'll be glad you did!
We give Thomas' liquid stainless steel paint:
4 out of 5 paint brushes for ease of application.
4 out of 5 paint brushes for the completed look.
No, it doesn't look exactly like stainless steel. What it does, though, is extend the life of the appliance by updating it to look like it belongs in a modern kitchen. Otherwise, you might sell it on Craigslist or take it to the landfill for no purpose other than vanity.
The product delivered as promised, and we are very satisfied with the outcome.
The bottom line… In order to determine if this process is worth it, you have to ask yourself one more question:
$80 for a liquid stainless steel paint fridge kit versus $2,000+/- for a new, stainless steel refrigerator… is it worth it?
Personally, I would do it again if the need presented itself. What a cool way to update an old appliance!
One last note… you can use this stainless steel paint for all sorts of applications:
Toasters
Dishwashers
Stools
Cabinets
All of your appliances (except a range top, as mentioned above)
The possibilities are endless!
I started as a home-stalker… visiting brand new homes under construction in the neighborhoods near my house. That inspired me to write about home building and home renovation projects — chronicling homes during different phases of construction from a consumer's point-of-view. Basically, the tips you'll find in my articles are a collection of checklists for what I think should (and should not) go into building or remodeling a quality home.