This post may contain affiliate links. If you buy thru these links, we may earn a commission at no additional cost to you.
---
Wondering how you can find cheap building materials? As you probably know, the cost of materials quickly adds up whenever you decide to do a remodeling project or addition to your home.
And if you're building a new home from scratch, then it's safe to say that the cost of building materials is the biggest factor that's included in the cost of the home. I know it was for me when I built a home in Orlando — material costs were huge!
If you're working with a general contractor or a licensed home builder, you might've heard that you can cut down on the overall cost of the home by buying all of the building materials yourself.
Sure. But you're not a general contractor, so how can you get a contractor discount for the best price on materials?
I'm not a general contractor either, but I do have some ideas for finding cheap building materials.
Compile Your List Of Building Materials
The first thing you need to do is create a list of all the materials you need — down to every last bolt and washer.
Your home builder or contractor should be able to help you create the list of necessary materials to construct your new home or start your home renovation project.
This list will make it easy you to shop around for the best prices and get bids or quotes from a variety of suppliers.
If you're unsure about what building materials you'll need:
Ask your contractor for some ideas.
Research building materials suppliers in your area online.
Ask in an online forum — just make sure the info is coming from a reputable source.
Here's a sample list of building materials to build a 1,500 square foot home.
Visit Local Building Materials Suppliers
By visiting a local building materials supplier or small business supplier, you'll be able to see what they can do for you — locally.
There are also some great resources online where you can find reusable building materials near you, simply by typing in your zip code.
Here are a few of the best cheap building materials websites:
Diggerslist – Similar to Craigslist, this site allows buying, selling, and trading of construction materials and equipment.
Habitat For Humanity Restores – These nonprofit home improvement stores sell new and gently used furniture, appliances, home accessories, building materials and more to the public at a fraction of the retail price.
Some local suppliers will offer a contractor discount for those who meet a monthly minimum when purchasing building materials. But keep in mind — this might not be the case for a one-time purchase or for a relatively small purchase. So just ask if there are any discounts available that would apply to your project.
The bigger your project is and the more materials you purchase, the more likely you are to qualify for a discount.
Here are 6 ideas to get money-saving discounts at your local building supply store.
Visit Home Improvement Stores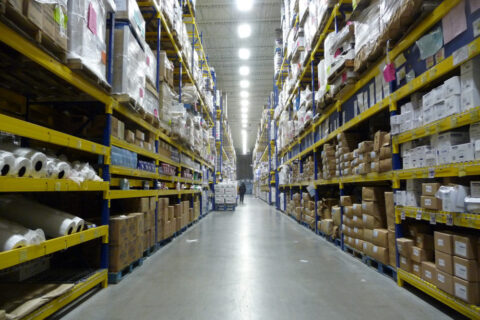 Some big name building materials suppliers — such as Lowes and Home Depot — offer contractor packages and bulk discounts. There's an easy way to take advantage of this type of contractor discount!
The deal typically applies to any large order of materials — which means you don't have to be a licensed contractor to qualify for the discounts, you just have to buy enough of the right materials.
These stores typically allow you to send your materials list to them online. They will then respond with their price quote with the bulk discount applied.
It's possible to save 15% to 50% on some building supplies this way!
You might also get a discount on shipping the materials to your home. Remember that your list must first meet a minimum in order to qualify for the reduced price, though.
Here are Home Depot's volume pricing discounts and Lowe's bulk pricing discounts.
Look For Contractor Quality Materials
Just because you're looking for cheap building materials — in terms of price — doesn't mean you have to settle for cheap materials in terms of quality.
So be sure to examine the quality of the construction materials that you're purchasing.
You might think you can't find cheap building materials that are contractor-grade — but I'm here to tell you that you can!
Take the time to compare quality, reviews, and prices of products from sites such as Build.com with the more general suppliers such as Lowes, Home Depot, and other stores that sell building materials in your area.
Here's some helpful information about builder-grade vs. retail products.
It Never Hurts To Ask
The main takeaway here is you just need to get out there and ask for cheap building materials. There's no shame in wanting to remodel or build a house on a budget.
If you assume that the best deal is the price tag on the product, then you could be missing out on some massive savings — especially when you're making a large purchase.
If you find that you aren't getting any discounts, then ask each supplier what the requirements are to qualify for a contractor discount.
---
When you start adding up the final costs of your home building or remodeling project, you'll be grateful for every penny saved!
Other Ways To Find Cheap Building Materials
In addition to the links I've included above, here are some more resources to help you build or remodel a home on a budget:
I'm a health nut, a frugal mom, a dog lover, a DIYer, and a gadget girl. Personally, as a post-divorce, working single mom on a budget I have a lot of experiences that I enjoy sharing so others can learn from the things I wish I knew earlier! Professionally, I've worked full-time in a variety of marketing, sales, and editing jobs. You can always find me at the corner of Good News & Fun Times as Managing Editor at The Fun Times Guide (32 fun & helpful websites).