This post may contain affiliate links. If you buy thru these links, we may earn a commission at no additional cost to you.
---
I've written a couple of articles about The Willcox hotel lobby and Roosevelt Suite located in Aiken, SC recently. As I stated in the first post on The Willcox, there is much history surrounding it, old and new. This post will cover something a little more recent, yet still spectacular. A Vern Yip designed Grand Dining Hall.
photo credit via VernYip.com
If you've watched any amount of HGTV  (think back to the highly successful Trading Spaces), then you know who Vern Yip is and how elegantly creative his work is. Besides running an extremely successful Atlanta-based interior design practice and retail product line, he plays host to HGTV's Design Star and also Deserving Design. Vern is a busy man.
An interesting fact came to my attention regarding the grand dining room of this historic hotel located a mere stones throw from the center of town. While I was in the dining room making note (and taking photos) of the chandeliers, windows, tables and everything else you'd normally find in a dining room, I noticed the unusual patterns shimmering on the walls. From a distance, it looked like some sort of scroll-patterned silk wallcovering. I was encouraged by my tour guide and (intentionally anonymous) friend to take a closer inspection of the aforementioned wall. It turns out that it was not silk at all. I was amazed to discover the material to be "scroll-patterned" inlay wood veneer.
I'm not sure if you'd call it inlay, but I wouldn't know what else to call it. It appeared to me that the varying wood grain patterns of the veneer were due to inserted pieces running in varying directions to give outline and patterns, much like inlay. The wood veneer wall patterns weren't simply a feast for the eyes, but also to touch.
By the way, I was told that Vern's idea behind the wood veneer paneling was intentionally designed to resemble silk wallcovering. Using "patterned" inlay wood veneer paneling simply bumped it up the creativity scale a notch, or two.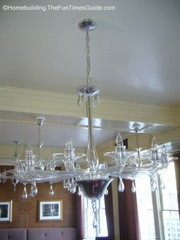 Okay…okay. The rest of the interior design of the grand dining hall was elegant, as well. To my eyes, the wallcovering just seemed to have taken precedent over everything else in there.  See for yourself from the photos I've included in this post. The chandeliers are all original fixtures to the building.
Related:
More articles about The Willcox from The Fun Times Guide To Homebuilding
I started as a home-stalker… visiting brand new homes under construction in the neighborhoods near my house. That inspired me to write about home building and home renovation projects — chronicling homes during different phases of construction from a consumer's point-of-view. Basically, the tips you'll find in my articles are a collection of checklists for what I think should (and should not) go into building or remodeling a quality home.