This post may contain affiliate links. If you buy thru these links, we may earn a commission at no additional cost to you.
---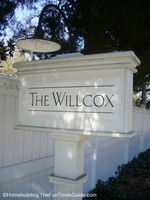 My hometown of Aiken, South Carolina is a beautiful place to visit, a great place to live and, apparently, a great place to retire, as well. There is so much history to absorb in Aiken, yet I was totally oblivious to it all when I lived there as a kid. Although, there is one historic building in particular that I've been in awe of even when I was a teen.
It wasn't until I was thirty-something before I realized what a gem-of-a-town Aiken truly is. There are so many activities going on throughout the year, not to mention that residents of Aiken know a thing, or two, about true Southern hospitality. People actually drive the posted speed limits in Aiken, too! That's a welcome contrast to today's hectic lifestyles most of us lead these days.
The Willcox, also known as the Willcox Inn to many Aiken natives was based upon Second Empire and Colonial Revival styles of architecture. It was first opened to guests in 1900, guided by Cheshire, England native, Frederick Sugden Willcox along with his Swedish wife, Elise. It's a beautiful spectacle to behold. There have been many renovations over the years to get it to this point and it is currently owned and operated by The Garrett Hotel Group.
I have so much I've been wanting to discuss about The Willcox that I've decided that it would be best to break it up into a few different blog posts to best serve each sub-topic. In this post, I will be jotting down my thoughts regarding Room 304, the highly regarded and historic Roosevelt Suite. I also want to share some photos I took on a private tour given by a friend (couldn't believe my luck!)
First of all, the Roosevelt Suite is, indeed, named after our 32nd president, Franklin D. Roosevelt. This is in large part due to the fact that FDR was known to have visited The Willcox every now and then. Our former president would enter through the rear of the building from his railcar that pulled up directly behind the hotel. Secure and discreet.
The Roosevelt Suite is normally reserved for the eyes of patrons but here's your sneak peek into this luxurious suite.
It is basically two large suites in one. There is a living and dining side on one half with the master suite and bathroom on the other half.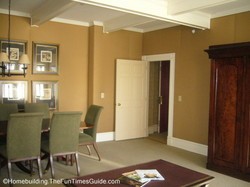 The suite is divided in half by a wall that incorporates a fireplace on either side with a short hall linking each room. There is also a beautifully crafted coffered ceiling above.
The bathroom consists of two separate sinks with vanities and a full-size, cast iron clawfoot tub. Surprisingly, I did not take a photo of the second bathroom counter with sink, although you may just catch a glimpse of it in the photo below in the mirror. C'est la vie!
Guests of the Roosevelt Suite have private access to the veranda on the front facade. I can tell you that it's a beautiful view from up there.
One final note…the current nightly rate is $525 at the time of this release. Please see their website for all of the amenities provided.
I hope to have additional sub-topics on The Willcox posted in the coming days and weeks. Just bookmark this page and I'll have all of the links to the remainder of this series all on this page.
Related:
The Willcox Grand Dining Hall
Sources and Related Material:
South Carolina Department of Archives and History listing of The Willcox
The Willcox National Register of Historic Places Nomination Form with a great description of the history and constant mutation of the building and property.
The Willcox official website. Reserve your suite for that special romantic getaway weekend.
National Register of Historic Places home page
I started as a home-stalker… visiting brand new homes under construction in the neighborhoods near my house. That inspired me to write about home building and home renovation projects — chronicling homes during different phases of construction from a consumer's point-of-view. Basically, the tips you'll find in my articles are a collection of checklists for what I think should (and should not) go into building or remodeling a quality home.