This post may contain affiliate links. If you buy thru these links, we may earn a commission at no additional cost to you.
---
We think Jack and Jill bathrooms are a great feature to include in a home plan for the kids rooms — when there's room for it.
Some of the best Jack and Jill plans we've seen always (always!) include double vanities, water closet with a door, tub/shower, linen closet, and elbow room.
I want to emphasize that last point…ELBOW ROOM!
A Jack and Jill bathroom is named after the 2 kids in the nursery rhyme, but they are typically meant for 2 siblings who have their own room to share. A Jack and Jill bathroom is much like having an ensuite for both bedrooms. Privacy is ensured by having a lock on both doors. Also, there should be a 3-way light switch to allow the lights to be turned on from both entryways. Jack and Jill bathrooms would most commonly be 3-piece, 4-piece or 5-piece bathrooms. If there isn't much room, a sink, toilet and shower or bathtub is likely going to be the format. If the kids sharing the bathroom are older, a shower would be more useful than a bathtub. Some bathrooms may have a double sink to make getting ready in the morning and evening quicker and more efficient. Having 2 sinks could reduce the likelihood of arguments over time spent in the bathroom.

— Gimme Shelter
The Placement Of Jack And Jill Bathroom Doors
Well-thought home plans can be found everywhere you look.
Unfortunately, the architect who drew up the floor plans for this Jack & Jill bathroom decided it was a good idea:
To not to include enough elbow room; and
To not include enough room for both doors to be open simultaneously without touching one another.
Oversight…maybe. But that doesn't excuse the execution of the plan to its completion without making a change of some sort!
One solution for the doors in photos you see here might be lockable pocket doors.
Does anyone have any other ideas for this Jack and Jill bathroom door problem?
I'd be willing to bet that the architect for this home has a better floor plan their own personal home!
I won't mention the architectural firm, but it is a well-known company that I mentioned in a recent post — only in a totally different neighborhood. I'll leave it at that.
More About Jack And Jill Doors
In addition to the links I've included above, here are some other resources to help you determine the best placement of Jack and Jill bathroom doors in your home: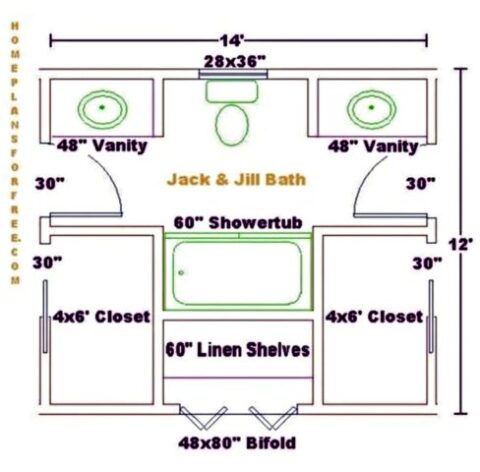 I started as a home-stalker… visiting brand new homes under construction in the neighborhoods near my house. That inspired me to write about home building and home renovation projects — chronicling homes during different phases of construction from a consumer's point-of-view. Basically, the tips you'll find in my articles are a collection of checklists for what I think should (and should not) go into building or remodeling a quality home.