How much does it cost to drill a water well on your property?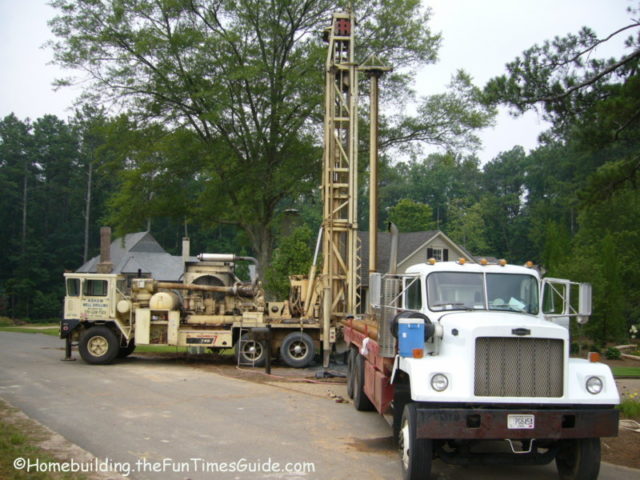 That is the question I posed to Jerry Bonner, homeowner of an
English cottage
he built for himself and his wife last year. The home is incredible and the landscaping they installed is on par with the home.
I've had several information-filled conversations with Jerry. I always have a plethora of questions for him and he responds in kind.
He has decades of experience in building feature-laden custom homes for his customers and he was more than happy to share some of that information with me. We both share a keen interest in architecture and homebuilding so I always find myself imposing upon him longer than I probably should, but he doesn't seem to mind.
I make mention of this because there was a strong need to insure the success of the heavily landscaped yard that was planned for the long run.
With water restrictions happening every summer in the metro-Atlanta area, Jerry knew that a water well was the answer.
It would supply all the water he would need to protect his investment surrounding his home. The well supplies untreated water direct from below the surface for landscaping purposes only. They receive all of their home-use water from Marietta Water.
How Much Does It Cost To Drill A Water Well?
Plan on spending about $12 per foot, all inclusive, to do it right.
Jerry's well went down around 475 feet through solid granite, but there's more to drilling a well besides…well…just drilling it. Your cost may be more, or less, dependent upon many factors — but there's your answer.
You have options for the type of pipe to use for the well casing itself.
Jerry chose to use galvanized steel. This would insure longevity and strength to ward off rust, cracks, leaks, etc. to a much greater extent than most materials available. It is a cost-effective material if you plan on keeping your well operational for the long run with minimal maintenance or problems. Each 20 foot section of galvanized pipe is screwed into one another for a solid well.
With all of the pumps, pipe, bladder and labor, Jerry's water well came with a price tag of around $10,000. It will pay for itself over the years and it will give the Bonner's peace of mind knowing that they don't have to worry about Big Brother looking over their shoulder every time they water plants.
A wise investment, indeed!
More About Drilling Wells
Author:
Randy Boerstler
Writing a home building blog that chronicles new homes during different phases of construction from a consumers' point-of-view is rather unique and loads of fun. Basically, my tips are a collection of checklists for what I think should (and should not) go into building a quality home. So let's have fun seeing what's new in the housing market these days!