This post may contain affiliate links. If you buy thru these links, we may earn a commission at no additional cost to you.
---
Looking for some great gifts for Dad?
I'm a dad with decent handyman skills and I can give you some ideas that you may not have thought of before.
Yes… socks
, underwear
, and slippers
are decent stand-bys. But those are never at the top of our list. Dearfoams
are comfortable (I'm guessing), but don't buy them for us unless we've actually mentioned them.
We know you're more creative than that and probably just ran out of time and options.
I know. I've been there. I've been out on Christmas Eve and witnessed stripped shelves — except for the Dearfoams cardboard displays in the middle of the aisle. And yes, I grabbed a pair (or two) as gifts.
If you run out of time and ideas, go to the grocery store. Most of them now have a great variety of gift cards
near the greeting card section.
Dads are pretty simple to please when it comes to gifts (for the most part).
Rules Of Thumb When Buying Gifts For Dad
Here are a few things to keep in mind when you're shopping for the handyman of the house:
We love gadgets! Buy the latest and greatest gadgets. Why? Because WE LOVE 'EM… and we have something to brag about afterward.
Buy tools that help us get the job done quicker and easier. Buy the newest model of tools. We know it may be awhile before we buy another one.
Buy quality merchandise that's made to last. Quality = a job well done.
Buy power tools that have plenty of power to spare. The more ummphh, the better!
Go cordless whenever possible. If it means a gas engine over a cord… do it. You should buy a cordless for any type of tool that will need to be used all over the house.
Look for a "Made in U.S.A." label before you buy. I challenge you to find one great handyman gift that is Made in the U.S.A. I know it's a difficult task in today's global economy, but if you can manage to purchase a great gadget that is part of the U.S. GNP, that makes it an oh-so-sweet gift! You might be surprised at how many of us guys check the label. (Or is it just me?) I doubt that I'm the Lone Ranger on this one.
Last but not least… make homemade gifts from the heart. Dads feed off of this stuff. And it reminds us of what is really important in the grand scheme of things.
7 Fun Gift Ideas For Dads
Now that I've given you the rules, here are a few great gift ideas for Dad for any special occasion — Father's Day, Birthdays, Christmas, you name it:
#1 – Makita 18V lithium-ion 2-piece combo drill set
The price is right, too. Lots of power in a super small package. (The Bosch 12V combo drill set is pretty awesome, too.)
#2 – Makita quick-charge lithium-ion station
Earlier, I mentioned that quicker and easier is our motto. The Makita quick-charge station is the ticket to keeping up with all of Dad's DIY projects — because it's so frustrating when your drill runs out of steam in the middle of a project.
#3 – Denali tool kit
It's great for hauling around the house when Dad is doing the weekend warrior thing! I have a little box with a handle that was given to me long ago as a gift, and it saves me trips to and from the toolbox when I'm working on a project. The Denali tool kit offers a lot of bang for the buck.
#4 – Dremel 8000-03 Cordless Rotary tool
Got a woodworker in the family? Say the words "rotary tool" and they'll start to have visions of sawdust in their head. Dremels are awesome — trust me — and this is the key to many hours of happiness for the amateur woodworker. Great for the weekend warrior, too.
#5 – Black & Decker Workmate portable workbench
My father-in-law bought me the Workmate workbench many years ago, and I still use it for most of my woodworking projects. It's a great piece of simple engineering that is virtually indispensable. It's a wonderful thing that Black & Decker still offers a Workmate portable workbench!
TIP: If Dad already has a portable workbench, then a full size workbench would be a great addition. These full-size workbenches are beautiful and durable. To top it off, they're MADE IN THE  USA. Workbench America makes a variety of great workbenches that can be shipped to your door.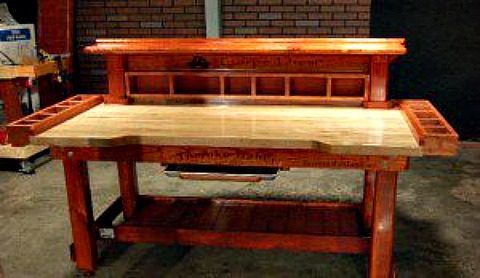 #6 – Made in the USA tool gifts
There are loads of great ideas and quality merchandise that will last! Expect no less from the U.S.
#7 – Something handmade by you
Make something from scratch for your weekend warrior. It will be most appreciated for years to come. And it wouldn't hurt to tuck in a gift card to a store where he shops a lot — like Home Depot
, Lowes
, or Walmart
.

More Great Gift Ideas For Dad
In addition to the links I've included above, here are some additional resources to help you decide what to buy your dad (or husband) for any special occasion:
I started as a home-stalker… visiting brand new homes under construction in the neighborhoods near my house. That inspired me to write about home building and home renovation projects — chronicling homes during different phases of construction from a consumer's point-of-view. Basically, the tips you'll find in my articles are a collection of checklists for what I think should (and should not) go into building or remodeling a quality home.