This post may contain affiliate links. If you buy thru these links, we may earn a commission at no additional cost to you.
---
Not only are garden ponds major attractions in botanical gardens nationwide, but a water garden can also be an incredibly attractive feature for your home's exterior.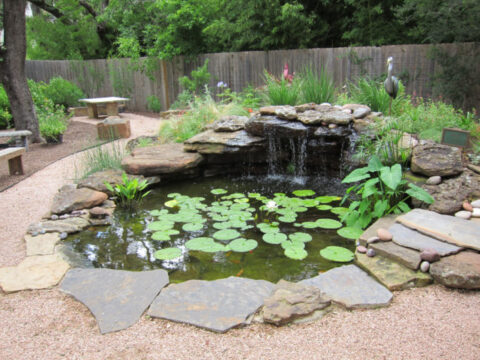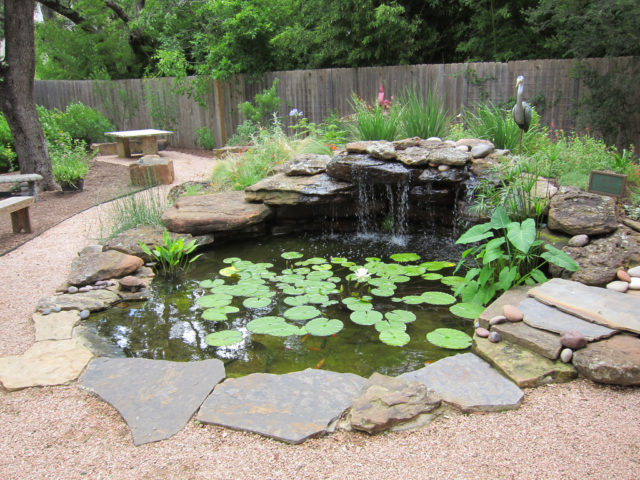 Even with limited space, you can design a water garden that brings the beauty of nature to your backyard, while adding a unique dimension to your outdoor living space.
Why Build A Garden Pond?
Garden ponds are becoming more and more popular.
The sale of water garden supplies, plants, and accessories have nearly doubled annually over the past 5 years, and industry projections suggest that this rate of increase will continue for at least another 5 years!
When you add a water feature outside your home, you're creating an aesthetic asset. It may even be a financial gain in terms of increasing your property value.
Here's how to build a pond yourself…
Water Garden Supplies & Expenses
The expense of building a garden pond is largely determined by your budget. It will ultimately influence the style, size, and type of pond you choose to install.
By having a plan beforehand, you will save time and (hopefully) prevent costly mistakes from happening later on down the road.
There are some mandatory expenses that are incurred with this type of project — such as excavation of the site, the liner & pumps for the pond, and the rocks that surround it.
Deciding to add fish or water plants is a luxury expense that should be considered in the initial stages of planning your budget.
To help you get an idea of your costs, following is a breakdown of your potential expenses when building a water garden:
Labor
Hiring someone for an hourly rate to dig a pond in your desired shape will be your biggest initial cost.
If you're willing to put in the time and the manual labor yourself, then your cost will be significantly less.
However, depending on the size and depth of the pond, this can be a painstaking job.
Pond Liner
The cost of pond liners vary depending on size and shape (round, oval, rectangular, kidney bean, etc).
There are various types of liners to choose from:
Rubber liners are cheaper than preformed liners. For example:
A 5'5″ x 10′ rubber liner weighing 17 pounds costs about $30.
A 4′ x 4′ preformed liner (with a depth of 2′) weighing 20 pounds and providing 64 square feet of space, costs about $200.
Submersible Pump
You will need a submersible pump for your pond to filter the water.
Today's high-performance filtration pumps range in price depending upon the size and depth of your water feature.
Pre-filter type pumps have a pump cage that minimizes clogging and damage by selectively screening external debris when filtering the pond water.
To determine the size and cost for the submersible pump you need, first multiply your pond's length and width and depth by 7.5 in order to calculate the overall pond volume in gallons.
For example, an 8′ x 5′ pond with a depth of 4′ multiplied by 7.5 equals 1,200 gallons. This is considered a medium-sized pond, and the cost of the pump is about $150.
NOTE: If you wish to add a dramatic effect of spraying water, then a jet fountain pump kit will cost an additional $130. Pumps run continuously, so electricity is another factor to consider in the overall budget.
Pond Fish
If you wish to add fish, like Koi, (a.k.a. living jewels) to your pond, and you live in a region that dips below 50 degrees, then consider adding a pond heater because Koi do not like the cold.
A floating pond de-icer is designed to heat the water directly around it and create a small hole in the ice. This prevents harmful gases from building up. Such gases could result in harmful side effects for your fish.
Good to know:
For ponds up to 1,000 gallons, the cost is about $54 for 200 watts of power.
For ponds over 1,000 gallons, 2 are recommended.
As with submersible pumps, pond de-icers run continuously during the winter months. Therefore, electricity costs should be considered in your initial budget.
Koi fish vary in size:
Smaller Koi range in size from 2 to 8 inches and cost up to $25 each, on average.
Larger Koi can range in size from 24 to 36 inches and cost up to $500 each.
For a 1,200 gallon pond, 10 small Koi would be appropriate. But as they grow, you may have to consider reducing the population because they are hearty eaters.
Koi eat 2 to 3 times per week, or up to 2 to 4 times per day, depending on rising temperatures. A 25-pound bag of pond fish food costs about $50 and it will probably have to be replenished monthly.
Here are some tips for feeding & caring for pond fish.
Pond Rocks 
Next, you need to consider the cost of the rocks that will be placed around the perimeter of the pond.
This expense is determined by the weight and type of stone that you choose from landscape companies in your local area. The rock prices can vary greatly from one company to another, so it's a good idea to shop around to get the best selection at the most competitive price.
As a general rule, try to stick to only one type of stone (sandstone, granite, limestone, or flagstone) for your garden to ensure consistency and an authentic look.
Since one of the primary goals of pond rocks is to hide the liner, you may want to consider something different like Rock-on-a-Roll to simulate the look of bedrock at a much lower cost.
Here are some of the problems associated with the "loose rock" style of pond building.
Pond Plants
Finally, to complete your water garden, you may want to factor in a few pond plants.
There are a wide variety of water plants that can be used in ponds — like the ever popular water lilies. Since lilies multiply over time, a medium-sized pond will require 3 lilies at a cost of about $40 per plant.
You could also add bog plants that are usually found at the water's shallow edge. As their roots grow underwater, their foliage emerges in the pond. The cost for these plants is more affordable. Prices start around $7 per plant.
Summary Of Expenses To Build A Pond
As a simple example, the cost to build 1,200 gallon medium-sized 8′ x 5′ pond (with a depth of 2′) would include these one-time expenses:
Excavation: $400
Preformed Liner: $200
Submersible Pump: $150
Jet Fountain Pump Kit: $130
Fish: $200
Heater: $100
Rocks: $350
Water Lilies: $120
=$1,650 plus these monthly expenses:
Electricity (to run the pump, jet fountain, heater/de-icer)
Here's how the cost to build a small garden pond yourself compares to the cost of hiring a professional to do it.
As you can see, from the excavating work to the finishing touches, the expenses associated with building a water garden can quickly add up. However, as long as you start with a plan and a budget, you'll avoid being caught off guard and spending beyond your means.
Before You Build A Water Garden…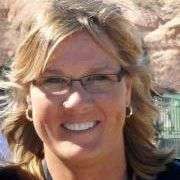 My husband and I have been through the home building process… from scratch… more than once! (And we still have a few pieces of property that we might build on in the future.) So we definitely have some helpful tips to share when it comes to designing your dream home and building a house from the ground up. We've also learned that the 'fun' doesn't end once the house is built. Our clever home maintenance hacks will save you time and money each year that you live in the home. And… since everyone's house eventually needs a little remodeling (as has ours), we've got some ridiculously helpful home renovation tips as well! Whenever I'm not DIYing something around the house or adding to my Dream Home Wish List, you can find me at the corner of Good News & Fun Times as publisher of The Fun Times Guide (32 fun & helpful websites).