This post may contain affiliate links. If you buy thru these links, we may earn a commission at no additional cost to you.
---
Fall home preventative maintenance is super important. It's been a long, hot summer and Autumn is finally upon us.
Many of us put off outdoor maintenance projects until the heat and mosquitos die down. I know because I'm one of 'em.
It's Fall now — so it's time to make the effort necessary to maintain your biggest investment: your home.
What follows is a quick, down-and-dirty checklist of "to-do's" that you need to take care of this season to maintain your home and keep your energy bills in check.
Put your overalls on, grab your flashlight, and load your tool belt. Give it a go yourself before hiring a contractor.
See How Much Energy You're Currently Using
Before you head outside, take 5 minutes to find out if your energy use is above average first.
Grab your energy bills — you'll need to enter some information about your home into Energy Star's free online Home Energy Yardstick:
Age of your home
Square footage
Number of occupants
Energy bill totals for a consecutive 12-month period (If you don't keep your bills, contact your utility company for a 12-month summary.)
Now that you're armed with some data from your utility bills, you're ready to head outside with my handy checklist to perform some home maintenance before the really cold weather hits!
My Exterior Home Maintenance Checklist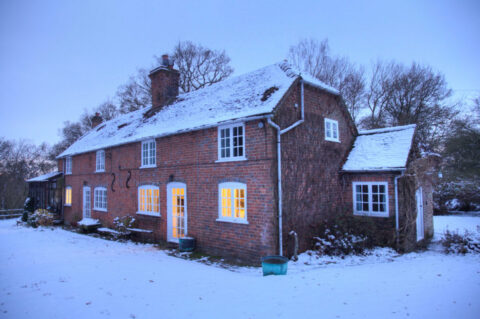 #1 – Check windows for costly air leaks.
Here's how to seal the windows if you find cracks.
#2 – Clean out the gutters.
Here's how to clean gutters after the leaves have fallen.
#3 – Check and clean outdoor drains.
Here's how to clean outdoor drains that can become germ traps.
#4 – Check and clean the humidifier (if you have one).
Here's how to check for and service your humidifier.
#5 – Close those tiny critter entrances.
Here's how to keep rodents and bugs away (and keep your wife happy).
#6 – Look for small holes in the exterior of your home and seal them.
Here's how to repair hairline cracks in your stucco.
#7 – Shut off your hose bibs.
Here's how to turn off the inside valve to outside spigots and then shut off hose bibs.
My Interior Home Maintenance Checklist
#1 – Check and maintain the dishwasher.
The best way to avoid a dishwasher leak is to perform a check of hoses and valves. TIP: Put a scoop of Tang (the powdered drink mix) in your dishwasher and run it on gentle cycle to scour the interior walls and make it smell clean and fresh.
#2 – Upgrade to a programmable thermostat. 
A programmable thermostat
can help you to reserve energy.
#4 – Check your toilets.
You can avoid high water bills and leaks by checking your toilets.
#5 – Clear out your sink drains.
Avoid plumber expenses by removing clogs and cleaning drains in your sinks.
#6 – Change the furnace filters.
Replacing furnace filters regularly helps avoid allergy symptoms and other issues.
#7 – Test all carbon monoxide and smoke detectors.
When it's time to push the clocks back, it's time to change the batteries on your carbon monoxide and smoke detectors.
How To Prepare Your Home For The Winter? – Winterizing Your Home
Fall is a great time to make a careful inspection of the entire exterior of your home and make notes along the way of things to fix or maintain.
It's important to take notes so that you can prioritize your list when you're ready to get started.
I started as a home-stalker… visiting brand new homes under construction in the neighborhoods near my house. That inspired me to write about home building and home renovation projects — chronicling homes during different phases of construction from a consumer's point-of-view. Basically, the tips you'll find in my articles are a collection of checklists for what I think should (and should not) go into building or remodeling a quality home.