This post may contain affiliate links. If you buy thru these links, we may earn a commission at no additional cost to you.
---
Whether you're trying to sell your house or you're just looking to spruce up your home, doing exterior home renovations is just as important as the work you put into your home's interior.
If you don't know where to begin, or you're thinking that an exterior home remodel will break your budget because you'll have to hire an exterior designer — think again!
The great news is that there are quite a few DIY approaches that can significantly boost the curb appeal of your home… even on a shoestring budget.
To get an idea of where to start, look at the outside of your house and property with a very critical eye.
Here are 8 home exterior design ideas to enhance curb appeal without spending a fortune:
#1 – Do A Mailbox Makeover
Mailboxes should express your personality and complement your home.
If your mailbox has seen better days, replace it with a stylish new one that reflects the trim of your home. It's a low-cost exterior home design project that makes a big impact.
It doesn't matter if you have a regular mailbox by the road or a box mounted to your house, a good looking mailbox adds some serious curb appeal.
You can find a new mailbox
for as little as $20.
Here are some things to consider when making over your mailbox:
When installing a new mailbox, make sure to follow the regulations that are set forth in the city and/or subdivision that you live in.
Dress up your mailbox by painting the wooden post to match your home's exterior color.
Create a small flower garden around the foot of the mailbox — to blend with your other landscaping and exterior home renovations.
Check out these super cute mailbox makeover ideas.
#2 – Create A Walkway Or Patio
If you've already looked into hardscape for a walkway or patio, then you know how expensive it can be. An inexpensive DIY option is to create your own walkway or patio.
At first, this may sound like a difficult and expensive exterior home remodel project — but it's not!
Here are some affordable DIY options: 
Use mulch and gravel to create your own walking paths.
Use stepping stones to create a beautiful path.
Use potted plants to create a natural walkway.
Mulch and gravel are the cheapest path materials you can buy, and they make construction simple too. All you have to do is remove the sod, roll out landscape fabric, and spread the mulch or gravel.
Bark, wood chips and other types of organic mulch
make soft paths that blend well with natural settings. Since these path materials are lighter than stone, they're easier to haul and spread too.
TIP: If you have the ability to mix cement, then you can make an amazing walkway or patio using concrete molds that resemble pavers — but at a fraction of the cost!
See how to make a stepping stone walkway yourself.
#3 – Spruce Up Your House Numbers
Another way to improve your home's exterior design is to add unique house numbers and then draw attention to them. It's one of the simplest and most affordable exterior home renovations that you can do yourself.
You can even make your own house numbers. Then attach them directly on your home — or place them on a background to make them stand out.
Here are some great DIY ideas for house numbers:
Here are lots of great DIY ideas for house numbers.
#4 – Modernize Your Light Fixtures
Switching out builder-grade (or old) garage and front door light fixtures will immediately brighten your home's curb appeal without having to hire an exterior designer.
You could also paint your current light fixtures a glossy black or oil-rubbed bronze color for a fraction of the cost — if you don't want to buy all new fixtures.
These are some clever DIY exterior lighting ideas:
Here are some helpful exterior lighting do's and dont's.
#5 – Add Window Boxes
This is one of the simplest exterior home renovations you can do.
Adding window boxes as a part of your exterior home remodel helps add dimension and color, while distracting the eye from any other curb appeal problems your house may have.
The cool thing about window boxes is they're very practical:
If you plant flowers there, they'll also make you (and your neighbors) happier with their charming look.
If you plant herbs there, you'll have something useful for your cooking.
Window boxes provide a unique perspective to your home, adding colors and textures and something that you can change with the seasons.
Filling window boxes with dangling ivy and/or colorful flowers can transform even the most tired home on the block into one of the best-looking!
Find out how to make your own window boxes.
#6 –  Add Shutters
One way to add style and elegance to the exterior of your home is to add shutters
.
Shutters break up the empty space on the walls, provide great visual contrast, and create the illusion that the windows are twice their size!
Exterior window shutters come in 4 basic types:
Raised Panel Shutters: Very popular. They add a lot of depth and dimension to the exterior of your house.
Louvered Shutters: These create shadow lines which provide texture and interest. Shadow lines are important on a house — because they create the character that bring a house to life.
Board and Batton Shuters (BnB): Easy to make — all you need is some durable wood.
Bermuda Style Shutters: Easy to install and simple to operate. Shade, ventilation, and privacy are easily controlled once these shutters are mounted to the outside of your house.
Shutters are available in a variety of affordable materials (including MDF — medium density fiber), vinyl, synthetic foam, faux wood, and solid wood. Basswood is the most popular wood for exterior shutters.
TIP: If you truly want your shutters to stand out, try using a bold color that matches your contrasting front door — it will transform the entire appearance of your house! By the way, black shutters look fabulous next to white trim.
Here are some tips for choosing the right shutters.
#7 – Update Your Front Door
Adding appeal to the front entrance of your house is a simple and economical way to magnify your home's curb appeal.
Try an easy exterior home remodel project — such as painting your door a pretty hue that coordinates with your home's color.
Simply paint your entry door a captivating shade that coordinates with the color of your home.
Make sure there is a contrast between the front door and the facade of the home. If your house is gray or white with black shutters, consider painting the front door red. Source
Here are some low-cost ways to give your front door a facelift while enhancing your exterior home design:
Browse these eye-catching front door colors for inspiration.
#8 – Do Some Yard Work
Harsh winters can be tough on your home — and your yard. Spring is a great time to tackle some DIY projects around the house.
Plan to devote a weekend or so to these landscaping projects:
Plant spring flower bulbs.
Weed your garden.
Edge your lawn and the sidewalks.
While you're tackling exterior home renovations, it's also a good time to do these things:
Taking care of your house and the property around it is an invigorating thing to do. In addition to getting outside and doing a little bit of physical activity, you could also use this as family time.
Exterior home renovations like these will make a huge difference to your home's curb appeal.
Here are 10 spring cleaning tips for the outside of your home.
Boosting your home's curb appeal on a budget may seem like an impossible feat at first. But, as you can see, there are many ways to do small exterior home renovations yourself — without breaking your budget!
A few modern home exterior design changes can make a huge difference.
BONUS: If you're preparing to sell your home, a fresh façade will help it sell quicker and also convey a warm and inviting welcome — something that both homeowners and buyers prefer.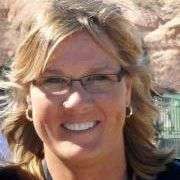 My husband and I have been through the home building process… from scratch… more than once! (And we still have a few pieces of property that we might build on in the future.) So we definitely have some helpful tips to share when it comes to designing your dream home and building a house from the ground up. We've also learned that the 'fun' doesn't end once the house is built. Our clever home maintenance hacks will save you time and money each year that you live in the home. And… since everyone's house eventually needs a little remodeling (as has ours), we've got some ridiculously helpful home renovation tips as well! Whenever I'm not DIYing something around the house or adding to my Dream Home Wish List, you can find me at the corner of Good News & Fun Times as publisher of The Fun Times Guide (32 fun & helpful websites).