This post may contain affiliate links. If you buy thru these links, we may earn a commission at no additional cost to you.
---
I've posted a gazillion photos of different styles of coffered ceilings in past posts (more here in the ever popular built in bookshelves post), but none quite as grand as the one I'm about to show you now.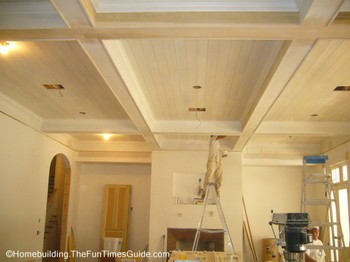 This particular coffered ceiling looms a full 12 feet over the floor of the great room (aka, big family room) of this full-blown Victorian home. It is magnificent to see in person. You may not get that chance so here's your next best shot.
This is not your typical drywalled coffered ceiling. Nope…its' all-wood construction with shiplap jointed wood planks forming the concave portion of the ceiling, gives it a warm feel. Although this is a Victorian-style home, It's not stuffy.
Below is a recent photo of the now-complete Victorian-style home where you'll find this large-scale ceiling.
What a gorgeous home this is. Look at that magnificent Vermont black slate roof. Gawking is mandatory.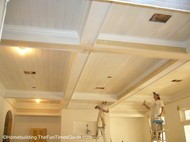 Another cool feature about this ceiling is that there is a home entertainment speaker system built into it. Great for entertaining.
Hope you enjoyed it. Check back for more posts on this full-blown Victorian home located less than a mile from the historic square in Marietta, GA.
More about this Victorian home.
Related:
City of Marietta: Winner of the All-America City award
I started as a home-stalker… visiting brand new homes under construction in the neighborhoods near my house. That inspired me to write about home building and home renovation projects — chronicling homes during different phases of construction from a consumer's point-of-view. Basically, the tips you'll find in my articles are a collection of checklists for what I think should (and should not) go into building or remodeling a quality home.