This post may contain affiliate links. If you buy thru these links, we may earn a commission at no additional cost to you.
---
Decorating a nursery for a soon-to-arrive newborn is a very exciting time for most parents.

I know that when we decorated our nursery, we let our imaginations swirl and went with a Red Calliope bunny-themed room using two types of wallpaper and a border. The bunny theme was not gender specific since we elected not to know the gender of our first child.
Friends/co-workers, Greg and Hayley, decided that their baby would begin her journey surrounded with 'All You Need Is Love'. They decided to go with the bold, bright colors of a 'Beatles – Yellow Submarine' themed nursery room.
This nursery turned out to be one of the most uniquely decorated nurseries I had ever laid eyes upon.
Like most rooms, decorating a nursery has limitless options and is, at times, difficult to decide (and agree) upon a final look. Most parents are happy to go with decorating choices as presented in paint stores and wallpaper outlets while others go the route of something totally unique, something you would never see anywhere else but your child's nursery.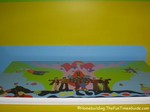 Greg and Hayley's decision to go with graphic designer Heinz Edelmann's 'Yellow Submarine' theme makes quite a bit of sense, in terms of what a newborn needs in the early stages of development; bright colors everywhere with lots of soft and cuddly stuffed animals as well as quite a few character figurines from the movie placed on display for the adults to reminisce about. The stuffed animals aren't necessarily within the theme but they are brightly colored and playful.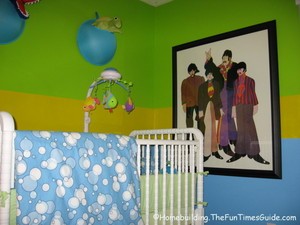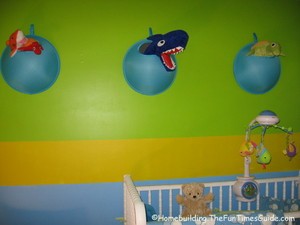 Greg and Hayley commissioned artists/friends Jill and Judy, of One Horse Trading Company, to decorate Greg's childhood dresser and Hayley's grandmothers' rocking chair in the Yellow Submarine theme. Both pieces have characters from the movie applied to the surfaces with a few coats of polyurethane for durability. The character cutouts came out of the 40 page illustrated book 'The Beatles – Yellow Submarine' by The Beatles; illustrated by Fiona Andreamelli.
Old Fred, the music-hating Blue Meanies, sea monsters and the Flying Glove are all in a sky of blue and sea of green in this inspired nursery.
The pictures of the nursery (above) were taken prior to 'All you need is love' text being painted above the crib within the yellow paint. Greg and Hayley also received some help from a friend (Jervis) with the painting.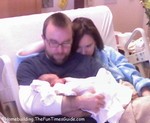 Nice job, guys!
Greg and Hayley had the best Christmas gift of all. Abbey Rhode was born on December 23, 2006. Congratulations! You're off to a great start.
A Home Made Beatles – Yellow Submarine Stained Glass Window
Mary, a visitor to The Fun Times Guide To Homebuilding blog, made a great looking Yellow Submarine stained glass painted window. Click on the link within her comment (below) to see Mary's artwork.
That is an awesome piece of art you made there, Mary! Thanks for sharing.
I started as a home-stalker… visiting brand new homes under construction in the neighborhoods near my house. That inspired me to write about home building and home renovation projects — chronicling homes during different phases of construction from a consumer's point-of-view. Basically, the tips you'll find in my articles are a collection of checklists for what I think should (and should not) go into building or remodeling a quality home.