This post may contain affiliate links. If you buy thru these links, we may earn a commission at no additional cost to you.
---
Every morning, do you squeeze into a small bathroom to get ready for the day and wish you could make your bathroom look bigger?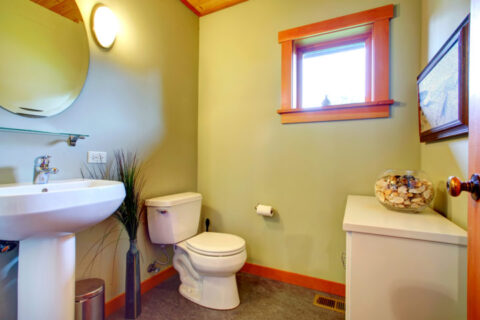 Good news…
You can make your small bathroom seem bigger while improving its functionality in the process simply by using these 8 easy-to-implement ideas that won't cost you a fortune:
#1 – Swap your shower curtain for a clear one.
This fix is so simple that you'll wonder why haven't done it already.
Look for a clear shower curtain that has decorations printed on it to match your room's decor.
Presto, chango! You've just dramatically increased the visual size of the room.
#2 – Ditch the bathroom curtains.
Remove the window curtains that are closing in on you and squishing your bathroom into a smaller size just by hanging there.
Worried about privacy? Look for some easy-to-clean drop down window shades or blinds.
As a bonus… when you use blinds instead of curtains, you'll even gain an extra window sill for a small amount of additional storage in your small bathroom!
#3 – Switch to glass or Lucite shelving.
Don't close your bathroom in by choosing shelves in dark colors or wood tones.
Instead, select attractive clear shelves in either Lucite or glass.
The trick in a small bathroom is to let light flow throughout the room — instead of blocking or absorbing the light.
#4 – Add lighting below the ceiling level.
Bathroom ceiling lights are notoriously harsh.
Try adding light fixtures in strategic locations to change how the light pools in the room.
Extra lights on either side of the primary mirror are a must to enhance the room and increase its apparent size.
#5 – Use a striped floor tile pattern.
If your bathroom is small and boxy, try lengthening it by tiling the floor in a striped pattern that leads from the doorway into the room.
However, don't choose colors that are too dark.
Alternate very light or white tiles with tiles that are just a few shades darker for the best effect.
#6 – Strategically place mirrors in the room.
Everyone knows this one, but people seldom do it right.
When you add accent mirrors, place them in locations where the light that is bouncing off one mirror will bounce off another mirror in order to amplify their effect.
Plus, you can punch up the impact of those additional mirrors by placing them in locations that will use them to increase your room's functionality.
#7 – Keep the countertop clear.
Your collections of perfume bottles and lotions are not doing you any favors in terms of increasing the apparent size of your bathroom, if you're leaving them sitting out on the countertops.
Pack them all away for easy access when you need them, and use larger accent pieces instead.
Plus, if you keep the counter clear, you will always have a workspace available when needed.
#8 – Use lighter colors on your walls.
If you want your small bathroom to be a cozy place to hide, then by all means keep your walls painted darker shades of color.
However, if you want the light to bounce off the walls and create an illusion of space, be sure to select lighter shades for your walls and even lighter colors for the trim.
16 Smart Small Bathroom ideas
Using these simple fixes, you will dramatically change a small, cramped bathroom into a room that feels welcoming and large. Get your best shopping shoes on, gather your tools, and get to work on creating a more welcoming space for your small bathroom.
More Small Bathroom Ideas
D. More is a home improvement specialist and successful business owner. Check out his site HouseRemodelingCenter.com for the best in home remodeling.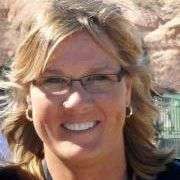 My husband and I have been through the home building process… from scratch… more than once! (And we still have a few pieces of property that we might build on in the future.) So we definitely have some helpful tips to share when it comes to designing your dream home and building a house from the ground up. We've also learned that the 'fun' doesn't end once the house is built. Our clever home maintenance hacks will save you time and money each year that you live in the home. And… since everyone's house eventually needs a little remodeling (as has ours), we've got some ridiculously helpful home renovation tips as well! Whenever I'm not DIYing something around the house or adding to my Dream Home Wish List, you can find me at the corner of Good News & Fun Times as publisher of The Fun Times Guide (32 fun & helpful websites).