This post may contain affiliate links. If you buy thru these links, we may earn a commission at no additional cost to you.
---
Just like laundry rooms, mudrooms are often times an afterthought by some builders.
Obviously, there are house plans which do not incorporate mudrooms into the plan.
I applaud the architects that incorporate a mudroom when drawing up the blueprints for a house. It just makes sense.
It's one of those features that's really nice to have in a house because it gives the residents somewhere to store their gear and outerwear in an organized fashion upon entering their home, not to mention giving muddy boots a home without tracking mud into the house.
A nice boot scraper just outside of the side door or back door is a useful addition to have around, too.
I'm going to show you a few pictures of mudrooms and you'll probably notice a formula that most builders tend to follow…bench…storage cabinets…tile or stone floor…hooks, although not many hooks were installed when I took the photos because they were not complete.
You've got to have hooks in a mudroom to hang coats, hats, book bags, and anything else you can think of.
A Few Mudroom Pictures To Give You A Some Great Ideas
You don't necessarily have to have a "room" in order to have an area of your home to put your things when you arrive.
If you have an oversized garage you can easily construct a mudroom bench with plenty of storage like the photo below.
The photos below are more examples of builder-constructed mudrooms. I especially like the slate flooring in the first two photos. That particular mudroom is in a multi-million dollar mansion with a multi-million dollar view of north Georgia sitting on the side of Lost Mountain. The stone masonry work is simply incredible.
The next 2 photos show an entry hall from the garage. It doesn't show the mudroom itself, but it gives an example of the type of flooring that is a great choice upon entering the home from your side door or garage. It happens to be used brick pavers supplied by Simons.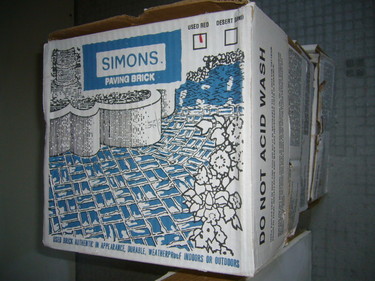 A Charmingly Simple Mudroom
The last photo I wanted to show is one that my wife found, by chance, in a 1999 Southern Living the other day.
I want to show it because it gives a great example of a mudroom that doesn't look "manufactured" or sterile. All you need for a great mudroom is a nice bench, a shelf or two, some hooks for hats, bags, etc. and a side table to set your keys and mail down on until you get inside of your house.
The point is to make it your own.
photo credit: Southern Living/Sylvia Martin
Please remember that you should have a little fun in decorating your mudroom to suit your tastes and needs. It should be comfortable and serve a purpose. Good luck with yours!
Related:
I started as a home-stalker… visiting brand new homes under construction in the neighborhoods near my house. That inspired me to write about home building and home renovation projects — chronicling homes during different phases of construction from a consumer's point-of-view. Basically, the tips you'll find in my articles are a collection of checklists for what I think should (and should not) go into building or remodeling a quality home.