This post may contain affiliate links. If you buy thru these links, we may earn a commission at no additional cost to you.
---
This happy little dachshund boot scraper will bring a smile to your guests faces as they approach your door every time.

It's the ideal porch decoration that serves a dual purpose.I've seen all sorts of boot scrapers in my time but this little guy takes the cake. Look at how happy he is!
To think that his primary function is to scrape mud off of your boots seems insane. I would switch that up a bit and say that his REAL primary function is to bring a smile to your face. Either one works but getting your guests in a good mood upon their arrival is paramount.
Who wouldn't want to make good use of this happy wiener dog?
Have you seen any unusual boot scrapers lately? Send me your photos.
Update
Here's another little fella, contributed by Jeffrey, that has been in his family for quite awhile. Thanks Jeffrey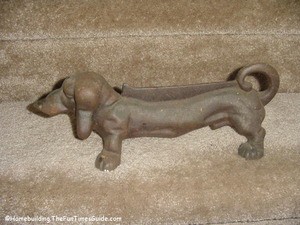 Related
If you find this article interesting, you may want to check out the whole series of posts on this English-cottage style home and all of the beautiful craftsmanship and materials that go into constructing it.
CLICK HERE
I started as a home-stalker… visiting brand new homes under construction in the neighborhoods near my house. That inspired me to write about home building and home renovation projects — chronicling homes during different phases of construction from a consumer's point-of-view. Basically, the tips you'll find in my articles are a collection of checklists for what I think should (and should not) go into building or remodeling a quality home.