This post may contain affiliate links. If you buy thru these links, we may earn a commission at no additional cost to you.
---
The Marietta Pilgrimage Christmas Home Tour is an annual event showcasing historical private homes and buildings decorated for the Christmas holiday season — inside and out.
The homes and buildings vary from year-to-year (this is the 21st year of the tour) so the Pilgrimage is one of the highlights of the season for many.
This year the 6 private homes on the tour were concentrated in the Northwest Marietta Historic District and ten historical buildings were featured as well.
As you may have guessed, I've got a few photos and details to share of the 2007 Marietta Pilgrimage.
We've always wanted to attend the Marietta Pilgrimage but somehow always let it slip by for one reason or another. This year I was determined to keep an eye out for the signs they put up around town just prior to the event so I could purchase our tickets. If you're interested in attending this event this year, you're too late but look for it again in the first weekend of December.
I have to mention that if you are a man attending this event, you are in the minority by a long shot. You either like to look at houses, or you don't. I could tell by the look on some of the guys' faces that they had been wrangled into the walking tour by their better half or girlfriend. I happen to have an appreciation for residential architecture, historical or not, so it doesn't bother me a bit that I was in the minority on this walking tour.
As far as I'm concerned, it was definitely worth the $15 for each of us and as a bonus we were able to work in our daily exercise as well.
Riding The Shuttle vs Walking
There are 2 ways to take the tour:
You can walk the entire tour at your own pace.
You can take a shuttle to/from parking near the Marietta Square and walk around from there.
We didn't want to mess with the buses and it was a beautiful day so we parked in the parking deck in downtown Marietta, laced 'em up and headed out.
Marietta Is Full Of Historic Homes & Public Buildings
These private homes and public buildings possess a wealth of history, so I will just touch on the highlights of what we saw today with a little background on each and provide links to the historical info for the public buildings.
We didn't visit every public building on the tour, but we did make a point to visit all of the homes.
The Marietta Welcome Center & Visitors Bureau and Cobb Landmarks & Historical Society organize the event every year.
Our day went something like this…
The Stanley House Bed & Breakfast Inn
We arrived at the downtown Marietta parking deck around 9:15 AM and made our way on over to The Stanley House, c. 1897.
This is a Queen Anne style mansion of great historical value and a home that I've wanted to visit for some time now. It's huge and, of course, features a turret. It was built for Woodrow Wilson's Aunt, Felie Woodrow. In the 1980's it was renovated and is now a beautiful bed & breakfast. There are many domestic and international antiques on display throughout the Inn.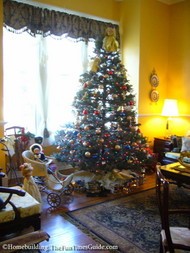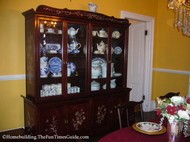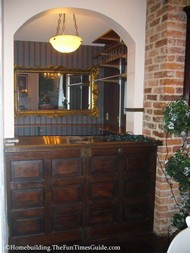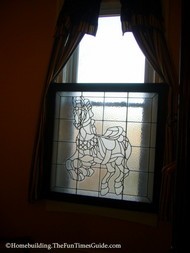 The Gignilliat-Griffin-Gilbert House
After touring The Stanley House, we took the very short walk over to the Gignilliat-Griffin-Gilbert House, c. 1840.
This home was purchased by Thomas H. Cheek from Nashville, TN in 1876 from the original owner's wife, Charlotte Trezevant Gignilliat, after the passing of her husband. The Cheek family owned and operated the Maxwell House, home of Maxwell House coffee.
It was built on an east-west axis to take advantage of the breeze to cool the home. Every one of the fireplaces in the home was, at one time, a coal-burning fireplace. The mantels all have unique shield emblems centered above each firebox. This home had a recent addition of a 2-car garage with a media room, office and powder room above. The kitchen was also remodeled and expanded in recent years that converted the screened porch into a full-blown gourmet kitchen. There is a solid maple counter top island with a HUGE stainless steel sink situated off to the side. The 2-inch thick solid maple counter top on the island is super-functional and blends with the decor of the kitchen.
The Patterson-Miller-Brennamon House
Next on our tour was the Patterson-Miller-Brennaman House, c. 1901.
Elizabeth Cottingham Patterson constructed this "American four-square" style house in 1901. This was also the home of Thomas H. Brumby, president of Brumby Chair Company from 1921-1926. This home also features "bubble glass", two original fireplaces and original hardwood floors.
This home has also been renovated over the years yet still retains its' turn-of-the-century charm. It's not large by today's American home standards but it is plenty large enough for a growing family, as is the case with the young homeowners who have one in the basket and one on the way. This is a great home and location to raise a family in with a large backyard and side yard.
On our way to the Patterson-Miller-Brennamon House we passed a future entrepreneur and philanthropist wearing a coon skin cap. He was selling drinks and snacks and donating the proceeds to a children's' charity. He had a very well rehearsed dialog for passing tourists. He also reminded us of (our son) Tristan's personality.
First Presbyterian Church of Marietta
After the Patterson-Miller-Brennamon House, we made our way to First Presbyterian Church, c. 1854.
The 2 docents/long-time church members that greeted us were very gracious and admittedly proud of their church. We gathered some great info from them including how the original sanctuary was not burned by General Sherman because it was used as a hospital, as were other sanctuaries in the nearby vicinity. It is constructed of two-foot thick brick walls and is adorned with heart pine floors. The hosts told us that there was carpet in the sanctuary at one time and when it was time to replace it they liked the acoustics of the heart pine floors so much that they restored the floors instead of laying new carpet. Good call! They were also afraid that they would find blood stains from Civil War soldiers embedded in the wood but it turned out to be a false alarm. The pressed metal ceiling, cornices and Pompeian red wall color were put in place during the 1903 renovation in a Colonial Revival style. They have a beautiful pipe organ, although not the original. It is the 3rd pipe organ to be installed there and it's a beaut!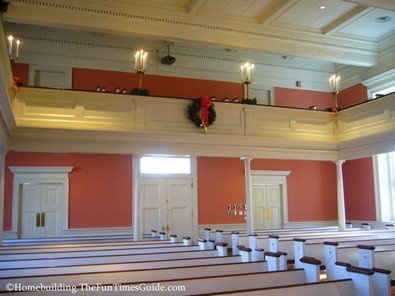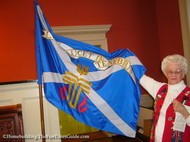 The Lawrence Chapel at St. James Episcopal Church
From there we headed over to the Lawrence Chapel at St. James Episcopal Church, c. 1878.
This chapel was also around during the Civil War era as soldiers took shelter under its' roof. The original sanctuary burned in 1964 but many of the original furnishings and cross were not destroyed in the blaze. The original pipe organ (still in use today) was vandalized by soldiers at the time but repaired and stayed in place for quite some time. After awhile it was in need of more repair and was moved off-site for some time until after the 1964 fire. After being in storage for a lengthy stay, it was restored at some point to its' original grandeur.
The Root House Museum
After soaking in some of the history and architectural features that the churches offered, we took the short 100 yd. stroll from the Lawrence Chapel to the Root House Museum, c. 1845.
William Root, the first druggist (pharmacist) in Cobb County, became a prominent citizen of Marietta and was a Sunday school teacher at St. James Episcopal Church for many decades.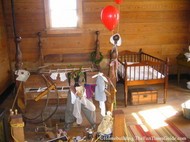 By the way, here are the
design guidelines for the Kennesaw Avenue Historic District
– Marietta, Georgia.
Lunchtime on the Marietta Square
From The Root House we met up with some friends of ours for lunch at Hemingway's on the Marietta Square.
By the way, if you go to the Hemingway's link, you'll see an unintentionally humorous photo of Hemingway's in a tropical setting on a beach. It's on the Square, not on the beach!
I hate to do this to you but I'm going to divide this post into 2 parts. Don't miss all of my pictures of fireplaces mantels/hearths and Christmas table settings from the home tour in part 2 plus more homes explored in the afternoon.
I started as a home-stalker… visiting brand new homes under construction in the neighborhoods near my house. That inspired me to write about home building and home renovation projects — chronicling homes during different phases of construction from a consumer's point-of-view. Basically, the tips you'll find in my articles are a collection of checklists for what I think should (and should not) go into building or remodeling a quality home.