This post may contain affiliate links. If you buy thru these links, we may earn a commission at no additional cost to you.
---
Installing wood paneling on a ceiling is an excellent way to finish a room and add some subtle drama.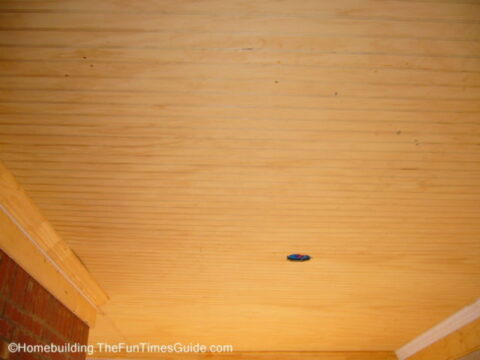 Wood paneling is often used on a ceiling that is vaulted or has exposed beams, but this material can be installed in any room.
If you are comfortable working on a ladder and have some woodworking experience, consider installing the wood paneling yourself.
Installing Wood Paneling On A Ceiling Is Easy But Fatiguing
Although this is an easy project considering the skill needed to complete it, working on the ceiling is always difficult. Keep muscle fatigue in mind, and make sure you have a sturdy ladder
to work on while completing this project.
A helper can also make installing wood paneling on ceiling an easier job by cutting pieces and handing them up to you to be installed.
First Things First: Find The Studs
Start by finding the structural members in the ceiling with a stud finder.
Snap a chalk line over them to mark each member; you will have to put the butt joints of each board end over one of these members so you can fasten it to the ceiling.
Also, make plans to stagger the joints and work around any obstacles on the ceiling.
Next Step Panel Placement: Critical To Success
Begin by removing the tongue off of a tongue and groove board, using a circular saw.
Place the first board with the cut side facing the wall, leaving an 1/16″ gap to act as an expansion joint.
Make sure that both of the board's ends hit at chalk line.
Attach each piece of wood paneling with two nails at any intersection of the chalk line with a board.
Predrill holes for the nails that secure the end of the boards to prevent them from splitting.
See… Nothing To It! You're On A Roll Now!
Continue installing the other pieces of wood paneling on the ceiling in the same manner.
Make sure that the butt joints of the wood paneling are staggered between rows.
When you reach the other end, remove the tongue of the board, making sure that there is a 1/16″ expansion joint between the wood paneling or the wall.
---
Warning: This Ceiling Project Is NOT For Everyone
Installing wood paneling on a ceiling can be difficult for homeowners unused to working on a ladder or who dislike heights. Consider doing this project over several days to give your arms a chance to rest, depending on the size of the room.
Of course, for larger or for particularly high ceilings, consider contacting a professional who will install wood paneling on your ceiling for you.
MUST READ: How To Install A Coffered Wood Ceiling
I have a lot of hands-on experience in the home construction industry, with a good deal of experience in sustainable building. I'm mostly interested in home restoration and home renovations.