This post may contain affiliate links. If you buy thru these links, we may earn a commission at no additional cost to you.
---
Adding wainscoting paneling to a room is a great way to increase your home's value and add classic good looks at the same time.
There are all sorts of wainscoting paneling kits on the market that can make the process much simpler.
But when you come across wainscoting paneling that is built from sticks of lumber it's pretty cool to see it in process and admire the transformation and depth it gives a room. That is the subject of my post today.
The photos that follow were taken in the Victorian home that I featured here on The Fun Times Guide to Home Building while it was in the process of being built.
DIY Wainscoting Tips
If you're the ambitious type, you can buy wainscot kits that will help you conquer this project on a budget. Just check with your local home improvement center or lumberyard.
Or if you really have a grip on the fine art of carpentry and woodworking, you can build it from scratch.
Another obvious choice are the abundance of websites that offer some pretty awesome kits that are constructed of various materials — based on your needs, budget, and the look that you're going for.
When you see how it's done, it doesn't really look that difficult. The difficulty comes into play when you start to work your way around corners and any other type of obstacles to make it all look like one solid work of art with minimal putty work involved. It's all about measuring, knowing how to use your compound miter saw and a little bit of ingenuity.
So if you think you'd like to give it a shot, This Old House has a great wainscoting how-to-DIY page that will help you work through the process.They actually used prefab wainscot panels to simplify the project for the average homeowner.
Here are some other DIY wainscot sites that you'll want to read up on and use the best tips from each article:
I've found that AIC Millworks has some great looking wainscoting paneling kits with some really great choices.
They also have some awesome illustrations to help you make the right choice for your application.
Photos of Wainscoting Paneling
For inspiration and ideas, here are some photos I took of wainscoting paneling being installed: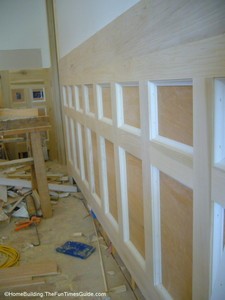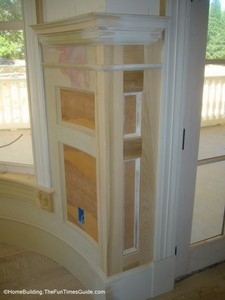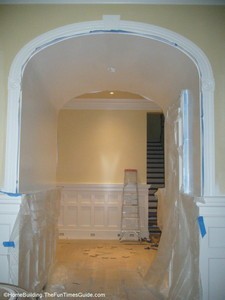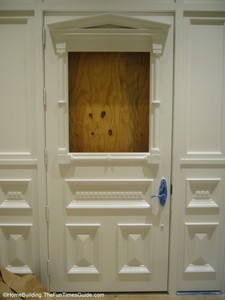 These next photos show the detailed millwork that you can add for a truly custom look: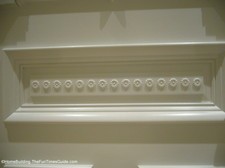 Good luck with your wainscot paneling project!
I started as a home-stalker… visiting brand new homes under construction in the neighborhoods near my house. That inspired me to write about home building and home renovation projects — chronicling homes during different phases of construction from a consumer's point-of-view. Basically, the tips you'll find in my articles are a collection of checklists for what I think should (and should not) go into building or remodeling a quality home.