This post may contain affiliate links. If you buy thru these links, we may earn a commission at no additional cost to you.
---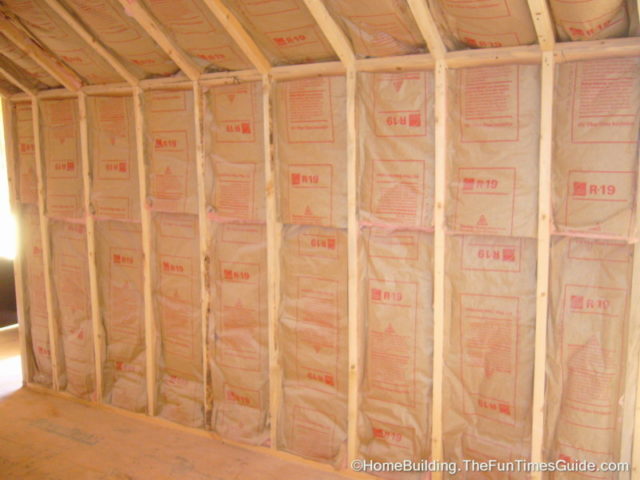 Are you trying to decide on the best types of insulation that you might want to add to your house to save energy and money?
The market is full of all types from simple to uniquely engineered, and it pays to know the difference between all of them.
According to the U.S. Dept of Energy (DOE), most types of home insulation fall into 1 of 9 forms — which makes for some difficult decision-making, unless you are up to speed.
Those 9 forms are:
Blanket: batts and rolls
Concrete block insulation
Foam board or rigid foam
Insulating concrete forms (ICFs)
Loose fill
Reflective system
Rigid fibrous or fiber insulation
Sprayed foam and foamed-in-place
Structural insulated panels (SIPs)
Not all forms are for new homes and the same goes for existing homes. Obviously, you shouldn't use rigid foam board on the floor of your attic. That's not what it was designed for.
Most of you reading this want more information on the types of insulation that you can add to your existing home, given the current state of the economy and housing industry.
Your top choices for adding insulation to existing houses are #1, #5, #6, and #8 from the list above.
What About R-Values?
You need to understand the R-values for each type of insulation that you are considering and how it performs.
R-value simply means resistance to heat flow. One thing that I find interesting is that several types of insulation lose a considerable amount of their R-value if they become wet or damp.
Not only would they lose their R-value, but they could also promote the growth of mold and mildew. That's not to say that your attic will be rain-soaked anytime soon, but it's nice to know the physical properties of the type of insulation you may choose to buy.
There are also a few types that are perfect for rodent nesting material — if it were not for being pre-treated with borate to resists pests, fire and mold. Consider those types of things during your decision-making process.
There is so much material involved with home insulation that I will need to break this topic up into a couple of posts. I'm going to tackle attic insulation first because that's where most homeowners can readily tackle that particular DIY project without too much trouble.

Fiberglass Insulation: What You Need To Know
Fiberglass insulation is probably the type that most people think of when they think about insulation.
It is available in batts, rolls and as loose-fill.
You can buy it in 3 densities:
low-density
medium-density
high-density
To give you an idea of the differences between them, high-density fiberglass batts made for installing within 2×4 studs will provide R-15 versus R-11 for low-density fiberglass batts.
High-density batts are better suited for tight spaces, like the cathedral ceiling that I have above my living room. I have loose-fill fiberglass insulation in my attic — except on top of the cathedral ceiling, which is insulated with batts.
TIP: If you install insulation with a vapor-retardant paper facing on one side, be sure that the paper is adjacent to the heated space.
My house was built in 1988 and has 8½" of loose-fill fiberglass insulation in the attic (except the cathedral ceiling) that gave it an R-19 value. How do I know that? Believe it or not, there is a sheet of paper stapled to one of the joists in the attic notating the brand, type of insulation, amount used, and the person that installed it. Look around in your attic and you may have the same luck if you're trying to figure out what you have.
Is R-19 enough attic insulation for mid-northwestern Georgia? It may have met the minimum building code for Paulding County in 1988, but the current DOE recommended R-value for my zip code in an attic space is R-49. How do I know that? There's a handy tool on the Oak Ridge National Laboratory website in conjunction with the DOE that will give you the recommended R-values for your zip code. It's just that easy!

Mineral Wool Insulation: What You Need To Know
There are 2 types of  mineral wool insulation:
Rock wool
Slag wool
Mineral wool consists of at least 75% post-industrial recycled content.
Mineral wool is also available in batts, rolls, and loose-fill forms — which is ideal for attic installations.
Mineral wool is denser than most fiberglass insulation and less prone to air convection thermal losses.
There is a company named Thermafiber that produces a great product. No, this is not a paid endorsement. Read on, oh curious one. Quoting Thermafiber's website regarding their mineral wool insulation products for residential installation:
"…provides a high R-value/inch, excellent sound attenuation characteristics and superior fire performance. Products are also inorganic, non-combustible, and fungi (mold) resistant. Thermafiber products are considered "green" because of the energy conservation that they provide and the up to 90% Post-Industrial recycled content."
Thermafiber mineral wool products also contribute to LEED credits. Read the info in the preceding link and I think you'll agree that it truly is a green product, as ugly as it may seem. That's what I call a hot product! I'm putting this on my list of products to enhance my current insulation.

Plastic Fiber Insulation: What You Need To Know
Plastic fiber insulation is made from PET, a readily available recycled material like milk jugs.
The material is formed into batts and has a density similar to high-density fiberglass insulation.
The R-values vary from R-3.8 per inch at 1.0 lb. per cubic ft. to R-4.3 per inch at 3.0 lb. per cubic ft.
It's not readily available and is somewhat difficult to work with and cut using standard tools.
It's not my first choice, but a choice, nonetheless.


Natural Fiber Insulation: What You Need To Know
Natural fiber insulation choices include:
Cotton
Sheep's Wool
Straw
Hemp
Natural fiber insulation products make for some really nice rodent nesting material as well as insulation material. Okay — just kidding — not a fair statement at all because it is treated with a borate solution to repel the little buggers. The borate solution also retards mold and mildew and aids in fire-resistance.
One example of cotton natural fiber insulation is post-industrial recycled blue-jean trimmings. It's a great idea and provides a fantastic recyclable resource, no doubt. Bonded Logic makes a great product, as an example.
Bonded Logic products have many positive attributes, such as:
Diversion of materials from the landfill into an extremely useful product
Not itchy like fiberglass
Contains no chemical irritants and requires no carcinogenic warning labels
Easy DIY installation
Class-A fire rating
3.5″ provides R-13; 5.5″ provides R-19-R-21; 8.0″ provides R-30
LEED eligible product
Great acoustical qualities
Recycled denim batts is another material that is on my list of materials to beef up my insulation in my attic.
I'm not going to get into the other 3 materials as they are not readily available materials in today's market.

Cellulose Insulation: What You Need To Know
Cellulose insulation is comprised of recycled wood fiber and is mostly used as a loose-fill insulator in attics.
Recycled wood fiber is a general term but what we're really talking about here is chewed-up newspapers. I don't like the idea of cellulose insulation because it absorbs moisture like a sponge. And it doesn't have to rain inside of your attic for the material to become wet. High humidity can permeate the material over time and become matted to reduce the R-Value effectiveness.
The R-value varies between R-3.6 to R-3.8 per inch. Those are pretty good numbers compared to the other materials I've discussed here.
In the end, your particular situation will dictate which type of insulation you ultimately choose. But at least now you have a better understanding of what is available to you for your project.
Helpful Insulation Resources
I started as a home-stalker… visiting brand new homes under construction in the neighborhoods near my house. That inspired me to write about home building and home renovation projects — chronicling homes during different phases of construction from a consumer's point-of-view. Basically, the tips you'll find in my articles are a collection of checklists for what I think should (and should not) go into building or remodeling a quality home.