This post may contain affiliate links. If you buy thru these links, we may earn a commission at no additional cost to you.
---
If you've got an RV or motorhome these days, then you've spent a pretty penny on all of the things needed that go along with hitting the road in your RV.
Gas is expensive, campsite reservations aren't cheap, not to mention the time and energy you've put into organizing a trip.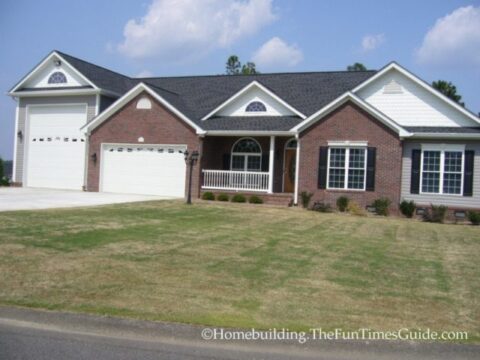 When you've made your way back to your traditional "stick home" you'll need somewhere to park your RV.
Basically, you have 2 RV storage options:
You park your RV in an off-site storage facility — due to neighborhood bylaws, city ordinances, or space constraints.
You keep your RV in your driveway or on your property.
As seen in these photos, some folks even go so far as to build a house that has a custom RV garage for the motorhome of their dreams.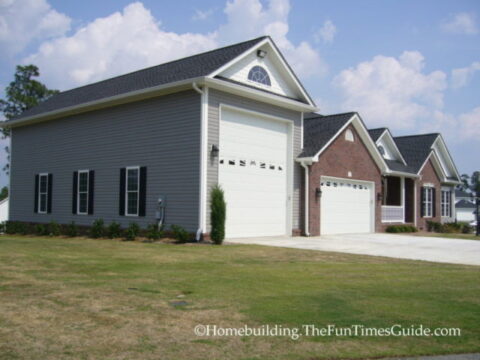 Reselling A Home With An Oversized RV Garage
I'll be honest, when I first saw the house with the RV garage (above), 2 thoughts immediately came to my mind:
What the…!!!
If you ever wanted to resell the house, it might be a tough sell.
So I'm wondering, what would you do if you bought the house and didn't want the RV garage?
Well, you could simply remove the garage door and enclose it.
Or… you could turn the space into:
an indoor basketball court
mini concert hall
hockey rink
pre-school / daycare center
library (my wife would love that)
private, indoor resort
Okay, this is getting a little ridiculous. It's ALOT of space!
Practically speaking, you could build a second floor in the RV garage space and gain valuable square footage to serve whatever purpose your heart and needs require.
Any way you look at it, a house with an RV garage is not be likely to sold until the owners die or they sell the RV. It's that unusual!
Or is it? RV communities featuring traditional homes with RV garages are becoming more and more popular, because every RVer needs a home base.
UPDATE: Check out this one-of-a-kind garage door! It looks like a regular-sized garage door, but it's a bifold garage door that is large enough to accommodate a motorhome.
Here are even more of the most popular rv garage plans out there.

 
Before You Design Your RV Garage
If you're thinking of building a custom RV garage at your home, you're not alone. You can find a wealth of helpful information and tips from fellow RVers who've done the same thing.
In case you're wondering, the standard height of an RV garage door is 12 to 15 feet. The extra height is needed for roof appliances like satellite receivers, fans, and air conditioning units.
Here are some other RV height and width issues to consider before you design your custom RV garage.
Here are typical garage door dimensions — for standard, RV, and commercial size garages.
Tips for remodeling your RV garage.
Worlds Coolest Garage Door Homemade for RV
RV / Motorhome Garage Plans
I started as a home-stalker… visiting brand new homes under construction in the neighborhoods near my house. That inspired me to write about home building and home renovation projects — chronicling homes during different phases of construction from a consumer's point-of-view. Basically, the tips you'll find in my articles are a collection of checklists for what I think should (and should not) go into building or remodeling a quality home.