This post may contain affiliate links. If you buy thru these links, we may earn a commission at no additional cost to you.
---
Having a really cool garage with tons of space for your 2- and 4-wheeled prized possessions is the stuff dreams are made of for many a guy out there… and many of you girls, too.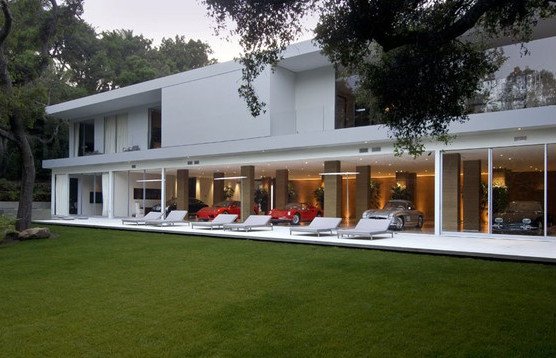 I was surfing around for cool garage ideas and found a great Forbes article about amazing custom garages and knew it would be a fun topic to share.
I'm not going to talk about every garage in the article they posted, just the one's that really stand out, in my opinion.
The homes that some of these garages are a part of are quite the spectacle themselves with crazy amenities like a life-sized chess board!
Some of these garages used the ol' adage "money is no object" as their model.
7 Truly Amazing Custom Garages
#1 – The home with the magnificent garage seen above is part of a home dubbed "Montecito's Glass Pavilion" and is located in Santa Barbara, CA. The list price for the home is $20 million.
Did I mention that these homes are on the market? The garage can house up to 32 cars in style.
You can see that collecting these works of art could require deep pockets, if you want to enjoy your collection rather than have it stuffed away in an old barn.
#2 – Another outstanding home with an awesome custom garage is located in New York, NY at 200 Eleventh Avenue. It's a 1-car garage but has the distinction of being in the suite of a Chelsea penthouse.
An elevator literally takes the homeowner and the car up an elevator and parks it just outside of the door. Asking price for the home is $16.5 million.
#3 – There is a modest home in Watchung Boro, NJ that has a detached, custom garage that houses 5 cars. The garage is 1,250 square feet, has a mechanic's hydraulic lift and a loft for storage. They're asking $625K… a virtual steal!
#4 – Houston, TX has a home among its residents that has a really cool garage which houses 12 cars. This home also boasts a lifesize chess board, lighted football field, and a zen garden complete with koi ponds.
I'm going to go out on a limb here and say that this home is owned by a professional athlete or former pro athlete.
A lifesize chess board seems a little silly and excessive. It's a conversation piece and that's about it. Asking price for the home is $2.35 million.
#5 – Paradise Valley, AZ is home to a very special estate that has 2 custom garages. There is a 1,414 square foot showroom and a 1,671 square foot "bus garage" (see the showroom in the photo).
The home also boasts a lap pool, tennis court and movie theater. There is enough room in the garage for 15 cars. I really like the old-timey gas pumps that give it a touch of class. They are asking $9M.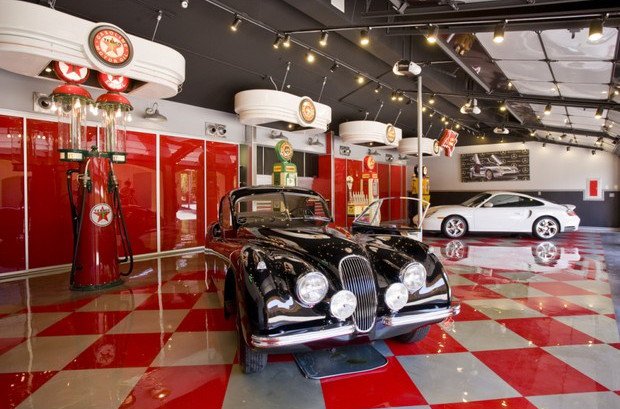 #6 – There is a home on Cliffside Drive in Malibu, CA that has 7,000 square feet of storage that includes the garage. The home itself has 11,700 square feet to roam around in. The home also has a glass-tiled pool.
The garage is equipped with sound-absorbent wall, a micron-level filtration system with de-humidification in a thermally sealed space. Can you say 'top of the line'? A cool $44.5 million will give you complete ownership and bragging rights, yo.
#7 – Last, but certainly not least, 5000 Royal Street in Park City, Utah is the address where you will find a log home with 2 mega-garages: one 6-car garage and one 22-car garage — all within a 22,000 square foot 63-acre estate. Hand them a mere $49.5 million and they will hand you the keys!
Here's another slideshow of homes with amazing and outrageous garages.
Speaking of keys and cool garages, you need to check out the Porsche Design Tower in Miami. It's a 57-story tower with an ingenious system of multiple car elevators that whisks cars right to the homeowners' doorstep. Seeing is believing.
I started as a home-stalker… visiting brand new homes under construction in the neighborhoods near my house. That inspired me to write about home building and home renovation projects — chronicling homes during different phases of construction from a consumer's point-of-view. Basically, the tips you'll find in my articles are a collection of checklists for what I think should (and should not) go into building or remodeling a quality home.