This post may contain affiliate links. If you buy thru these links, we may earn a commission at no additional cost to you.
---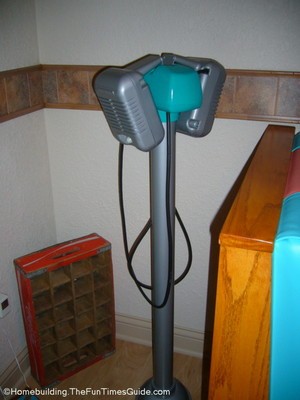 If you're lucky enough to live near a drive in movie theater, then you know that in order to hear the movie you have to turn on your car radio.
It didn't used to be that way.
At one point in time (decades ago) you'd pull up next to a metal post with 2 speakers on it, turn off the ignition, and prop one of the speakers on your window "sill" and enjoy the flick.
These days drive-in movie speakers are somewhat collectible.
Here's how my aunt and uncle found and restored a pair of vintage drive-in movie speakers and hanging post to go with all of the other 50's & 60's decor in their totally awesome (can't believe I said that) retro room collectibles.
Drive-In Movies
We've taken our kids to The Big Mo on a couple of occasions and had a blast.
The Big Mo' Drive-In is near Columbia, SC (Monetta) in the middle of thousands upon thousands of acres of peach trees.
Personally, I would rather have the drive-in speakers for sound rather than tuning in to the broadcast signal for the car radio. You don't have to worry about draining your car battery if you're listening to the movie speakers and everyone tends to stay in the car, whereas with the car radio option people find themselves sitting in a lawn chair just outside of the car.
You decide which you'd like more, speakers or the car radio.
Where To Get A Pair Of Drive-In Movie Speakers
Here's the scoop on Uncle Bob's drive-in movie speakers from the man himself:
The speakers are original ones (Mark II) that we restored. We purchased them at yard sales and flea markets. They were probably used in our local Valley Drive-In Theater in Newark during the 50's and 60's. We found most of the original parts (speakers, wiring and knobs) available on the Internet for the restoration. Can't remember all the costs, but these are not expensive to find or restore.
There you have it… everything you need to know to have your very own drive-in movie speakers in your home retro room!
More Like This…
Check out all the fun stuff about drive-in's on The Fun Times Guide
Take a step back in time by taking a virtual tour of Uncle Bob's retro room. Go to the bottom of the page for all of the links to the cool 50's & 60's decor.
I started as a home-stalker… visiting brand new homes under construction in the neighborhoods near my house. That inspired me to write about home building and home renovation projects — chronicling homes during different phases of construction from a consumer's point-of-view. Basically, the tips you'll find in my articles are a collection of checklists for what I think should (and should not) go into building or remodeling a quality home.