---
This post may contain affiliate links. If you purchase through these links, we may earn a small commission at no additional cost to yourself.
---
A month ago, my wife and I were attending the Sandy Springs Society Home Garden Tour.
We picked up our share of unique garden ideas, including one home in particular that was utilizing rain chains — not only for function but for visual and auditory reasons, as well.
Placed in strategic locations, rain chains are very appealing if you enjoy the soothing sound of trickling rain (…who doesn't?) and unusual materials fulfilling ordinary needs around the home.
Kusari-doi, as they are known in Japanese culture, are a simple alternative to boring downspouts.
It's a wonder that I don't see more of them in my perpetual tour of homes.
Where To Find Rain Chains
The links you see in these photos are double-link rain chains.
These can be purchased all over the web — including Amazon — and in select garden centers.
Just keep your eyes peeled and it may not be long before you'll find something you like.
Copper is the material of choice due to the aesthetically pleasing and unique patina produced after years of service, so read the mice-type before you buy.
How To Make A Rain Chain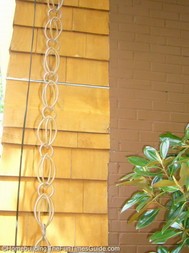 Are you handy with a blow torch and a rotary tool?
Test your skills and creativity by making your own rain chain.
Here are some helpful rain chain tutorials:
Rain chains can be a beautiful extension of your personality, so have some fun with it!
More About Rain Chains
Copper rain cups are cool, too!
Here's a different style of rain chain that adds curb appeal.
I started as a home-stalker… visiting brand new homes under construction in the neighborhoods near my house. That inspired me to write about home building and home renovation projects — chronicling homes during different phases of construction from a consumer's point-of-view. Basically, the tips you'll find in my articles are a collection of checklists for what I think should (and should not) go into building or remodeling a quality home.