This post may contain affiliate links. If you buy thru these links, we may earn a commission at no additional cost to you.
---
Does your home look blah? Do you have siding on your house that was state-of-the-art in the 70s and 80s… but has lost its charm and seen better days?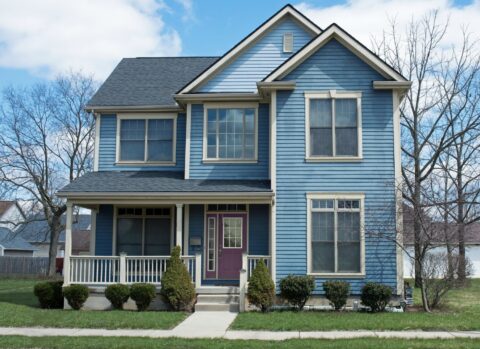 Have you pressure-washed it so many times the original color is almost gone?
Is your siding cracked and broken in places? (Maybe it even has holes from the lawnmower throwing rocks at it.)
If you don't want to throw good money after bad by painting it and you're pretty sure that it is no longer as energy-efficient as it once was, the obvious solution is… you have to install new siding!
But what siding should you install?
Home Building Materials Have Evolved
Since residential home construction became a major industry, the materials involved in the construction process have changed to meet the differing needs of each community and builder.
For example, one of the early changes came in the form of the studs used to build a house. While wood vs metal studs was a debate in the early 20th century, steel studs eventually became an accepted material in residential construction — and insulated concrete form (ICF) is slowly gaining more popularity around world.
The same process of material evolution also happened in the home siding industry!
Wood vs. Vinyl House Siding
While there are many different siding options that we will discuss today in this post, wood and vinyl siding are the 2 main categories of siding that come to mind for most people.
There's a good reason for that:
Wood is the oldest siding product in use on modern homes.
Vinyl siding represents the newest innovation that was introduced in the 1950s to replace aluminum siding.
They both have their pros and cons.
New Siding Alone vs. New Siding With Added Insulation
Can residing a house help cut energy costs?
Yes — installing any new siding is going to improve your energy savings!
Why? Because you're essentially creating a new weatherproof wrapping around your house. The new siding won't have holes or cracks of any kind — therefore, your home will be warmer in the winter and cooler in the summer.
But… the most energy-efficient application involves adding insulation.
Here are 3 increasingly more efficient levels of insulation:
Some siding installations will allow you to add a radiant thermal barrier between the new siding and home — increasing your R-value and making your home more comfortable, which is good.
Some installations have enough space to add a flat sheet of insulation — that is better.
And today, there are insulation products that are form-fitting to the siding — giving you the best protection against air and moisture infiltration possible.
What Is The Most Energy-Efficient Siding?
Before you decide on the type of siding, a little research is needed to figure out what product would be the best from the standpoint of energy efficiency as well as for curb appeal.
Most folks aren't willing to sacrifice a beautiful home exterior to save money on their utility bills. In other words, the siding you choose will affect the resale value of your home.
I've been installing siding since the 1980s, and I've seen some great advances in the technology since then – especially in the areas of vinyl, cement, metal, and other composite-type sidings.
However, some things are the same. Wood is still wood, and wood siding is still a top choice among America's custom home builders. That isn't bad — it just depends on your overall goal for your house siding project:
Believe it or not, wood has the greatest R-value at .87 for wood shingles and .81 for regular beveled wood siding.
Aluminum, steel, and vinyl siding come in next with an R-value .61.
Brick, stucco, and fiber-cement siding have R-values between .37 and .44.
In the context of building and construction, the R-value is a measure of how well a 2-dimensional barrier (such as a layer of insulation, a window, or a complete wall or ceiling) resists the conductive flow of heat. Source
What does this mean for you?
While there is a difference in the overall energy efficiency of the different types of siding, they are all below "1" on the R-value scale — without adding insulation.
Before I move on to the pros & cons of these house siding options, I need to point out that metal and vinyl siding offer the widest options when it comes to adding insulation during the installation process — and that is an important factor to consider. Most of the wood and fiber-cement products don't allow that option, since there's no hollow space behind them for the insulation to hide in.
A Comparison Of Low-Maintenance Home Siding Options
Let's look at the most popular siding materials and see what the pros and cons of each are.
Wood House Siding
One of the most versatile building materials available, natural wood siding comes in several configurations. The most popular are bevel siding (cedar and pine), wood shingles (cedar and pine), plywood siding in the form of T1-11 (primarily sold in pine but also available as a treated product), and board and batten (available in many different species). The board and batten price is usually higher — due to material costs and the additional labor necessary to install it.
Advantages
As a standalone siding product, wood is the best insulator.
Has great appearance characteristics, due to its natural grain.
It is readily available in most areas in both shingle and beveled edge configurations.
Can be painted – or stained – per the customer's preferences.
It's easy to work with from an installer's advantage point.
Disadvantages
It must be painted or stained every 3 to 5 years, depending on sun exposure.
Cannot easily add insulation.
It is installed in pieces requiring caulking and sealing at every joint.
Fiber-Cement Siding
Advantages
Similar to wood in that it is manufactured in a smooth or wood grain finish.
Trim pieces are pre-made in various widths.
It can be purchased pre-stained or painted (which leads to possible savings on painter's cost) or can be painted or stained to your liking.
Very popular among new home builders and buyers — so it has a resale advantage.
Has lower maintenance requirements than wood.
It is available at most builder outlet stores.
Disadvantages
It has a low R-value, relative to other home siding products.
Has a difficult installation process (each piece should be drilled, then nailed).
Must be caulked and sealed at every joint and a backer film applied at joints.
It is very heavy.
Requires repainting every 8 to 10 years — which is an advantage over wood.
Composite Siding (Polymer-based)
Advantages
It is less affected by the elements.
There's an extensive variety of patterns and colors available.
Many of these siding products claim to never need maintenance.
It looks and feels like wood.
Extremely fade resistant.
Can be installed in the same fashion as vinyl siding.
Disadvantages
The cost is higher — but must be weighed against the expected life of the product.
May be perceived as vinyl siding by discriminating buyers at resale.
It is not available at all building material suppliers.
Metal / Vinyl House Siding
Advantages
It's simple to add insulation when installing.
Available in a multitude of finishes and patterns.
Has a long warranty period (20 years to lifetime, with restrictions)
Very light and easy to install.
Goes over existing siding easily.
It can be a DIY project …with a little help!
Disadvantages
Can be damaged with little effort.
It can fade over time, and painting is not usually a good option.
Trimming it requires special tools and skills for the DIYer.
It is not always considered a desired improvement for resale.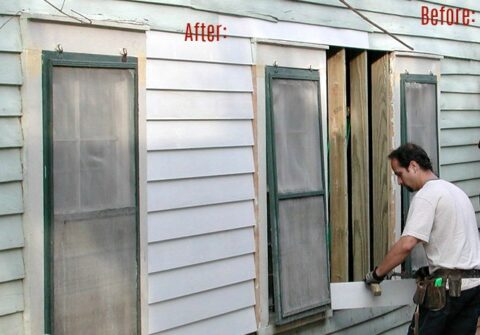 How Much Does It Cost To Reside A House?
The cost of residing a house ranges between $5,000 and $14,050.
The price depends on:
The size of your house
Where you live
The type of home siding you choose
See the cost to reside a house for each type of siding mentioned above.
Matching Exterior Accents
Here's a thought…
While you're having a beautiful new exterior installed on your home, why not add the finishing touches with maintenance-free accents — such as shutters, window trim, and architectural louvers made from the same material as your siding?
If they're installed at the same time as your siding, you will save money on labor!
The Bottom Line
Yes, you can save money by installing better siding.
The savings will come from:
Lower utility bills
Lower maintenance costs
Eventual resale profits
If you've decided to give your home a much-needed facelift, you now have enough information to review your options and choose a better siding than what you have today.
There are many choices available. Be sure to take your time, comparing R-value increases with ultimate resale value concerns.
Some of the products discussed here will need to be installed by professionals, and some are ready-made for the DIYer. Be honest with yourself before taking on the project. In the end, you're putting new siding on your home to improve the look, add energy-efficiency, and increase resale value.
Photos Before & After Residing A House
Like this post? Save it to read again later… or share with others on Pinterest!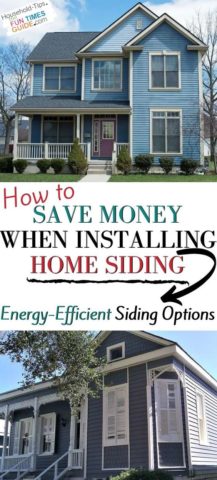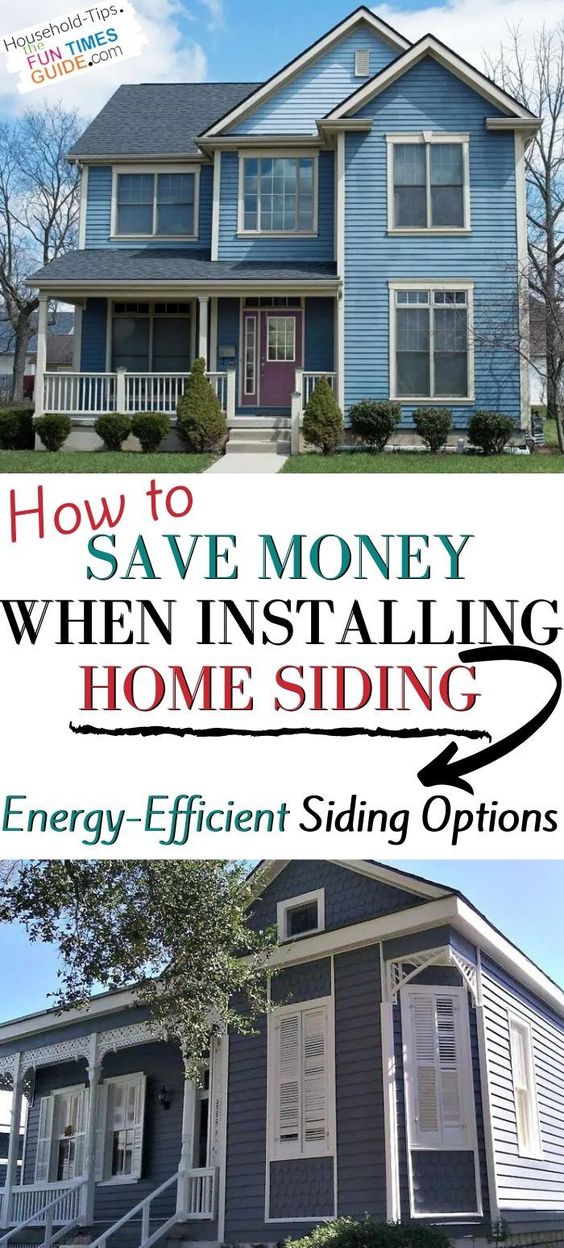 Matt Lee is a siding contractor, owner of the Innovative Building Materials blog, and expert in the building materials industry. He is focused on helping fellow homeowners, contractors, and architects discover materials and methods of construction that will save money, improve energy efficiency, and increase property value.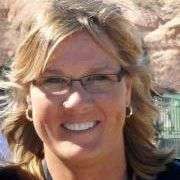 My husband and I have been through the home building process… from scratch… more than once! (And we still have a few pieces of property that we might build on in the future.) So we definitely have some helpful tips to share when it comes to designing your dream home and building a house from the ground up. We've also learned that the 'fun' doesn't end once the house is built. Our clever home maintenance hacks will save you time and money each year that you live in the home. And… since everyone's house eventually needs a little remodeling (as has ours), we've got some ridiculously helpful home renovation tips as well! Whenever I'm not DIYing something around the house or adding to my Dream Home Wish List, you can find me at the corner of Good News & Fun Times as publisher of The Fun Times Guide (32 fun & helpful websites).