This post may contain affiliate links. If you buy thru these links, we may earn a commission at no additional cost to you.
---
Ready for another post on dumb homebuilding ideas?
A reader wrote in recently asking about the "very, very creepy" thing that was smack dab in the middle of this great little new subdivision in Paulding County named Sweetwater Bridge that features Frank Betz-designed craftsman style homes. The reader's question is not a dumb one. It's what is within the neighborhood that qualifies this post as a dumb homebuilding idea.
The "very, very creepy" in question is a very old family(?) cemetery located in the heart of the neighborhood. There wasn't a fence surrounding it at the time we visited back in March 2008 so at the very least the developer should definitely do something (if they haven't done so already) to keep people out and…well…in, too, in an aesthetically pleasing way.
You might remember a movie from the 80's by the name of Poltergeist where a family moves into a new home in a new subdivision. The place is haunted by what turns out to be some very angry ghosts. Why were they so angry? Because they were resting in peace in eternity and then a developer came along and instead of going to the expense of moving the caskets to another location, they just built houses right on top of them. (Sorry if I blew it for anyone that may not have seen the movie before, but it has been well over 20 years since it was released.)
In my opinion…if you are a developer, you shouldn't ever move a cemetery. Legally or not! Let the deceased rest in peace at the place of their choosing.
Disturbing Grave Sites Without Written Permission is Against the Law
The developer of Sweetwater Bridge had the common sense to leave well enough alone and just built right around it. Not to mention it's against state law (and human decency…in my opinion).
     In Georgia…State laws prohibit digging on, disturbance to, or harm of any archaeological, aboriginal, prehistoric, or historic site without written permission of the landowner and notification of the Georgia Department of Natural Resources. See OCGA 12-3-621.
also…
     In Georgia…State laws prohibit exposing, removing, or disturbing human burials except as part of a legitimate archaeological investigation. See OCGA 31-21-44 and OCGA 31-21-6.
The cemetery takes up about an quarter of an acre and has quite a few stone slabs for headstones and the ruins of a small stone enclosure about 30 sq. ft.. Let it be known that I am taking a guess that this is a family cemetery. It could very easily be just some poor souls laid to rest. There doesn't appear to be any more than 10-12 grave markers. Some of the gravesites were even adorned with an (artificial) red rose, so someone has indeed paid them a visit recently.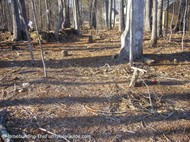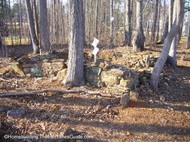 The agent-on-duty at the time we were there was pretty mum about the whole thing when I pressed her on it. She said she didn't know much about it but her facial expression told me more. I was simply curious about the graveyard and also why they didn't bother to put some sort of decent barrier around it. I don't think she was very pleased with my line of questioning…or maybe I imagined it. Nah! She was annoyed and surprised.
Do you have a cemetery in your subdivision? Write me. I'd like to hear about it.
I started as a home-stalker… visiting brand new homes under construction in the neighborhoods near my house. That inspired me to write about home building and home renovation projects — chronicling homes during different phases of construction from a consumer's point-of-view. Basically, the tips you'll find in my articles are a collection of checklists for what I think should (and should not) go into building or remodeling a quality home.