This post may contain affiliate links. If you buy thru these links, we may earn a commission at no additional cost to you.
---
Have you ever heard of a Solotone Entertainer coin operated jukebox speaker?
I hadn't until just a couple of months ago while visiting some relatives in Ohio.
It's an interesting little piece of 1940's vintage equipment with a bit of character. Put your nickel or dime in the slot and enjoy the music coming from the centralized jukebox system.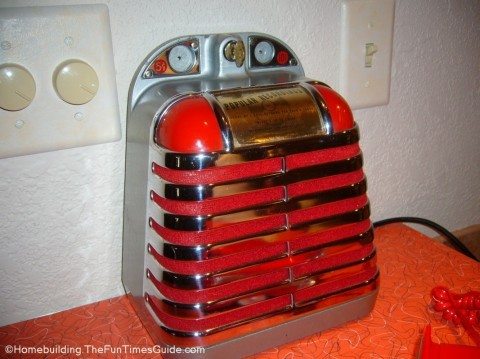 Nostalgia and good ol' American capitalism combined to give good vibes to diner patrons. It was an interesting concept in diners at the time.
It soon gave way to the tabletop jukebox song selector that allowed diner patrons to select the music they wanted to hear rather than just listening to a speaker with no control of the type of music being played. Of course, everyone in the diner would be listening to what you had selected to play.
This would be one very unique way to bring a little piece of Americana into your home that'll take you way, way, way on back in time (if you've got some miles on you). Either that or give you a history lesson.
The Solotone Entertainer coin operated jukebox speaker dates back to the 1940's and was a means in which to boost tavern and diner operator profits. It was used as a way to hopefully keep patrons seated at their table for a longer period of time enjoying music and talking in hopes that they would be ordering food and drinks while at the same time adding a little more to the bottom line.
This little gem (pictured above) was found and then restored by my aunt and uncle, who happen to have an entire room full of very cool 50's-60's era "stuff". The best part about it all is that everything in
this retro room
works like a charm thanks to a little research, time and labor. I can tell that they've put a lot of "love energy" into these projects. I'm just happy that I was able to see it all in person.
Here's my Uncle Bob to talk a little about the coin operated jukebox speaker:
That unit was purchased at a yard sale for $7. It is an original Solotone speaker unit used in the late 40″s to purchase "timed" sound from a centralized Jukebox. The coin slots of 5c and 10c would select the length of time your table or booth could hear the sounds played at the juke box. It has been restored to original operating condition by a local juke box restorer and ourselves. We find that the unit is fairly rare.
Rare indeed! It's very difficult to find any information at all related to this particular jukebox speaker. In fact, this is likely to be the most information you can find on it without going to a very deep library. Talk about long tail!
During the course of my research on the Solotone Entertainer I found a pair of them up for bid on eBay and the current bid was $350!
This is what is printed on the top of the speaker for the patrons to see:
Solotone Popular Recordings

Equal of 2 full recordings for each 5 cents.

Insert 1 to 15 coins

Solotone Corp Los Angeles Calif
Let this be a lesson to us all. If you're in the market for vintage items for your retro room, take the time to visit yard sales, estate sales and such. You never know what treasures you'll find!
Want to see more vintage diner stuff like a completely restored 1955 Seeburg jukebox? It's awesome! I'm not lying. There's more to see, too. Here's a link to all the cool vintage diner stuff my Uncle Bob has restored.
I started as a home-stalker… visiting brand new homes under construction in the neighborhoods near my house. That inspired me to write about home building and home renovation projects — chronicling homes during different phases of construction from a consumer's point-of-view. Basically, the tips you'll find in my articles are a collection of checklists for what I think should (and should not) go into building or remodeling a quality home.