This post may contain affiliate links. If you buy thru these links, we may earn a commission at no additional cost to you.
---
We are in the process of choosing a house paint color for our home.
It's been quite a process to muddle through, but it's been worth all of the time and effort that went into finally picking the colors that will coat and protect our home for the next several years.
We've done this once before, but I don't recall it being such an ordeal.
Why has it been such an ordeal for us this time? Because we are older and wiser, therefore, we are considering many factors that we may not have thought about last time.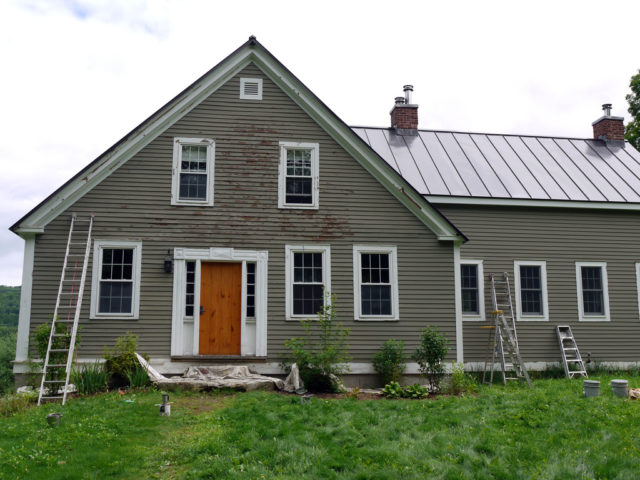 If you are in the process of choosing a house paint color, these are some of the things you'll want to think about:
Sheen
Brand
Architectural compatibility of your home style vs. body and trim color combinations
House paint colors in your neighborhood
Architectural standards of your Home Owners Association (HOA)
Coming to an agreement with your spouse or partner on color choice
Okay, let's get started.
How To Choose House Paint Color
I'll describe the step-by-step process that we went through choosing a house paint color — because I feel it was thorough and a great way to figure out what looks good on your style of house.
#1 – The first thing we did was talk about it — at length — before calling a painting contractor or going down to the paint store. That was the first hurdle that we leaped over.
#2 – After we came to an agreement of the body and trim colors, we went to the home improvement centers and paint stores to collect paint chips that were in the general range of tones and hues that we were after. We also grabbed a few catalogs for ideas. We took them all home and poured through all of the different paint chips and tossed anything that we didn't want to consider.
#3 – Next, we went online to use an interactive house paint color tool that helped us visualize what our home would look like with different color schemes. You simply upload a photo of the front of your house and manipulate it to your liking. The color tool we used was the Sherwin Williams Paint Color Visualizer. There are other paint color tools that you can check out too.
What if you like the exact color of an old, rustic looking barn that you saw on a recent trip? Sherwin-Williams has a cool tool called ColorSnap that lets you try on colors! So you can match practically any color to their library of color choices right on your phone; or you can create a custom color palette. How cool is that? Simply snap a photo and use the tools on your smartphone to do all of the work to help you nail down the exact house paint color that you're looking for!
#4 – The next step in the process of choosing a house paint color was to get in the car and find homes with a similar architectural style as ours — with the goal of picking out one or two homes that we both agreed was a great color scheme. This is not necessarily a one trip deal. It took several trips to pick a home that hit a homerun with both of us. We want the house to stand out for all of the right reasons… not the wrong reasons. So the goal is to pick a great color scheme that appeals to us and also has great curb appeal.
I hate to use the term "make it pop", but that's what I want the trim color to do when you look at it. We also noticed that homes usually have a 3-color paint scheme or a 4-color paint scheme that incorporates these areas of the home's exterior:
Your goal is to find an exterior color scheme that would look best on your house.
#5 – After you've found the house (or two) that replicates what you have in mind, it's time to get some painting bids. Word of mouth is huge in the paint business. Talk to your friends and neighbors to get recommendations for painting contractors. Call at least 3 painting firms and make your decision based on:
Overall price
Brand of paint they use
Ease with which to do business
Any repair work needed prior to painting, including glazing of any windows if necessary
Number of coats (usually 2). In our case, we have a stucco front which needs to be sprayed and then rolled to get in all of the crevices.
Warranty
Reputation in the community (references)
Get it all in writing
#6 – At this point, you should have a few bids in hand and a very good idea of the company you want to go with. If so, call them up and request that they come out and paint some samples of your top 2 or 3 color choice combinations on your house. (Yes, ON your house.) The contractor we went with did this all at no charge and let us take our time deciding. That's the type of salesman that works best in this industry, in my opinion. After your contractor has painted spot samples on your house, you'll probably know right away what color scheme hits the mark. If not, look at the colors within that same color range, and ask the contractor to come out with that color sample and paint a board or two.
TIP:  Be sure to look at the paint samples on your house at different times of the day. Paint color looks different depending on the light that hits it. We eliminated one particular color for that very reason. Choose carefully and wisely.
Exterior House Painting Tips
Because estimating the amount of exterior paint you need can be tricky, here are some helpful online calculators to help you get the numbers right:
Here's some good advice to calculate the cost of exterior house painting.
To assist you with choosing the right finish or sheen for each area of your home's exterior, use this Exterior Finish Guide from Dutch Boy.
And finally, don't forget to have the painting contractor leave all leftover paint for you to do touch-ups and to save the exact color formulas. You might even have enough left over to paint your shed the same color as your house!
Exterior House Paint Color Ideas
Need some more inspiration for exterior paint colors? Try these handy tips & tools on for size:
I started as a home-stalker… visiting brand new homes under construction in the neighborhoods near my house. That inspired me to write about home building and home renovation projects — chronicling homes during different phases of construction from a consumer's point-of-view. Basically, the tips you'll find in my articles are a collection of checklists for what I think should (and should not) go into building or remodeling a quality home.