This post may contain affiliate links. If you buy thru these links, we may earn a commission at no additional cost to you.
---
I had my house painted recently, and I wanted to be sure that it was completed to my satisfaction and as stated on the estimate, just like any other customer would want.
I've got a few helpful tips — and maybe a thing or two that you may not have thought of — when working with a painting contractor.
There are several things to remember after you have hired a contractor for exterior house painting…
Choosing Exterior House Paint Colors
Before you call someone to paint the exterior of your house, the first thing you need to do is figure out the paint color you want.
Here are my best tips to help you choose exterior house paint colors.
Some of the best exterior house painting ideas that I've found from other homeowners and experts in the field are included here:
Working With A Painting Contractor
There were several key points that I wanted to communicate to the exterior house painting contractor I hired.
Some painting contractors will do the bare minimum to finish the job and move on, but you  need to be insistent that they take care of your concerns first.
Our painting contractor was great to work with and took care of all of our concerns without issue.
I felt it was extremely important that I meet with the salesman at the house and do a walk-thru of things that I wanted to be taken care of, including:
Repair and/or replace any rotten wood. (I had them replace the old masonite siding with Hardi-plank siding.)
Paint the underside edges of the siding — especially the siding that is nearest to the ground.
Fill all nail holes and gaps with caulk.
Paint the underside of exterior porches and decks — if they are accessible and if they have paint on the topside.
When it comes to working with a painting contractor, there are a few important things that you personally should do:
Point to any areas of concern and talk about it with the contractor to make sure they understand how important it is to you that it be taken care of properly.
Let them know that you will be following up on your "punch list."
Before the painters have packed up and finished, contact the salesman and/or the painting contractor while the painters are still there — so they can easily take care of anything they might have missed. It's much easier to get them to take care of your concerns while all of their gear is still on site.
Ask them to leave all of the leftover paint from any open cans for touch-ups you may need to do later on. They will readily agree because they don't need that paint anymore and don't want to deal with opened cans of paint. The leftover cans have the specific color formula on them, so do not be too quick to dispose of them. At the very least, you may want to snap a photo of the paint formula for future reference.
Insist that 2 coats of paint are mandatory. If stucco is involved, they will have to "roll in" at least one coat to get in all of the little crevices.
Make sure that they take the downspouts down and paint behind them, as well as painting the entire downspout itself.
Don't pay them until you are 100% satisfied and the job is complete.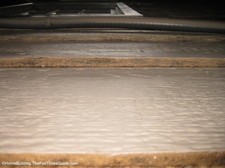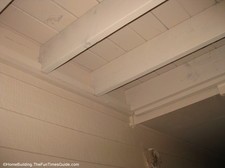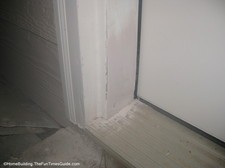 Painting contractors like to stick signs in the front yard of the home they are painting — for marketing purposes.
I really don't care to have the signs in my yard, but I tolerated it until the job was complete and then I took it down. I figure that I paid them to paint my house and it's a business transaction. Therefore, I feel no guilt in taking the sign down. If it's not in the contract, down it comes.
Working in cooperation with your exterior house painting contractor is vital if you don't want to see them again for awhile.
Tips For Working With A Painting Contractor
I started as a home-stalker… visiting brand new homes under construction in the neighborhoods near my house. That inspired me to write about home building and home renovation projects — chronicling homes during different phases of construction from a consumer's point-of-view. Basically, the tips you'll find in my articles are a collection of checklists for what I think should (and should not) go into building or remodeling a quality home.