This post may contain affiliate links. If you buy thru these links, we may earn a commission at no additional cost to you.
---
Looking for some easy Christmas storage solutions in your home?
Don't you wish you could be as relaxed as our cat seems to be when it's time to put away the Christmas decorations? We humans aren't quite so lucky.
You can choose to reduce your stress level during the holidays by being better prepared for all of that decorating — and stowing away — that needs to be done at seasons' end.
Decorating your house, yard, and the Christmas tree requires a great deal of planning and organization to pull it off without a hitch, depending on the amount of decorating you do, of course.
It can be a bit of a chore getting out all of your Christmas decorating "gear", getting the lights and decorations on the tree, decorating the house and yard — inside and out — and then putting it all away at the end of the season. And you are supposed to take everything down every year, people.
I've got a few simple storage solutions and tips that I've picked up over the years to help you with storage and organization.
9 Christmas Storage Ideas
I am 100% positive that there are folks like Clark Griswold that totally go overboard and are more organized than I am. If that's you, then this post is not for you. You're far beyond needing any tips on organization. You've got it down to a science.
This post is for the average Joe trying to make his/her life just a little less stressful at the most stressful time of year.
The following Christmas storage and organization tips should help you year-after-year:
#1 – Use a tree bag.
A Christmas tree bag will allow you to carry it out of your house without having to clean up tons of needles. (TIP: You have to put it on when you put the tree into the stand.) You can also use a Christmas tree bag on an artificial tree to keep the dust off it if you don't feel like cramming it back into its original box — because it's quite a chore getting a tree back in the box it came in!
#2 – Use knee pads when putting Christmas lights on the tree.
If you're wearing knee pads, you can just scoot around the tree on your knees while you're weaving the lights on the tree. A real knee-saver!
#3 – Keep the original packaging from Christmas ornaments and decorations.
Write a description of the ornament on the outside of the ornament box, so putting it away will be simpler. This way, similar looking bulbs will get put back in their original box — without having to mash the plastic insert to make it fit! So simple.
#4 – Use holiday light reels.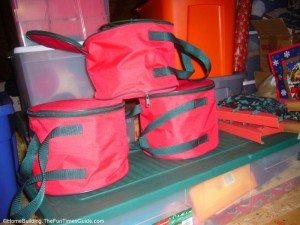 If you buy a few
Christmas light reels
, you will be able to quickly (and painlessly) wrap & unwrap your light strings without tangles. I've got 2 types of light string
cord wrappers
, as you can see in these photos. I especially like the
light reels with bags
. The one I have 
holds 3 reels
that will accommodate 2 strings of 100 mini-light strings or a 1 string of 150 icicle lights each.
#5 – Use large plastic storage tubs for all of your holiday decorations.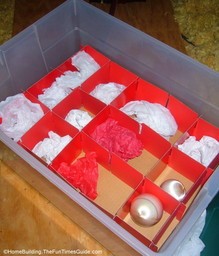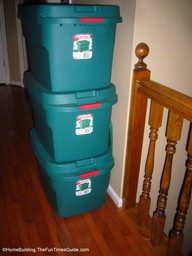 We've got
plastic storage tubs
of various colors, sizes, and shapes — red w/green ones for larger holiday decorating items and clear ones for the smaller decorations. (Tip: Clear ones help you get the general idea of what's inside when they're stacked.) For all of the ornaments that aren't part of a boxed set, we use
ornament boxes with dividers
. The kind we bought have removable tabs, so you can make room for larger ornaments. There are also 4 layers in each tub.
#6 – Label all of your Christmas storage containers.
If you decorate more than one tree and have specific ornaments for each, keep them all together and put labels on the containers for which tree they go with. For instance: "main tree," "living room," front porch" …you get the idea. (Tip: If you keep most of your decorations in the attic, be sure not to store anything up there that is affected by the summer heat. Candles top the list so keep them in a separate box in your basement or other room temperature spot of your choosing.)
#7 – Use wrapping paper storage containers.
Most wrapping paper storage tubs have a couple of shallow trays that rest on the rim above the rolls of wrapping paper. Keep everything you need to wrap gifts inside the container — so you don't have to hunt down things each time. This includes: scissors, gift tags, tape, bows, and anythng else you may use to wrap presents with.
#8 – Use a wreath keeper.
Wreath bags will keep the critters and dust off of your holiday wreaths while they're in storage.
#9 – Update your address book.
The best time to do this is when Christmas cards start arriving in the mail. Make a note of new family members, etc. for next year. And make sure you spell the kids' names correctly too. You'll look out of touch if you misspell your niece's name that ends with an "i" rather than "ee".
DIY Holiday Ornament Storage Ideas
As you can see in#6 above, we use the same storage method for all of our Halloween decorations also.
These simple tips help make our holidays just a little less stressful and I'm sure they'll help you too. Every little bit helps!
I started as a home-stalker… visiting brand new homes under construction in the neighborhoods near my house. That inspired me to write about home building and home renovation projects — chronicling homes during different phases of construction from a consumer's point-of-view. Basically, the tips you'll find in my articles are a collection of checklists for what I think should (and should not) go into building or remodeling a quality home.