---
This post may contain affiliate links. If you purchase through these links, we may earn a small commission at no additional cost to yourself.
---
The value of a whole house surge protector is immeasurable.
These are all common sources of power surges in the home:
Nearby lightning strikes
Large equipment cycling on and off at nearby factories
Downed power lines
Constant powering up or down of the larger appliances in your own home
I had a whole house surge suppressor professionally installed in my home less than a year ago while the electrician was on-site preparing the wiring and breakers for my natural gas range to be installed.
I'm convinced it was a very good investment.
Here are a few reasons why…
Why I Installed A House House Surge Protector
Most of today's modern appliances have microprocessors — and our house is certainly no exception.
Here are the following items I felt needed protection from surges and nearby lightning strikes in my home:
computers
monitors
printer/fax
televisions
new gas range
new washer
new dryer
new HVAC system
Now if you figure the cost of repair or, most likely, replacement of any one of those items — it will probably far exceed the $208 I spent to install a whole house surge protector that comes with a lifetime warranty backed by Mr. Electric.
The unit I had installed (the Surgeassure TE1C40) is known as a "main zone protector" or "load center protection" and is warranted to protect motor-driven appliances in residential and light commercial applications against electrical power surge damage — including lightning — from entering through the main electrical service panel.
It is also warranted to protect against surge for major household electrical and electronic equipment for 10 years when installed by a qualified electrician.
Here are the features and benefits from the makers of the surge arrester (Advanced Protection Technologies, Inc.) that I had installed in the circuit breaker panel box:
UL listed surge protection
Rated for single phase panels up to 400 amps
Installation flexibility
Audible alarm
Internal diagnostics
Ground status monitoring
10 year product warranty
10 year $100,000 connected equipment warranty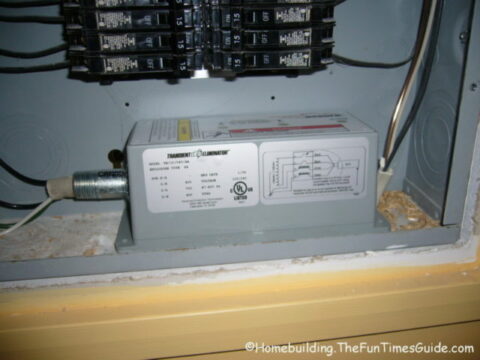 More About Whole House Surge Protectors
I started as a home-stalker… visiting brand new homes under construction in the neighborhoods near my house. That inspired me to write about home building and home renovation projects — chronicling homes during different phases of construction from a consumer's point-of-view. Basically, the tips you'll find in my articles are a collection of checklists for what I think should (and should not) go into building or remodeling a quality home.