I spent this past weekend painting our foyer, including the muntins around the window panes on the sidelights and the transom window overhead. All that remained was the cleanup.
If you're like me, you don't bother to tape off your window panes prior to painting the muntins and sash.
In my opinion, it's easier and quicker to remove the paint with a glass scraper or wallpaper shaver after the paint has dried.
I'm really not a sloppy painter by any means, but for painting windows I like to let loose for a change.
Here's what you'll need to get the job done, plus a few great tips to remember when you're ready to remove the paint from the window panes.

Okay, so you've been a little sloppy painting the upper and lower sash and the muntins on the window panes.
So what?!
Removing the paint from the glass around the muntins is super easy if you know how to do it.
Here's the best way to get the job done — so you'll have super clean windows when you're done.
What You Need To Remove Paint From Your Windows
Spray bottle
Dish soap
Clean, soft cotton cloth
Glass scraper or wallpaper shaver
Window cleaner
Newspaper or clean cloth/paper towels
How To Remove Paint From Windows
Spread out your drop cloth where you'll be working.
Put some warm water in the kitchen sink or a bucket and add 1-2 tablespoons of dish soap to the water. Stir it around a little, but don't make it all bubbly. You want the benefit of the slippery dish soap without all of the bubbles getting in your way. It doesn't really matter what brand of dish soap you use.
Fill your spray bottle or dip your cloth in the bucket. Apply the solution (using either method) liberally to the window(s).
Score the perimeter of your window pane with the utility knife using very light pressure. You don't want to scratch the window so easy does it. I suggest this step because the paint comes away in a nice and straight, clean line without any jagged edges of pulling the paint off the pane.
Take your glass scraper or wallpaper shaver and hold it at a 30-45 degree angle. Scrape all of the paint off of the glass. Keep a clean edge on your scraper. This is important so it doesn't scratch the window.
Dry the windows and woodwork/trim around it, if necessary.
Clean up the windows with the window cleaner and wipe them clean with your newspaper or cloth. Newspaper will not leave any lint on the glass and will leave them streak-free. It's cheap and easy.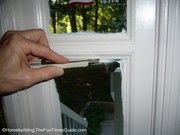 That's all there is to it!
I finished 15 small window panes in about 15 minutes or so — from start to finish. It's that quick and easy.
I also used a Hyde brand wallpaper shaver that I had in my tool chest rather than a glass scraper. It works just as well as a mini glass scraper — if not better — because it doesn't have a razor-sharp edge like a glass scraper. So there's less chance of scratching your windows. It's a multi-tasking tool. Don't get me wrong — it's plenty sharp, just not razor sharp — which I believe to be advantageous in this application.
Resources:
In addition to my own personal painting experiences from the past, I found some great tips from these sites: