This post may contain affiliate links. If you buy thru these links, we may earn a commission at no additional cost to you.
---
Fiberglass, wood and steel are your main choices for residential entry doors.
The deep, rich grain of wood is very appealing to our sight and touch so it is no surprise that some of the fiberglass doors on the market today have evolved to look and feel exactly like real wood. Some are even architecturally correct with proportionate stile-and-rail configurations. (Steel doors are mostly used for industrial and commercial purposes.)
Take my photo challenge to see if you can tell the difference between fiberglass and wood entry doors.
There are many makers of quality fiberglass entry doors. The fiberglass doors that we were browsing through at our local Lowe's happened to be made by Therma-Tru and they are one of the front-runners in the fiberglass door industry.
There were also some very handsome wood doors on display at Lowe's, as well. All were expensive, but then again you get what you pay for.
When we began to look through the selection of entry doors, I was surprised at what I saw. If I hadn't read the tag, I would have had a difficult time telling the difference between fiberglass doors and wood doors.
Natural Wood or Fiberglass Door?
(answers below)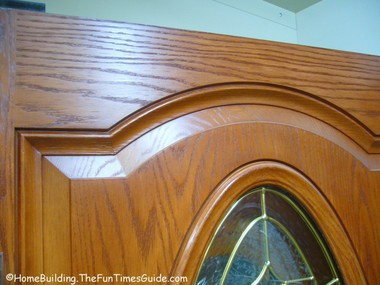 Answer: The top right image is the only REAL wood door.
Therma-Tru makes it easy to choose a fiberglass front entry door in 4 easy steps.
Here's how:
1.Choose your door style.
2. Choose your entryway.
3. Choose your glass style.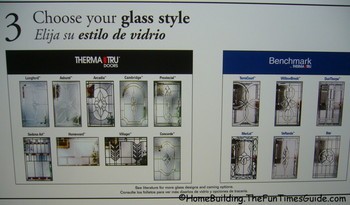 4. Choose your interior and exterior finish.
Why would you want to choose a fiberglass front entry door over a traditional natural wood door?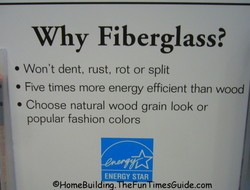 The short and easy answer is that fiberglass doors won't dent, rust, rot or split…and they're durable and energy efficient. Most fiberglass doors are five times more energy efficient than wood doors and some are Energy Star performance rated. Be sure that the doors you buy are Energy Star rated.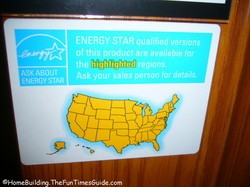 Don't get me wrong here. I enjoy the look, solid security and performance from my very own wood door but you'd be hard pressed not to give careful consideration to the positive aspects of a fiberglass door should you need a replacement.
Here is a sampling of the
many

reputable fiberglass door manufacturers that should give you a head start:

 

Related

Important factors to consider when deciding the material of door to choose from HGTVpro.

Increase your entry door know-how from Tim Carter of 'Ask The Builder'.

How to stain fiberglass doors.
I started as a home-stalker… visiting brand new homes under construction in the neighborhoods near my house. That inspired me to write about home building and home renovation projects — chronicling homes during different phases of construction from a consumer's point-of-view. Basically, the tips you'll find in my articles are a collection of checklists for what I think should (and should not) go into building or remodeling a quality home.