This post may contain affiliate links. If you buy thru these links, we may earn a commission at no additional cost to you.
---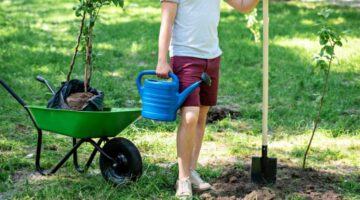 I didn't initially set out to buy trees online — I figured I'd be buying them locally.
But when I started looking for fast growing trees for my new home (which is situated on a barren quarter-acre lot that needs lots of new landscaping), I did what many fellow homeowners do: hit the Internet to conduct a little research first.
My goal was to find a Red Maple tree — which offers fall color even in Florida.
Bare Root Trees vs. Potted Trees
I had bought bare root trees before and wasn't especially pleased with the results.
That's not a dig against buying bare root trees — they're the perfect solution for many people. But I'm no expert at planting trees, so it's likely user error may have have caused poor results with the bare root trees I've planted in the past.
I really didn't want to spend a lot of money buying a bare root tree that I couldn't be sure I'd successfully be able to grow. But I knew how to establish potted plants grown in containers, therefore decided to go that route.
I called my local tree nursery, but all of the Red Maple trees they had were in large 30- or 45-gallon pots. Much larger than I could fit in my car and more expensive than I could really afford. Plus, the delivery fees further put the cost of their red maple trees a bit out of my financial comfort zone.
What to do?
I found a website with fast growing trees for sale. And, guess what? The name of the company is Fast Growing Trees — how apropos!
I thought I had heard of this company before, but didn't know where or when. I checked out the Fast Growing Trees website more closely and realized that the business had been featured on one of my favorite TV shows: This Old House. So, that's how I must've heard of this reputable place to buy trees online!
It wasn't only the endorsement by This Old House that kept me scrolling through the Fast Growing Trees website — I also liked that their trees are sold potted in containers with soil.
Trees potted in soil are:
Often healthier during shipment
More convenient to handle and easier to plant
Sometimes able to establish more quickly
Of course, a potted tree shipped in a container with soil also weighs more than a bare root tree, and this means it's more expensive to ship than a bare root tree.
So I did some comparison shopping to see how much bare root trees of similar size cost, compared to potted trees in containers. The difference in price varied based on the tree — but while the bare root trees were generally less expensive they weren't much cheaper than potted trees in containers.
There was one other issue about buying bare root trees: they are usually shipped during their dormancy. The ones I was looking at couldn't be shipped when I wanted to order them.
In the end, I ultimately decided to buy trees online from the Fast Growing Trees website. I wanted to start with one potted tree… in a container… with soil… to see what it would be like to buy trees online for the very first time.
Good to know before you buy trees online…
My Experience Buying From 'Fast Growing Trees' Online
I bit the bullet and paid about $90 for a hybrid called Autumn Blaze Maple — seen here at full maturity:
I also paid about $15 for a tree planting kit that includes stakes and tie-downs to help keep the tree from blowing over.
For $5 I bought a product called Root Rocket, which promotes root growth.
The total for my order came to $127 (including a $9.95 shipping fee and $7 oversized handling charge).
That's a lot of money to lose if things go wrong with this order, but a fair price to pay for a potted tree that was advertised to arrive at a height of 5 to 6 feet!
I placed my order with Fast Growing Trees and 3 days later my tree arrived via FedEx.
I happened to be away when the tree arrived, but it was delivered safe and sound. The tree was shipped inside a big cardboard carton and left for me under my carport.
It was just past sunset, so I didn't really have time to plant my tree right away — as recommended. I did, however, unbox the tree, stood it up, and watered it as soon as I got home.
Although it was nighttime, I kept the tree under the shade of my carport — which would also protect it from wind, in case I couldn't get right to planting it the next day.
How To Plant A Tree In A Container
Early the next morning, I woke up and got right to work planting my new tree.
Here's how I planted my new Maple tree:
I dug a hole about twice as wide as (but no deeper than) the root ball — which is recommended when planting container trees.
I sprinkled the Root Rocket granules into the hole — ensuring that the roots would come into contact with the nutritional supplement.
Finally, I removed the tree from its container and broke up the root ball just a bit to help ensure the roots would begin spreading outward.
I carefully lowered the tree into the hole, making sure the top of the root ball was just slightly higher than the immediately surrounding landscape soil.
I backfilled soil into the hole around the root ball, pushing it down to help eliminate air bubbles.
Then, I secured the tree using the tree planting kit that I ordered.
Finally, I gave my new Autumn Blaze Maple tree plenty of water. (New trees need lots of water during the first months after they're planted.)
Videos With Helpful Tree Planting Tips
If you've never planted trees before, the following videos will be helpful.
#1 – This video shows how to plant a tree in a container:
---
#2 – This video shows how to plant a bare root tree:
---
Would I Buy Trees Online From 'Fast Growing Trees' Again?
I was pretty nervous about buying a tree from a website.
I had once bought a Fir tree sapling to be used as a living Christmas tree from a website a few years back — that was a good experience.
But buying a tree that was (just barely) taller than me… that's a different story with much more money involved!
I had a hunch I'd be satisfied with Fast Growing Trees when I got my first shipping update via email 12 hours after I placed my order. (I love good communication!)
They tracked the shipment of my Maple tree from a South Carolina town just outside of Charlotte to my house in Central Florida — and I was alerted with an email the moment it arrived at my home.
The tree was carefully packed, and it was obvious as I urged it out of the carton that it had been well taken care of prior to being shipped. (It lost only one leaf in transit, too!)
I was a little concerned at first that the leader (the tree's main upright branch — or "trunk") had been cut at the top of the tree.
However, my neighbor, who happens to be a landscape maintenance professional, told me that's actually not such a bad idea because it can help promote fuller branch growth at the top of the tree. This can ultimately help it become a bigger shade tree — and that's exactly what I want for my barren Central Florida yard!
It's been a couple weeks since I bought the Maple tree, and it appears to be putting out new growth. It's looking great.
I'd definitely buy trees online again — especially from the Fast Growing Trees company. Here's why:
Their customer service is excellent.
Their prices seem fair.
They ship their trees quickly.
Their inventory includes a great variety of shade trees, fruit trees, privacy shrubs, ornamentals, and exotics — and there is plenty to choose from for virtually every USDA Plant Hardiness Zone.
I'm already looking at the Fast Growing Trees website to place another order — maybe a nice Elm tree to complement my Maple!
Before You Buy Trees Online…
In addition to the links I've included above, here are some other resources to help you decide if it's worth it for you to buy trees online — or not: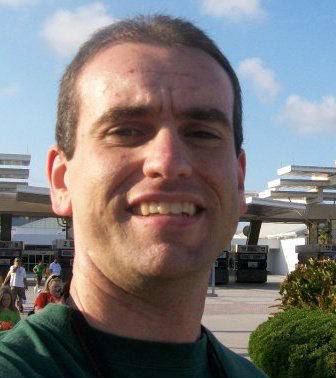 I'm a roller coaster junkie, a weather enthusiast, a frequent traveler, and a numismatist. My love for coins began when I was 11 years old. I primarily collect and study U.S. coins produced during the 20th century. I'm a member of the American Numismatic Association (ANA) and the Numismatic Literary Guild (NLG). I've also been studying meteorology and watching weather patterns for years. I enjoy sharing little-known facts and fun stuff about coins, weather, travel, health, food, and living green… on a budget. I work from home full-time as a journalist, reporter, and author.